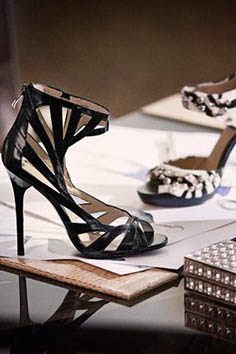 What are we buying when we buy a luxury good? Are we buying a brand name, a well-made product, or an item to ensure that others think a certain way about us when they see it? For most high-end consumers, it's probably some combination of those options.
Many customers would claim that they buy only for the quality that these products provide, but the reaction of some customers to the recent announcement of Jimmy Choo's collaboration with H&M seems to run contrary to those claims. Some people were excited to see what the partnership would create, but many Choo loyalists voiced the opinion that the brand was losing something by creating a temporary line for a low-end retailer.
Choo's fans aren't the first to scowl at the idea of their favorite label creating an inexpensive product line, and they'll be far from the last. What seems to be unique about this occasion, though, is that Jimmy Choo is the most broadly known brand yet to dabble in mass-market, low-price retail. So far, many small or independent designers have used the tactic as a way to broaden their name recognition and, potentially, their customer base. Choo, though, is a brand with a pretty clear image in the minds of most women with any sort of fashion consciousness or desire for expensive shoes.
So what happens when a brand with a large following and a seemingly healthy business decides that they want to dabble in the desires of Middle America? Well, according to Robin Givhan of the Washington Post, it means that luxury as we know it is dead.
Which seems like an incredibly histrionic reaction indeed. In the economic predicament in which we currently find ourselves, any number of writers have predicted that an unending list of occurrences are what really marks this mythic "end" of aspirational consumer goods. Why this one is any different than the others? I have no idea.
What I think it does, though, is bring up some nasty truths that luxury customers would rather push out of their minds. If I had spent thousands (or tens of thousands) of dollars of my earnings on Jimmy Choo shoes in my life at $500-700 a pop, the reality that Choo can make an attractive (if likely to be lower-quality) pair of stilettos for less than $100 would definitely be unpleasant. If the steep price tag isn't necessary, why have their customers been paying it for so long?
But does acknowledgment of the often-astronomical margins on handbags and shoes mean that all customers will suddenly abandon the goods that they know and love? I seriously doubt it. Most reasonable consumers have to realize that the construction of an average high-end handbag doesn't cost anywhere near four digits, and I don't think that Jimmy Choo making a couple pairs of cheap shoes is going to inform anyone of this fact that wasn't already aware of it on some level.
Image may be a slightly bigger problem than economics, though. Luxury customers, no matter what they say, are often in the market for exclusivity as much as they are for a new bag. And if anyone with a local H&M (or Target, or TopShop) and a spare $50 can have something designed by their favorite brand, then the status implied by sporting a pair of Jimmy Choos is suddenly in limbo. And if Jimmy Choo is doing it, then are there that many brands out there that wouldn't consider it? Probably not.
Only time will tell what, if any, lasting impact this will have on the luxury industry, but despite all the hubbub it's causing among Jimmy Choo's fans, I'm still dubious. If they were introducing a permanent collection of pleather shoes, then the impact would probably be more palpable and long-lasting. As it is, the collection is a small group of products that will only be sold in H&M's largest stores in their largest markets and will probably be completely wiped off the shelves by the end of launch day. It provides a lot to talk about for people like us, who are in the business of talking about such things, but it's likely to be little more than a blip on the radar screen of the larger fashion industry.
Things don't change overnight, and cheap shoes will not fell the decades-old luxury industry as we know it. A price reset among traditional luxury goods is already somewhat underway, as we've discussed previously on this blog, and some women probably do need to reevaluate what they're trying to accomplish by buying a small fortune's worth of shoes or bags. But the marketplace forgets things like this rather quickly, and a recession-era olive branch to cash-strapped consumers won't reflect poorly on the brand in the eyes of fashion history. And when women are looking for the sexiest pair of stilettos they can find, they're not going to exclude Jimmy Choo on principle for long, and probably not at all.
P.S. Please consider supporting our small, bag-loving team by clicking our links before shopping or checking out at your favorite online retailers like Amazon, Neiman Marcus, Nordstrom, or any of the listed partners on our shop page. We truly appreciate your support!