We'll be doing the requisite rundown of all of Fall 2011's accessories trends over the next few weeks, but when I saw the Jimmy Choo Saba Python Hobo Bag, I just couldn't help myself. Mixing textures and python are both very important for this year's looks, and this bag combines both of them in a very wearable, functional tote.
I've felt more positive about Jimmy Choo's designs for Spring 2011 than I have about the company's handbags in what seems like quite a while, and this bag in particular is an example of what Choo tends to do right. It has a note of bohemia without being outright hippie-dippy, and the metallic finish on the python adds an extremely luxurious touch. The deep suede trim provides just enough contrast to keep the gunmetal python from looking over-the-top. Balance: It's a beautiful thing.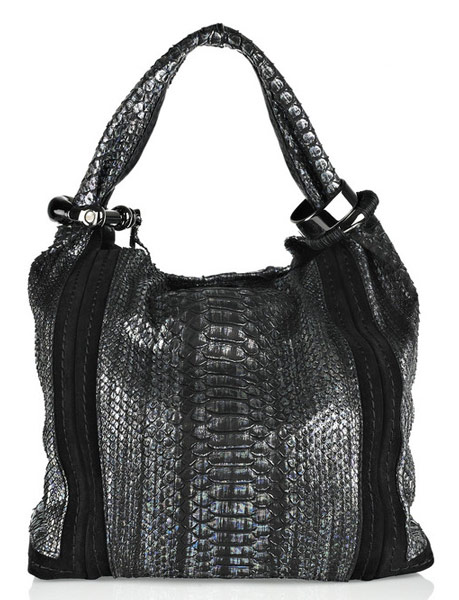 Neutrality with multiple textures, materials and colors is a difficult thing to create, but the accessories team at Choo did a fine job here. This bag could be carried in basically any situation where a black bag would be appropriate, but the exponentially higher level of visual interest that a choice like this provides pays plenty of style dividends. As always, though, you'll have to decide for yourself if it's worth the elevated price. Buy through Net-a-Porter for $4250.