Last week OscarPRGirl tweeted "For me a really good day clutch is a precious commodity". I read the tweet and nodded my head. Then I opened up the photo she included and fell in love. You all know my love of clutches, I gush about them often on PurseBlog. Welcome the Oscar de la Renta Grafton Clutch to your screen. Now wipe up the drool and let's get down to the details of this entirely swoon-worthy clutch.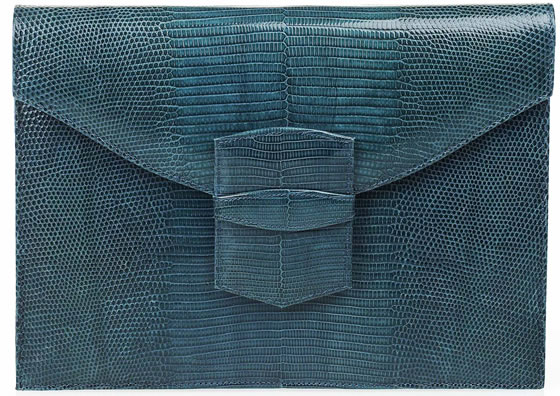 Of course I am immediately drawn to the Teal Lizard version of this clutch. Teal is a color that works well for everyone. It is one of those universal colors. And here we have it in lizard skin, which adds a slight sheen and additional dimensionality. It doesn't hurt that this clutch itself is downright gorgeous. The style mimics an envelope and has a magnetic snap closure and a small side pocket. Buy via Oscar de la Renta for $2,190.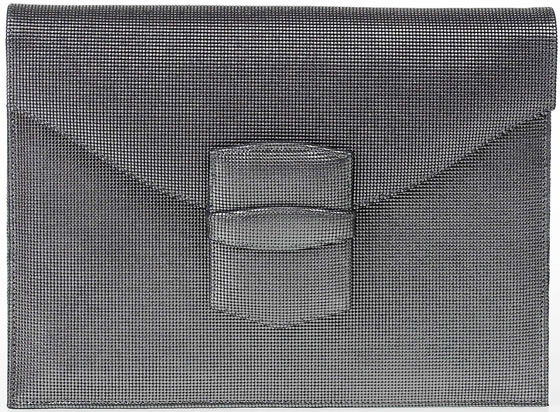 While the lizard skin version has my heart, due in part to the color, there is a non-exotic skin version that is equally as lovely. A closer look at the metallic caviar Grafton Clutch showcases a unique texture which comes from a stamping technique. But this bag is just made of leather, in another perfect hue for wear-ability, anthracite. Same bag, different color and material. Buy through Oscar de la Renta for $990.
Both versions of this clutch are interesting, both are beautiful, and either (hey, or both!) would be a great choice. The size is very spacious, 9.5″W x 7″H x 2″D, which works well for day or evening wear. We all knew Oscar de la Renta is a master of his domain, I am just happy to see his domain includes handbags.