Rosie Huntington-Whiteley is one of the few celebrities in the world who I think is so beautiful that I rarely notice her bag first when I look at her. Those lips! Those cheekbones! When you combine that with the fact that her boyfriend (and my imaginary boyfriend) Jason Statham is often in photos with her, it's enough to distract even someone like me from handbags. But, you know, only for a split second.
I was able to focus long enough to bring you the this compilation of the Burberry model's accessory collection, though, from Celine to Chanel to...well, to Burberry, which Rosie carries quite frequently. For a spokesmodel, though, her collection is quite diverse, and it includes some of my personal favorites. Follow along as we break down Rosie's taste after the jump.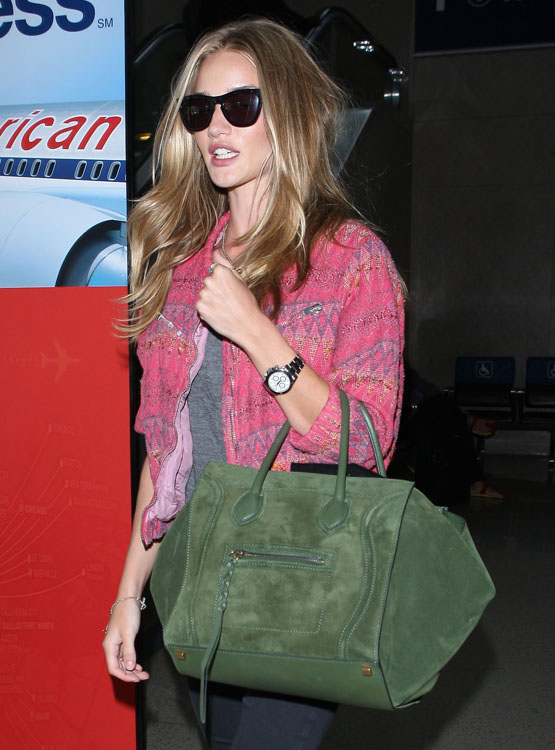 First, let's start with what seems to be Rosie's favorite bag - her Celine Phantom Luggage Tote in dark green suede. Rosie carries this beauty everywhere and has been photographed with it seemingly dozens of times - that's a pretty strong endorsement.
1 / 15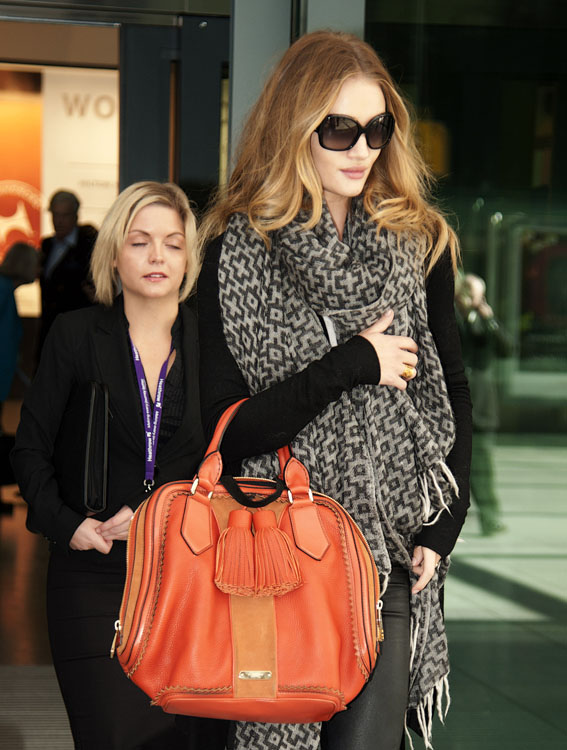 Rosie's second most common choice is Anything Burberry, like this bright orange Burberry Tassel Bowler from Fall 2011. Shop Burberry via Net-a-Porter.
2 / 15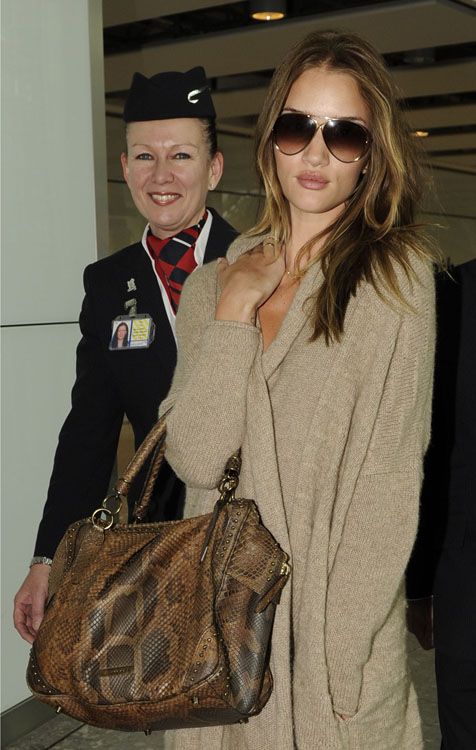 And even more Burberry! This time, it's a gorgeous Burberry Python Tote. Why doesn't the brand make more bags like this? Shop Burberry via Net-a-Porter.
3 / 15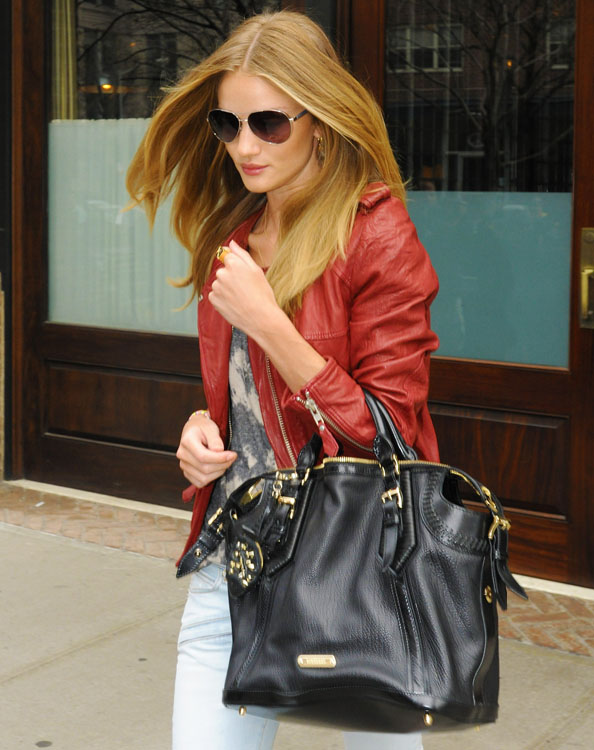 Next up in Rosie's Burberry parade is the Burberry Textured Leather Tote. Shop Burberry via Bloomingdale's.
4 / 15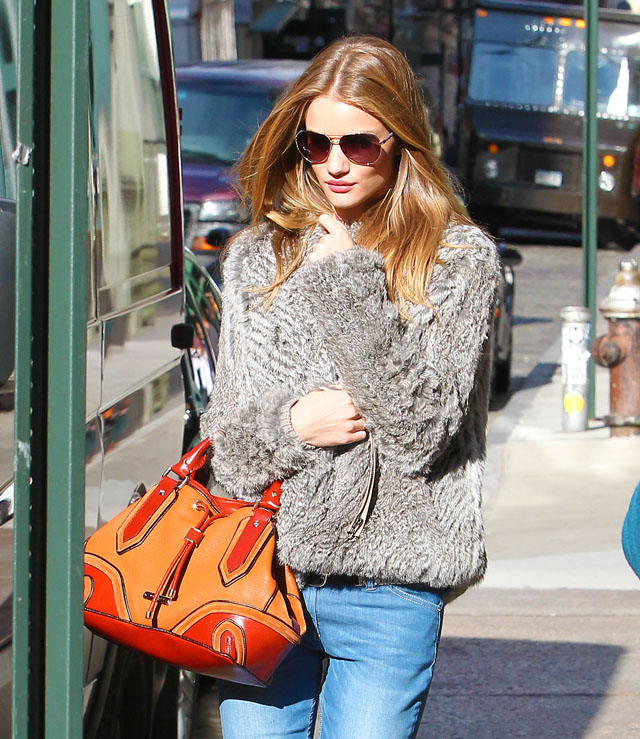 Last on our Burberry list (and those are just the ones we chose to highlight - it looks like Rosie's received lots of pieces during her tenure with the brand!) is Rosie's Burberry Suede Bowler.
5 / 15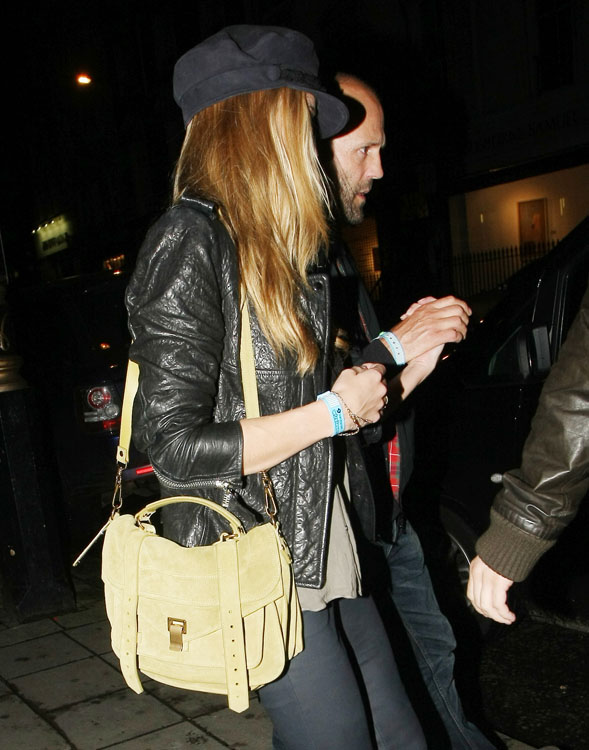 These days, it seems almost impossible to find a young, stylish model without a Proenza Schouler PS1 in her closet. Rosie's is beautiful in butter yellow suede. Pick one up yourself for $1695 via Proenza Schouler.
6 / 15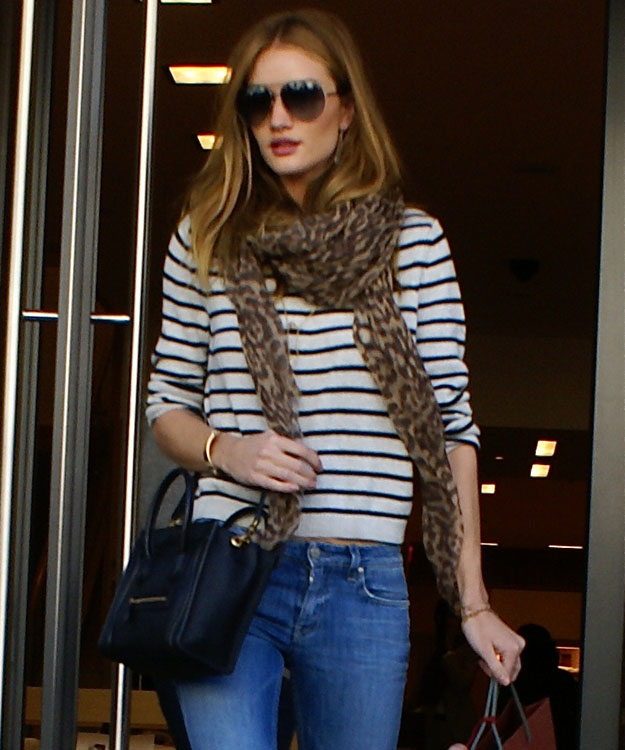 As it turns out, Rosie's big Celine isn't her only one - she also carries her little Celine Luggage Nano Tote regularly.
7 / 15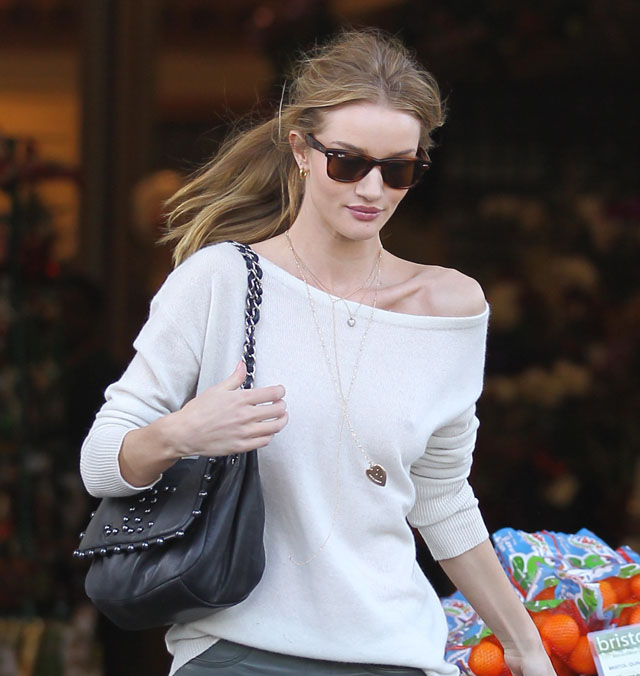 Like any handbag lover with a big budget for fashion, Rosie also has a couple of Chanel bags in her collection, including this Chanel Studded Flap Shoulder Bag.
8 / 15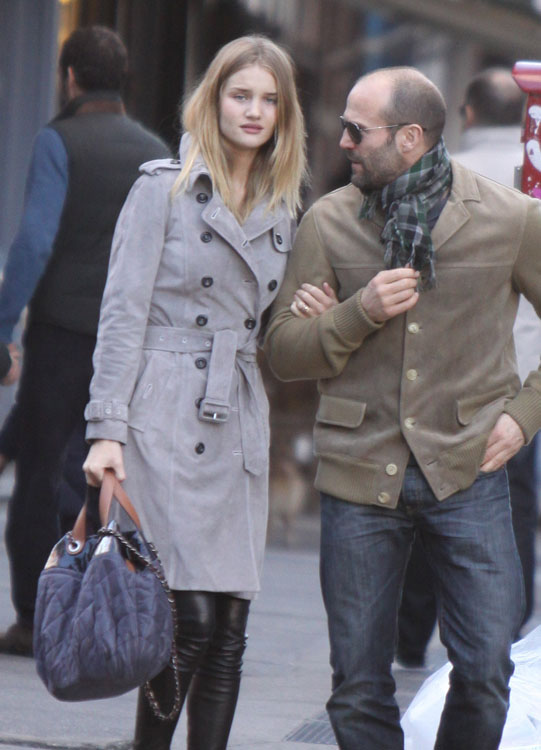 There's also this big navy Chanel Quilted Tote from Spring 2012. (I purposefully didn't crop Jason out of this image. YOU'RE WELCOME.)
9 / 15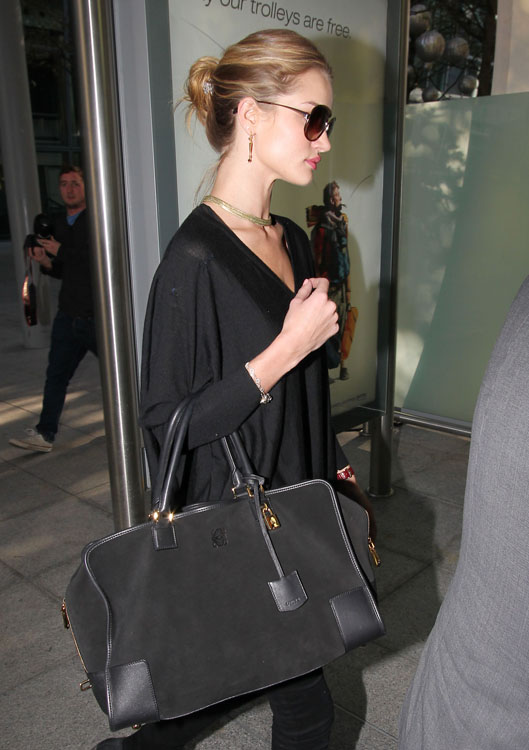 Here's Rosie with yet another It Girl favorite: the Loewe Amazona Tote, also in suede, which seems to be her preference if it's available in a particular bag. Buy through Matches Fashion for $1673.
10 / 15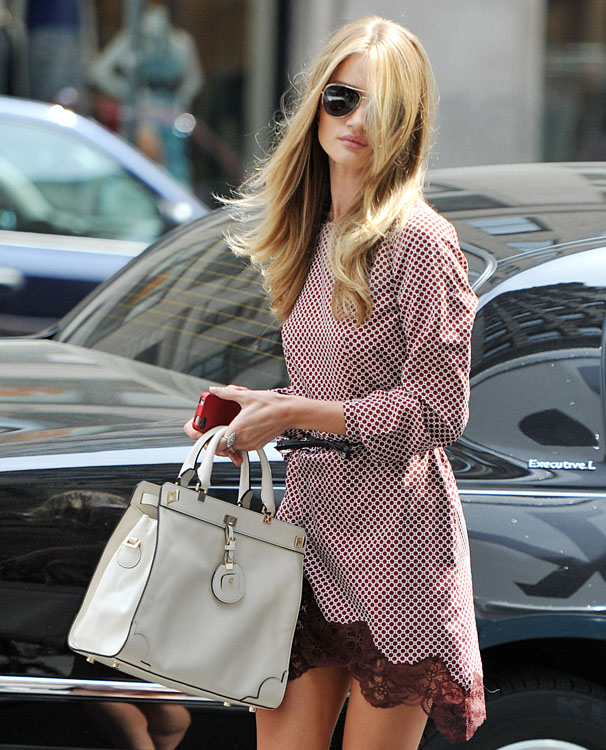 You know how I know that Rosie is magic? Because her bright white Jason Wu Jourdan Tote is still clean as a whistle. Buy your own for $1999 via Nordstrom.
11 / 15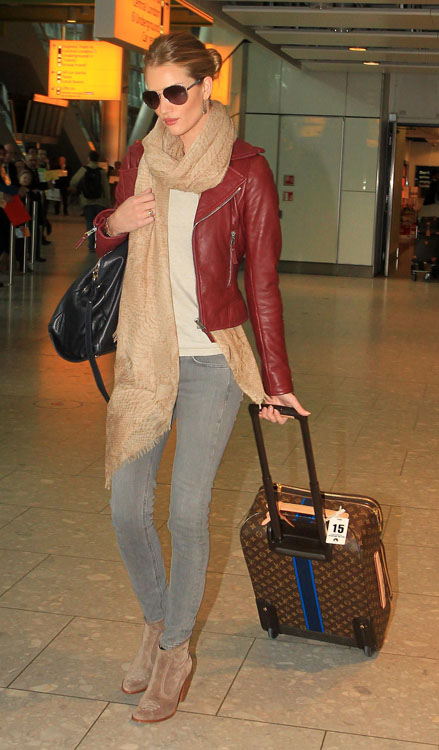 When Rosie travels, she travels like a star: with the Louis Vuitton Mon Monogram Pegase suitcase, customized with her initials. Pick up your own for $3400 via Louis Vuitton.
12 / 15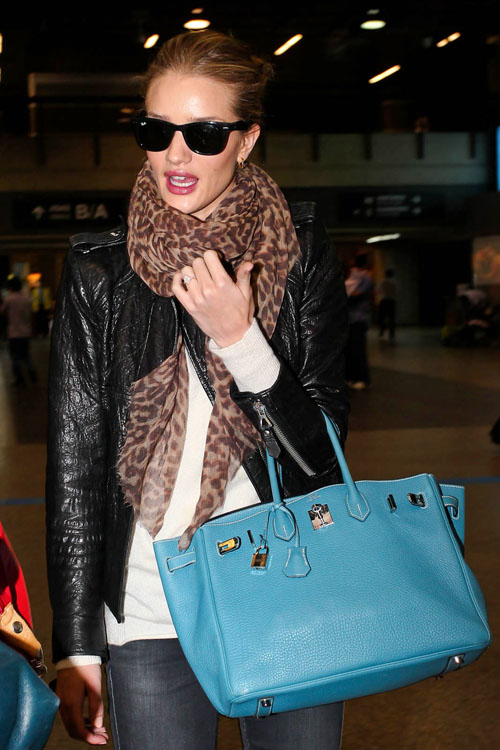 Speaking of stars, Rosie's big blue jean Hermes Birkin is a true standout.
13 / 15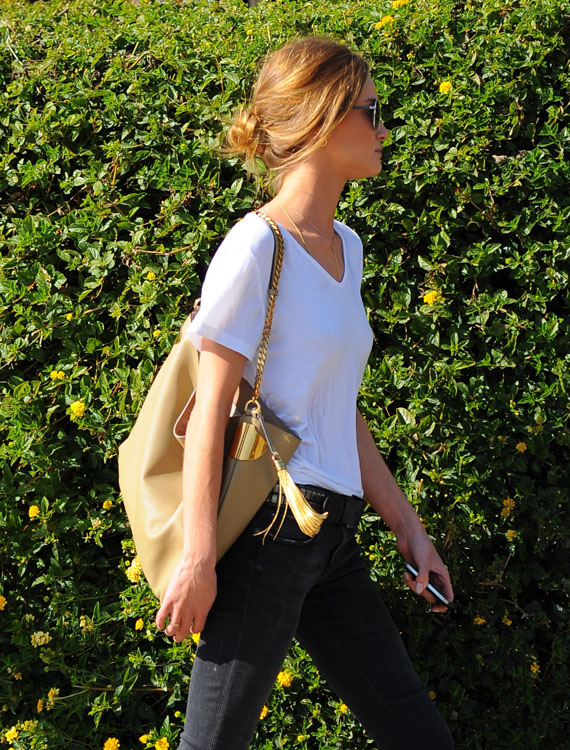 Most of Rosie's bags are satchels or totes, but the Gucci Leather Hobo from Spring 2012 is proof that she likes a good shoulder bag, too. Shop Gucci via Net-a-Porter.
14 / 15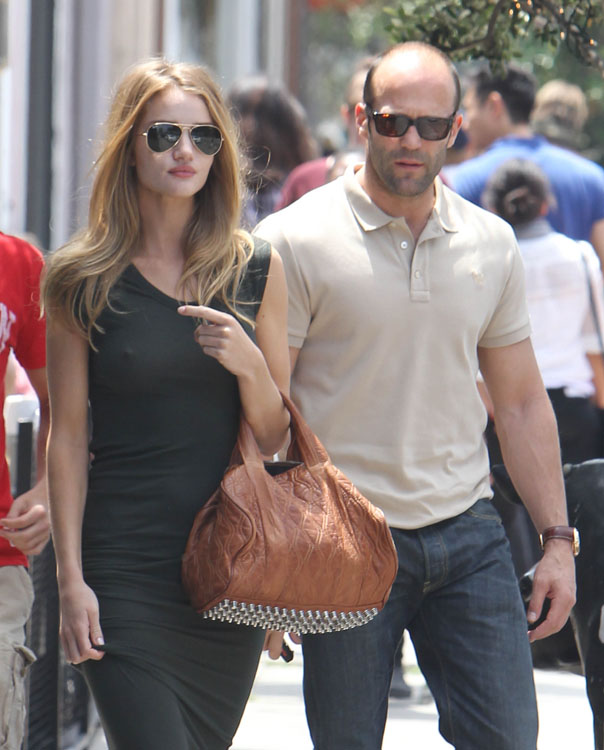 Lastly, Rosie seems to be a big fan of the Alexander Wang Rocco Duffel. Here she is with an oldie but goodie - when did Wang's football collection come out? Spring 2010, I believe? Shop Alexander Wang via ShopBop.
15 / 15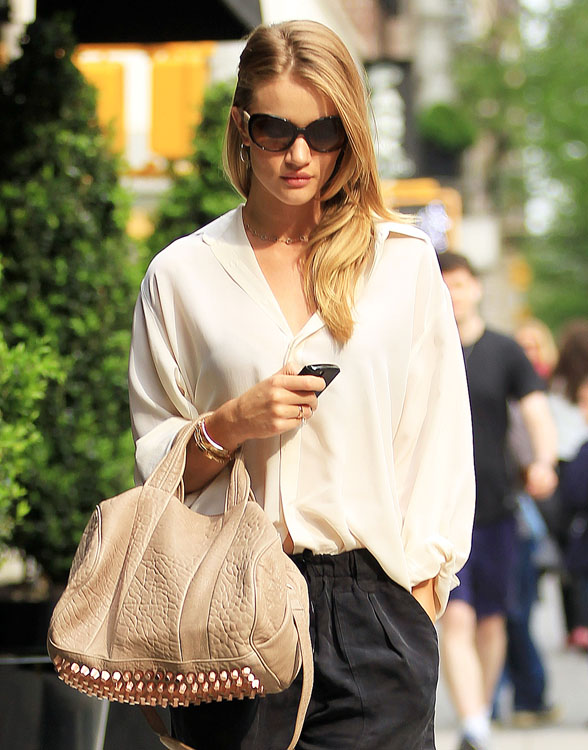 And here's Rosie more recently - this time, her Alexander Wang Rocco Duffel has rose gold hardware. Shop Alexander Wang via ShopBop.
P.S. Please consider supporting our small, bag-loving team by clicking our links before shopping or checking out at your favorite online retailers like Amazon, Neiman Marcus, Nordstrom, or any of the listed partners on our shop page. We truly appreciate your support!