In some ways, it seems like Taylor Swift has been daring me to write a second investigation into her handbag collection all summer. Every day when I open our photo agency's archives, there are new photos of her walking to and fro in New York City, enjoying her morning constitutional, her evening constitutional and sometimes several constitutionals in between, generally wearing a two-piece matching outfit and a handbag dangling from her forearm. To me, her intentions are clear.
Even if you don't believe that Taylor Swift is trying to surreptitiously communicate with me through the paparazzi, taking a look through her quirky handbag collection is an interesting study in celebrity branding. Instead of carrying things that others have decided are popular or of-the-moment, Swift sticks to less recognizable options from both major brands and independent designers alike. The result is that she always looks like herself instead of looking like an It Bag billboard, just like the last time we took a look at her handbag habits in 2012.
---
Taylor wears a fair number of Prada shoes, but this bag, her recent favorite, is her first foray into the brand's beloved bags.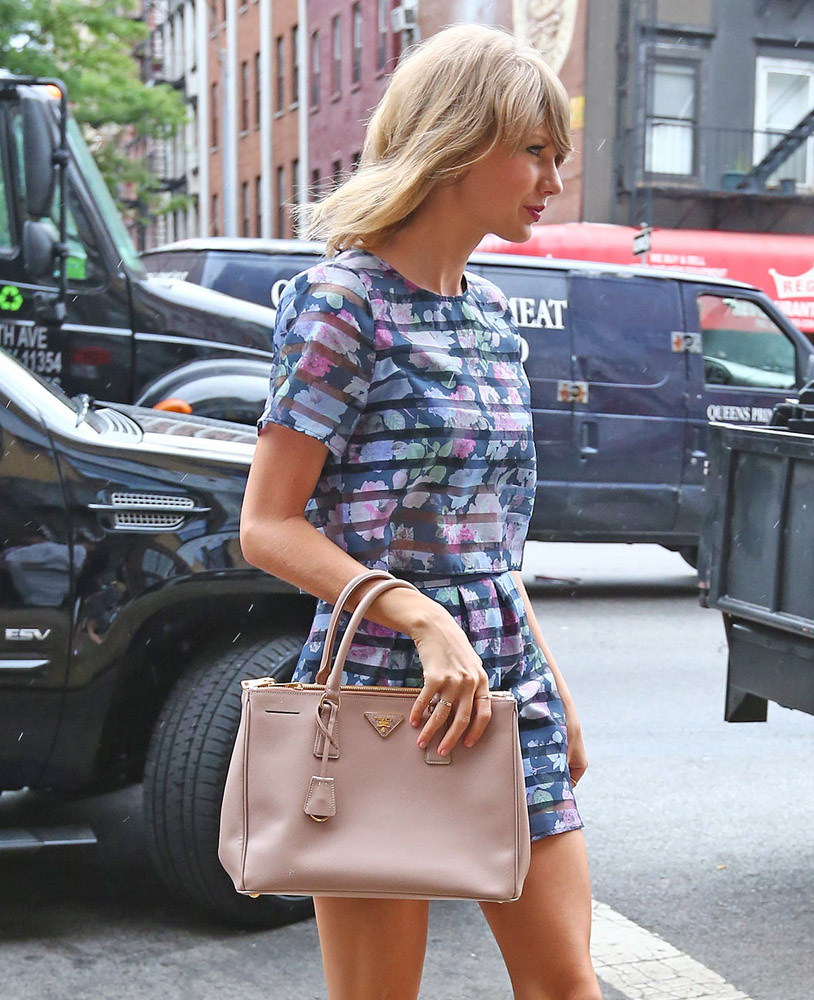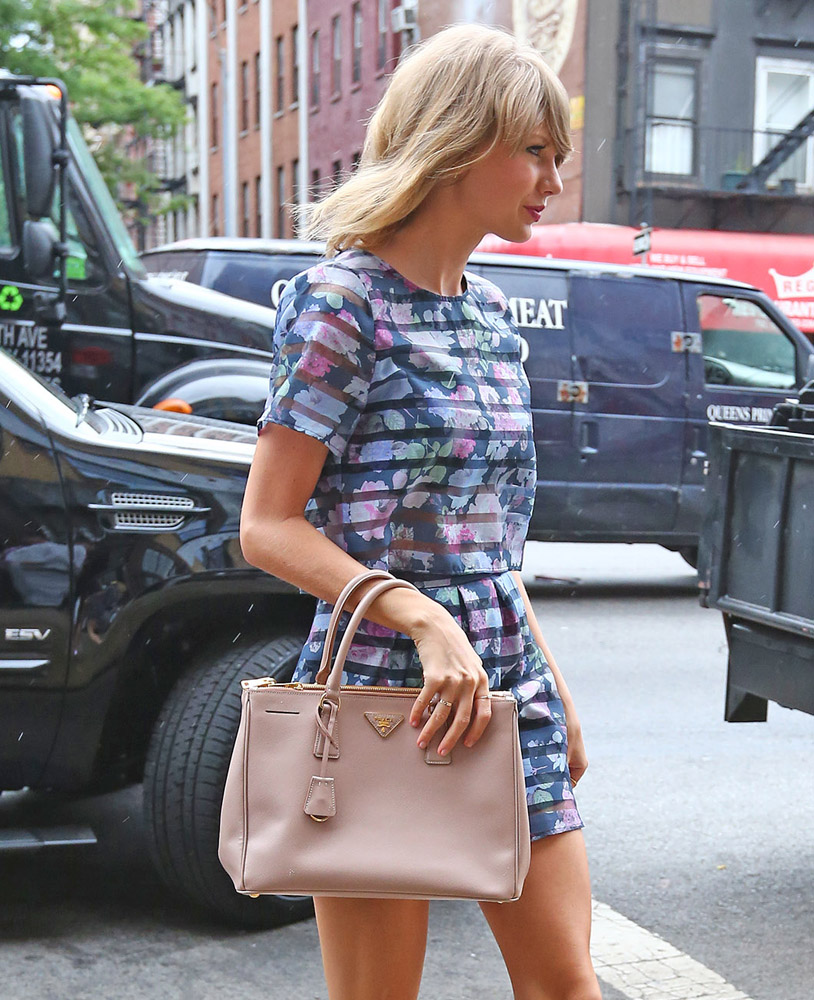 ---
This simple, solid-colored, neutral bag is classic T-Swift.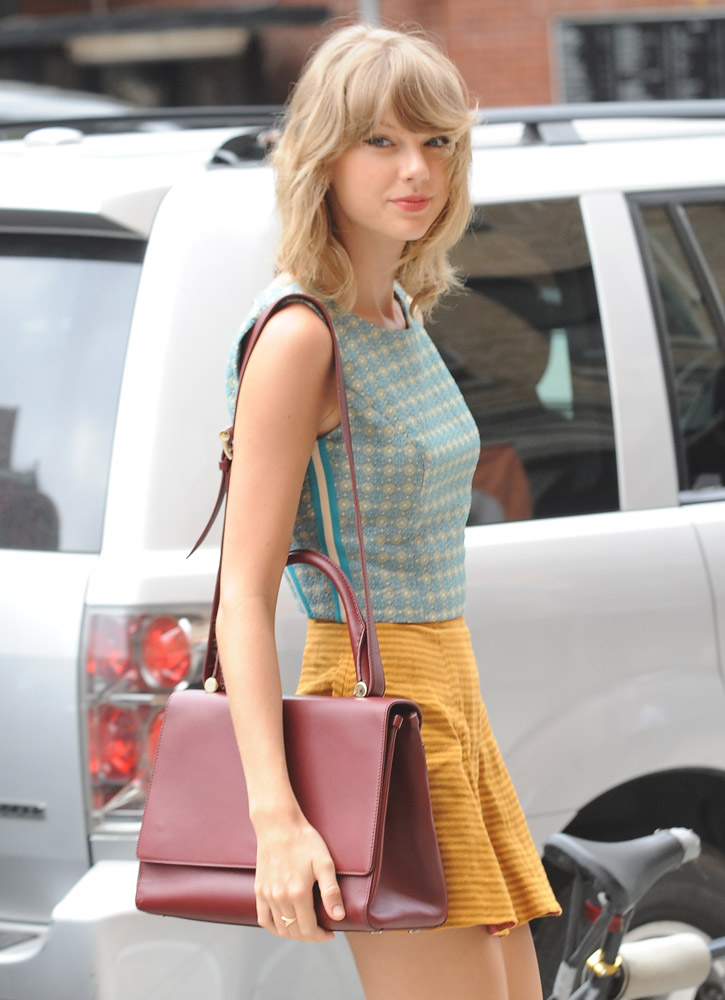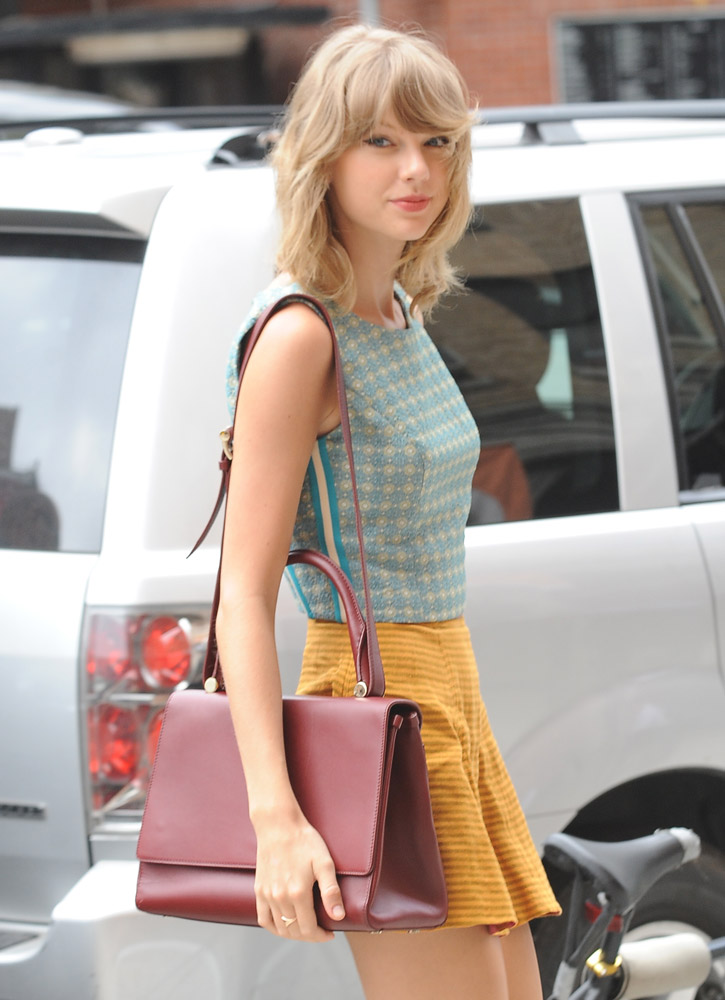 ---
Many of Taylor's bag choices have a vintage edge to them, which likely makes the look feel more accessible to her young fans.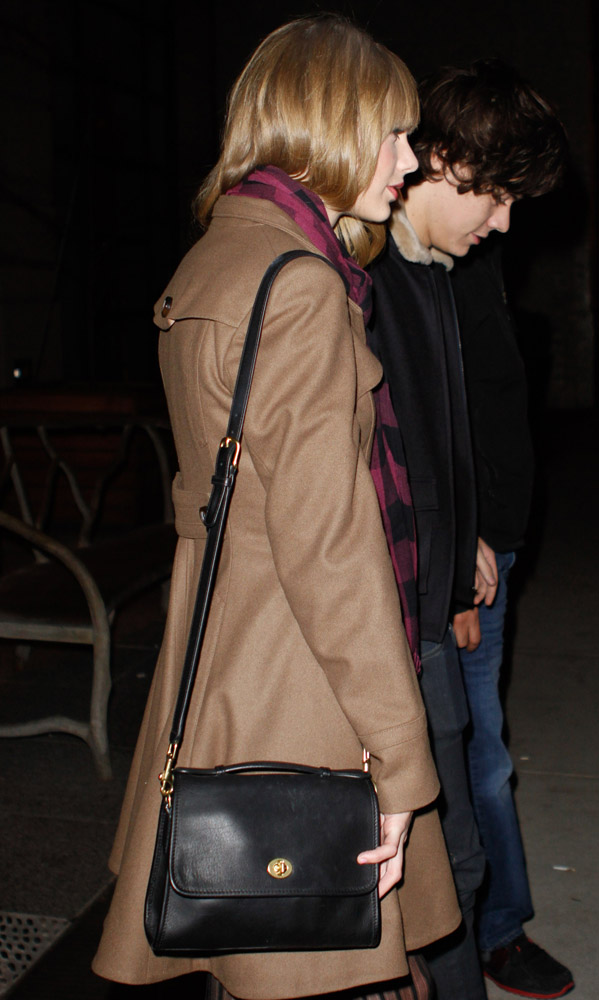 ---
Taylor is more likely than most celebrities of her stature to carry a bag from a small or independent designer.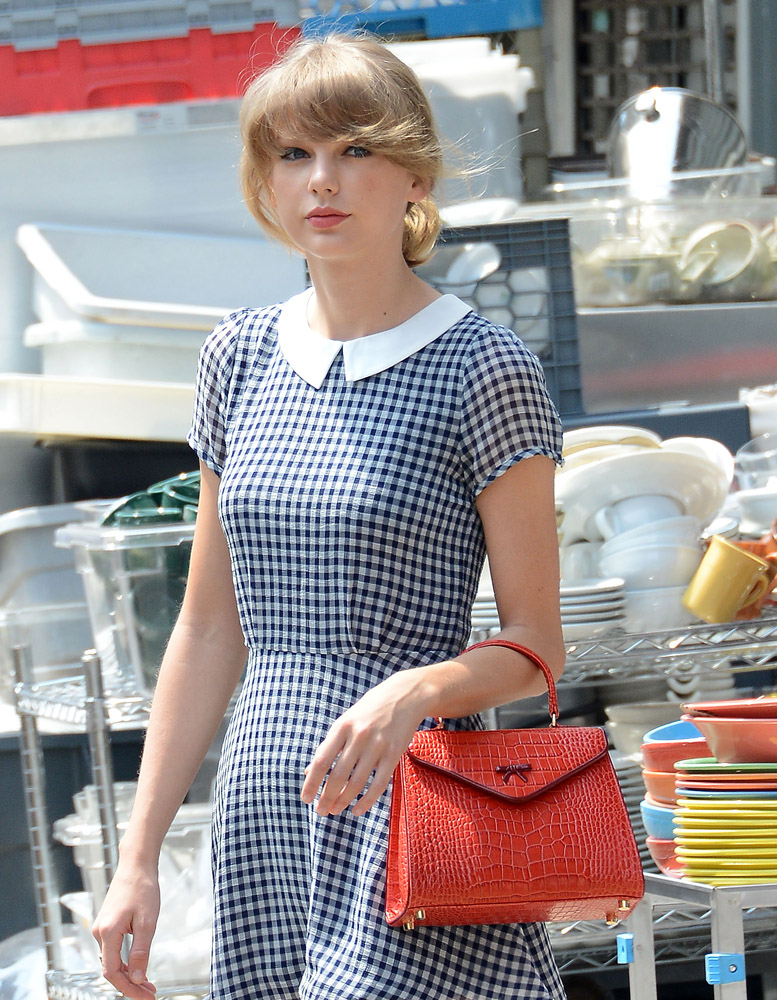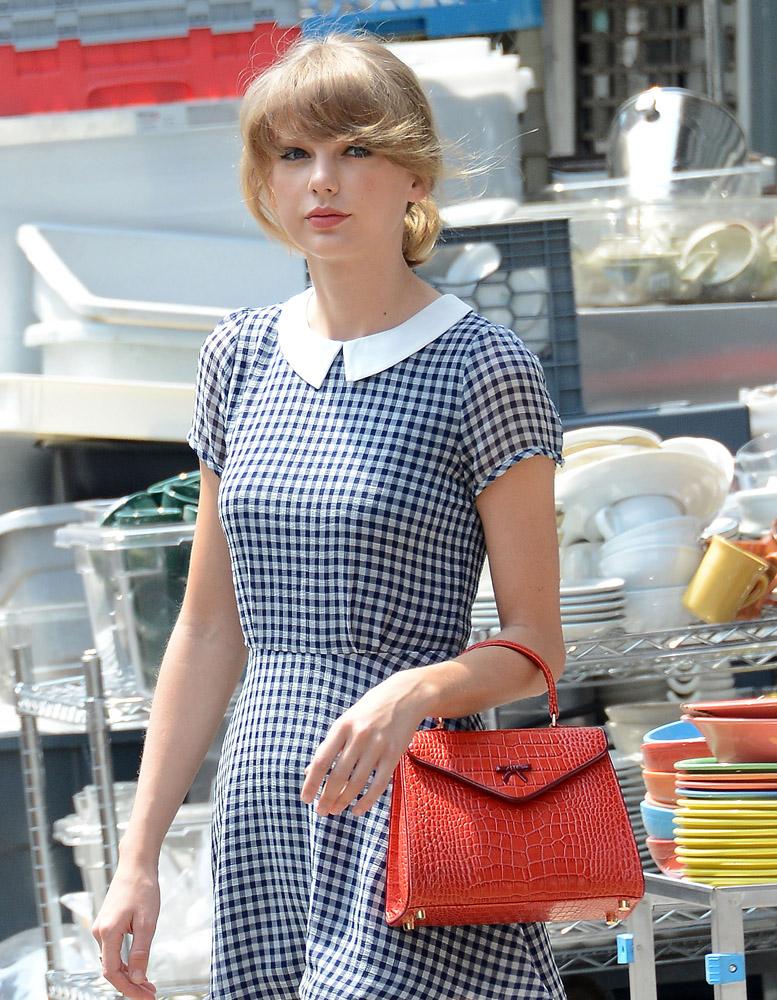 ---
She's just as likely to whip out something like this, though. Girl's got range, brand-wise.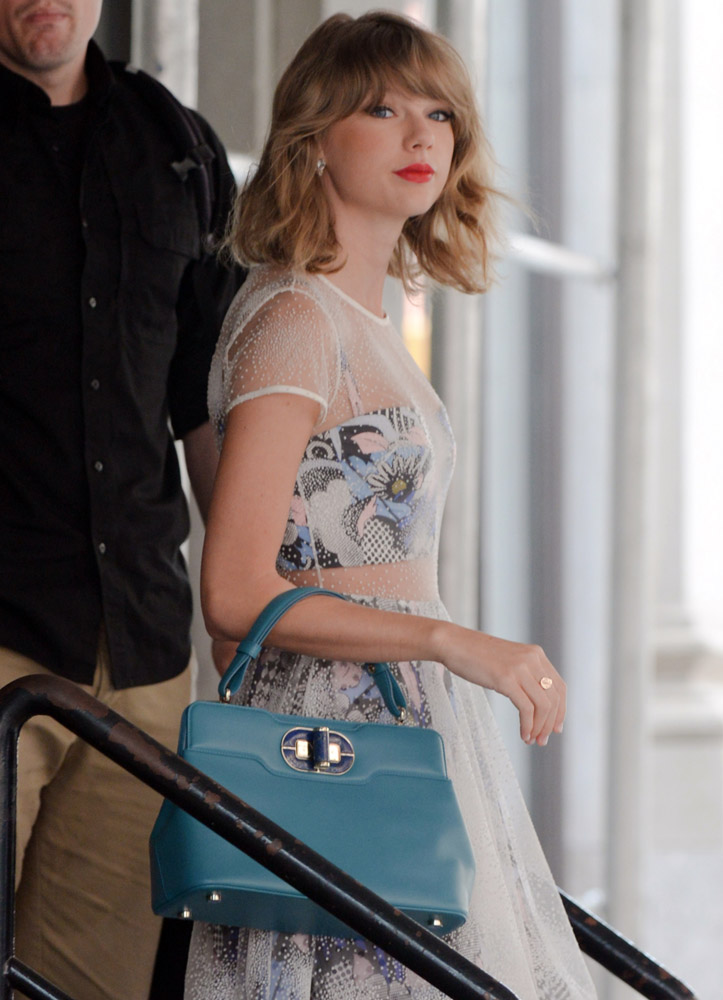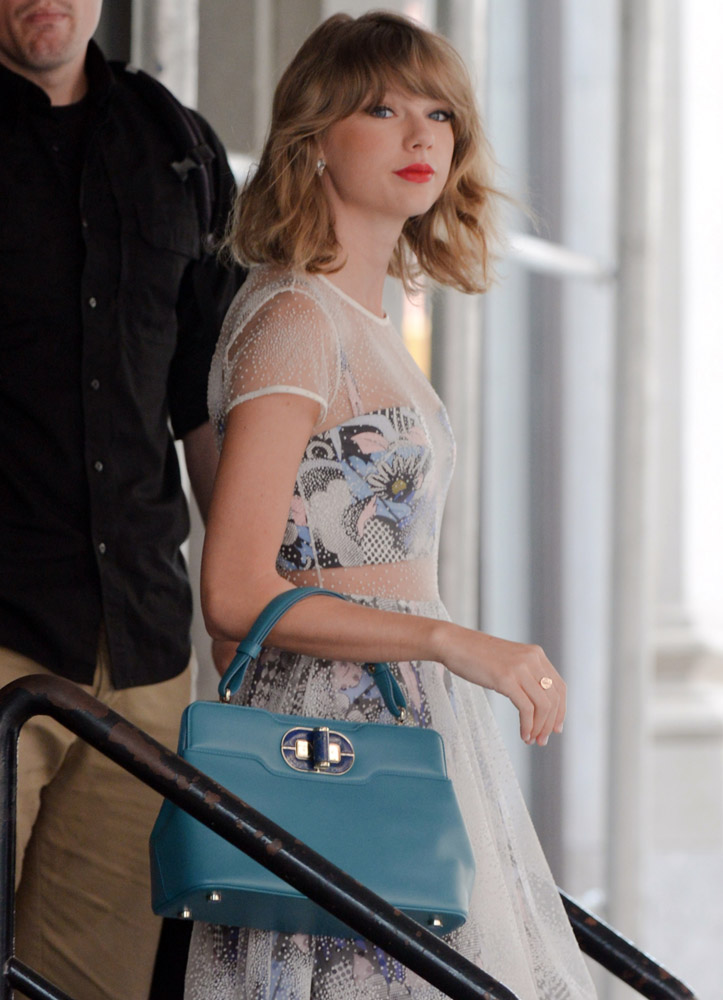 ---
Taylor is a huge fan of Dolce & Gabbana bags as well as two-piece matching outfits.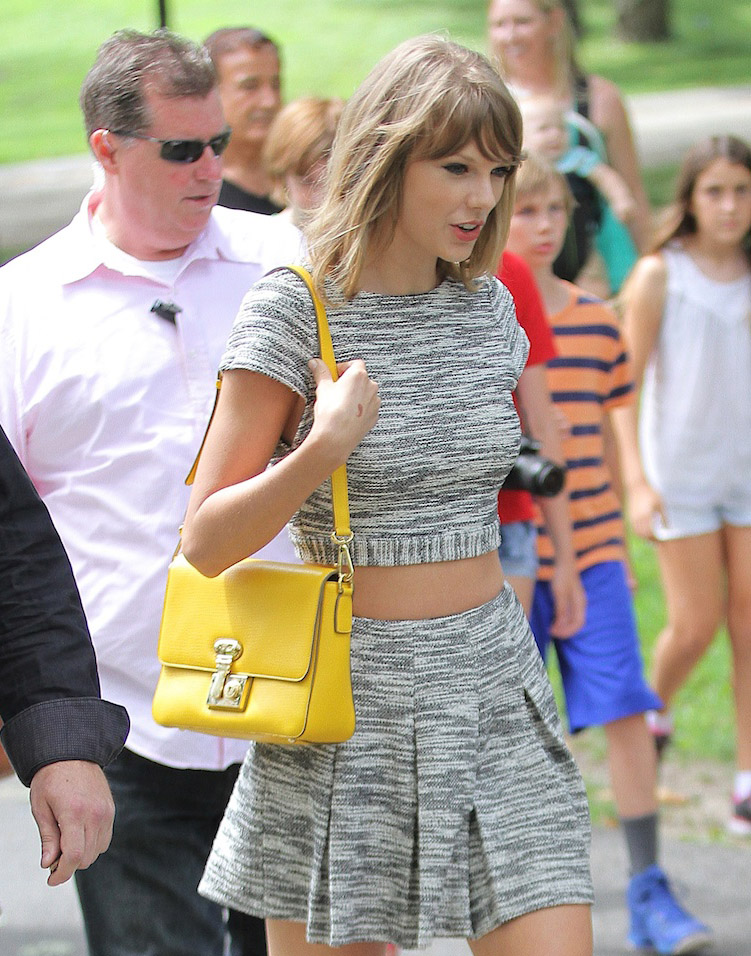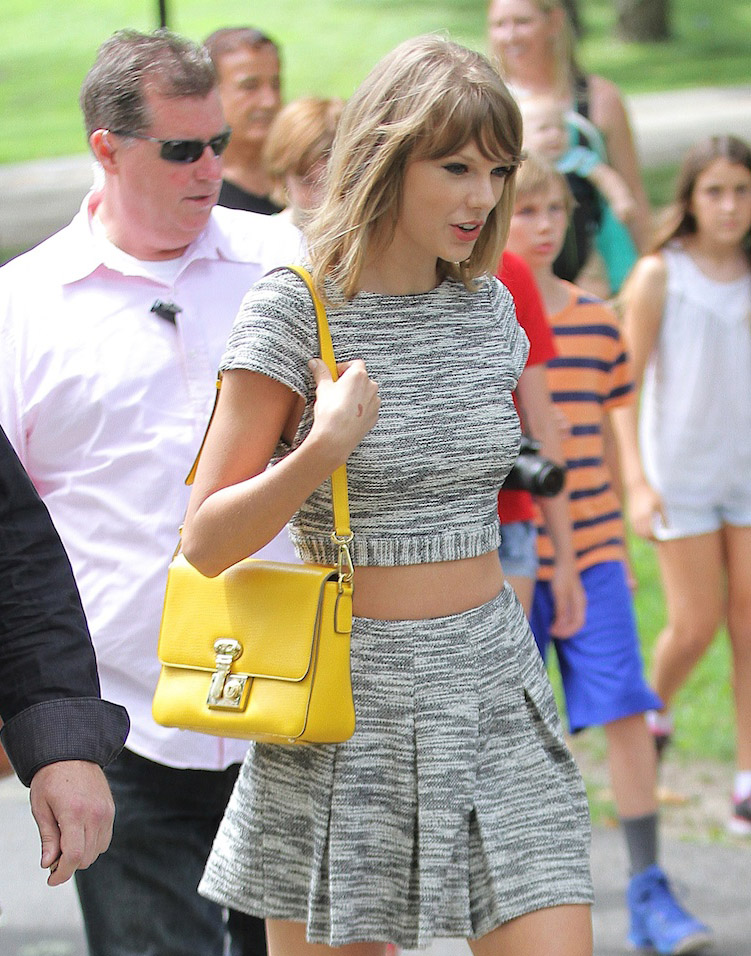 ---
Taylor has a way of taking brands and shapes that are generally embraced by women older than she is and making the look seem girlish and young. This Tod's bag is among her favorites; it recurs in her outfits quite a bit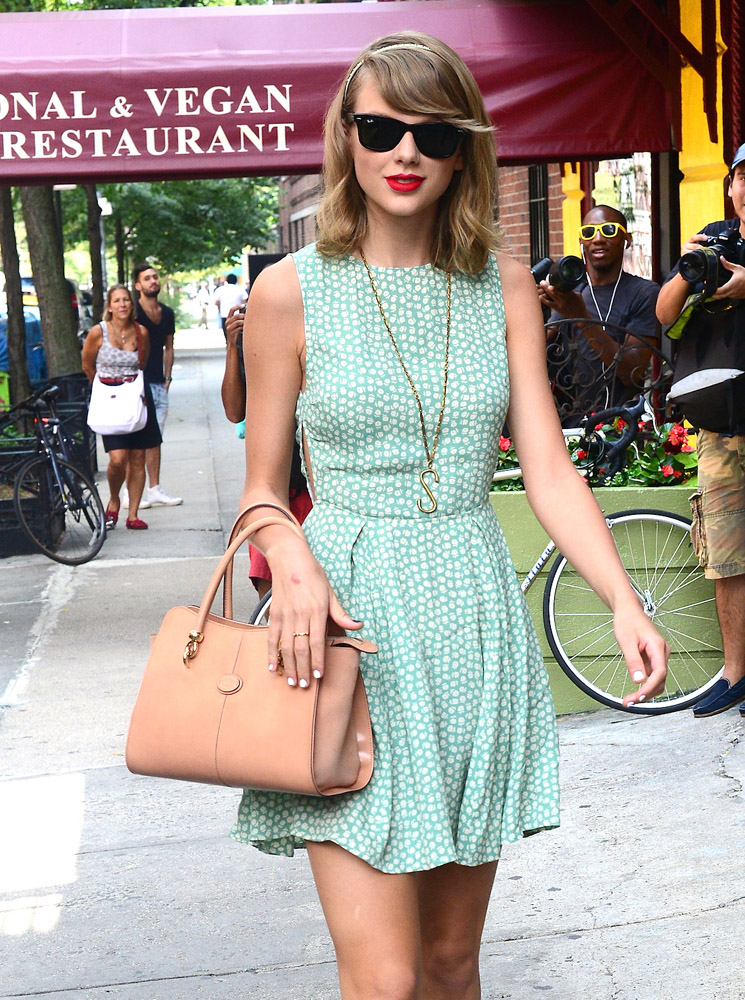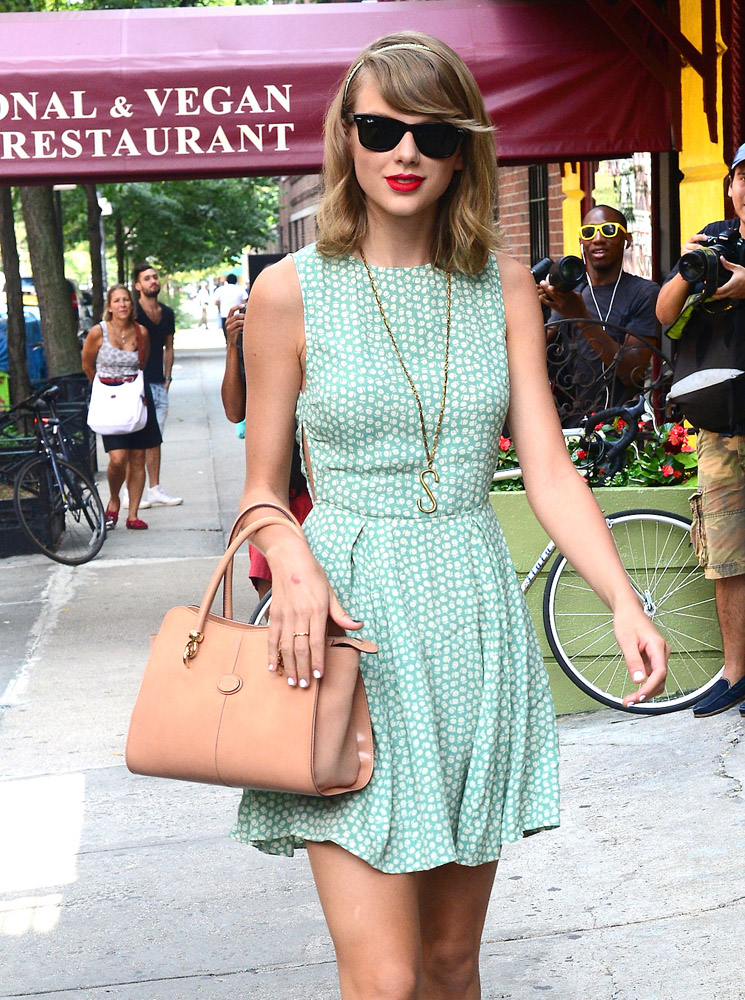 ---
I bet recent BFF Karlie Kloss had some influence on Taylor's look here; it's more model-off-duty than she usually goes.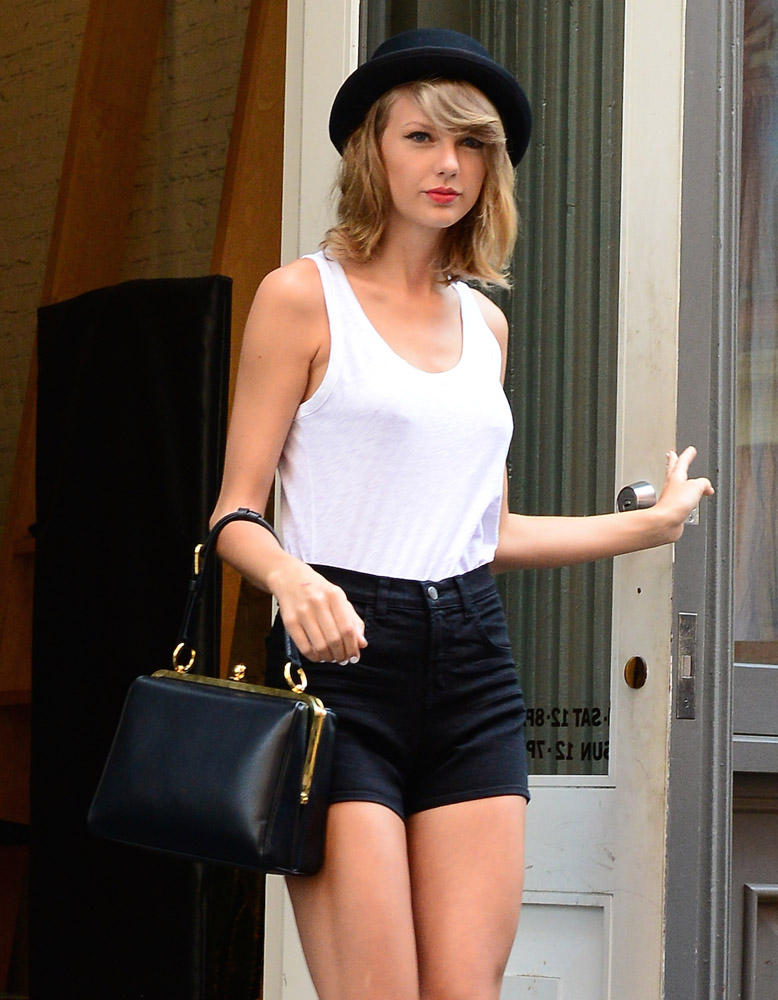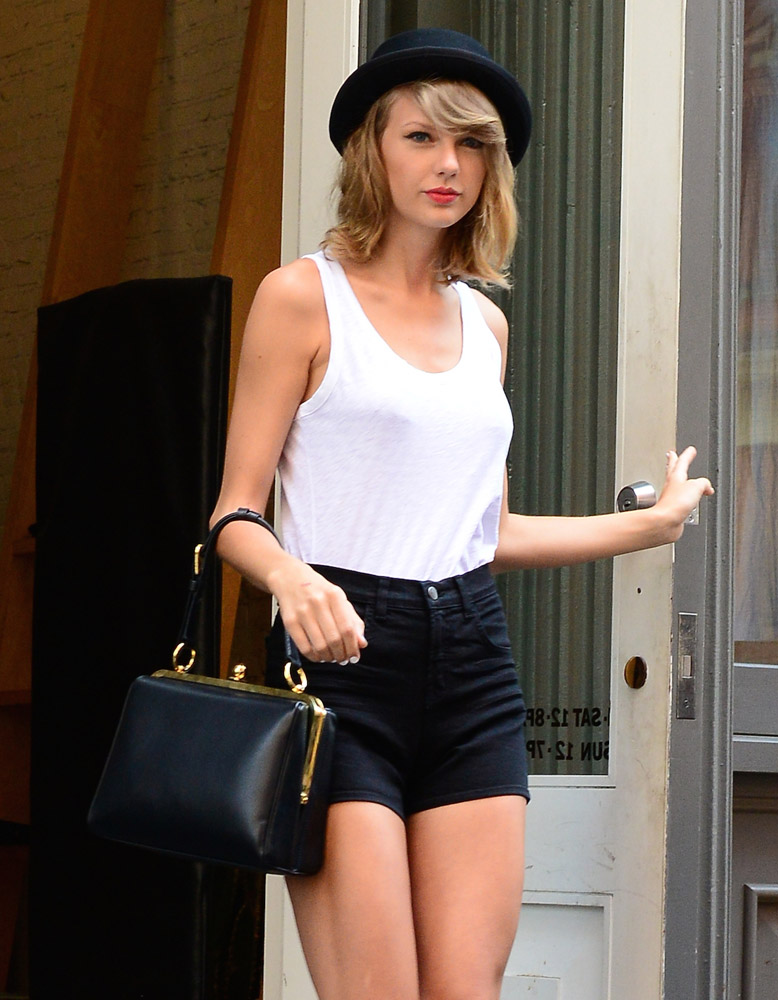 ---
A cute Kate Spade bag and a two-piece matching polka dot getup are as close to Peak Taylor Swift as we'll come today.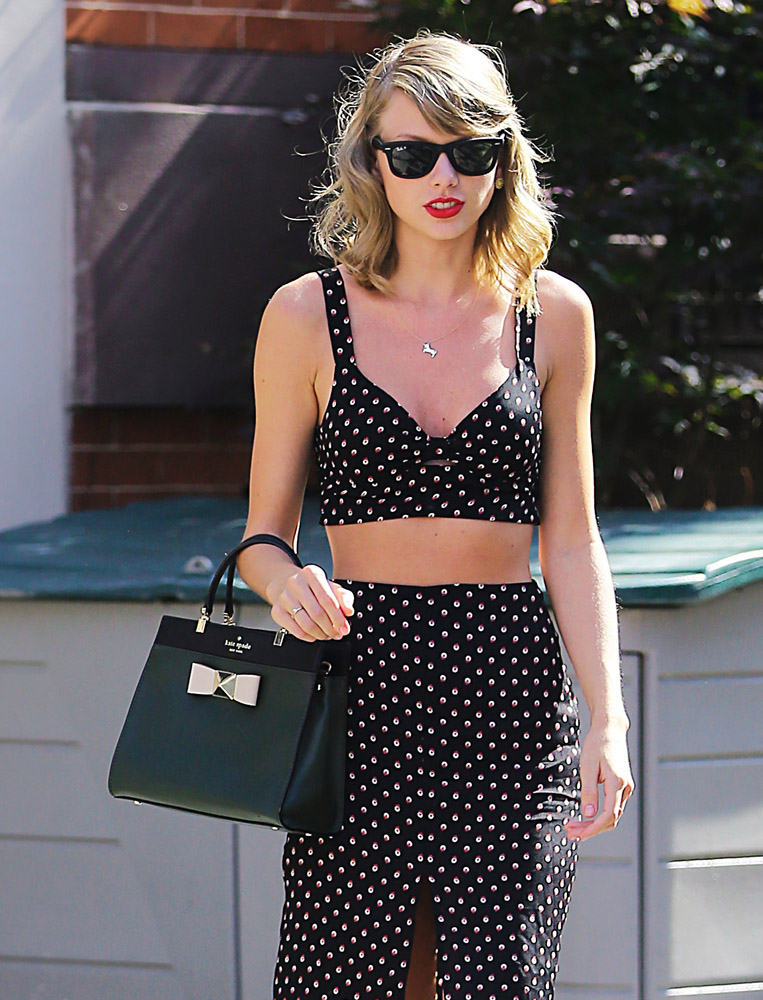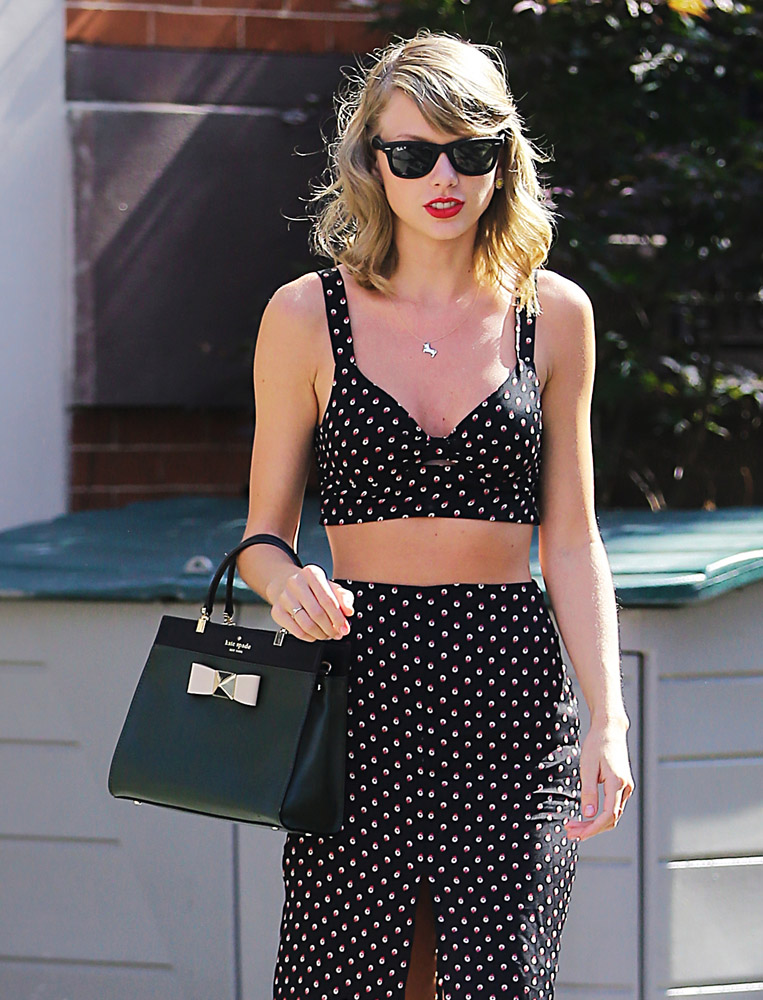 ---
Taylor Swift loves her two Sara bags so much that I wrote an entire ode to her use of them.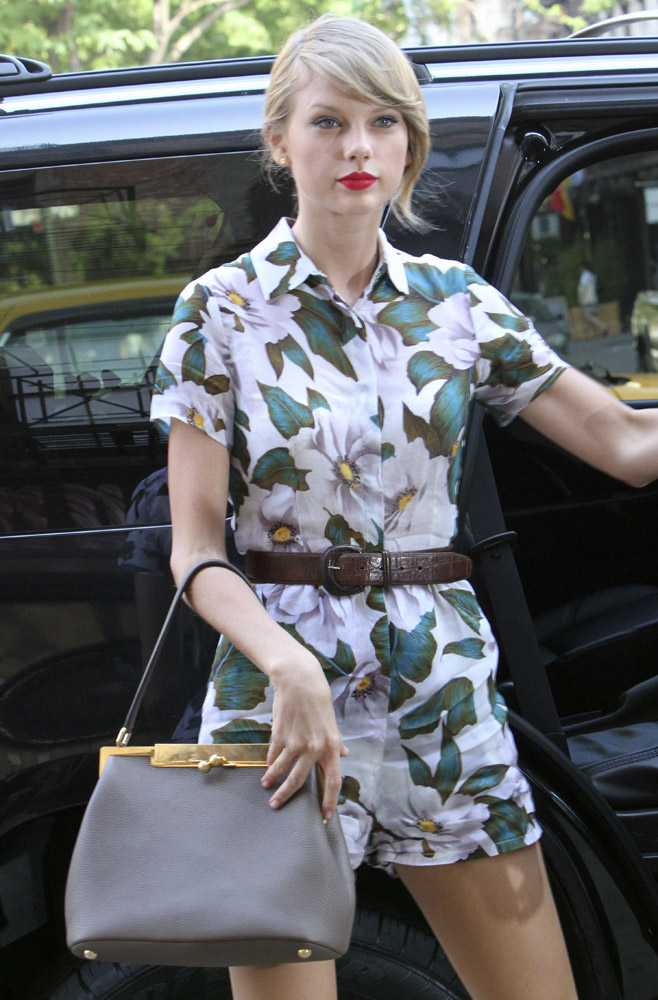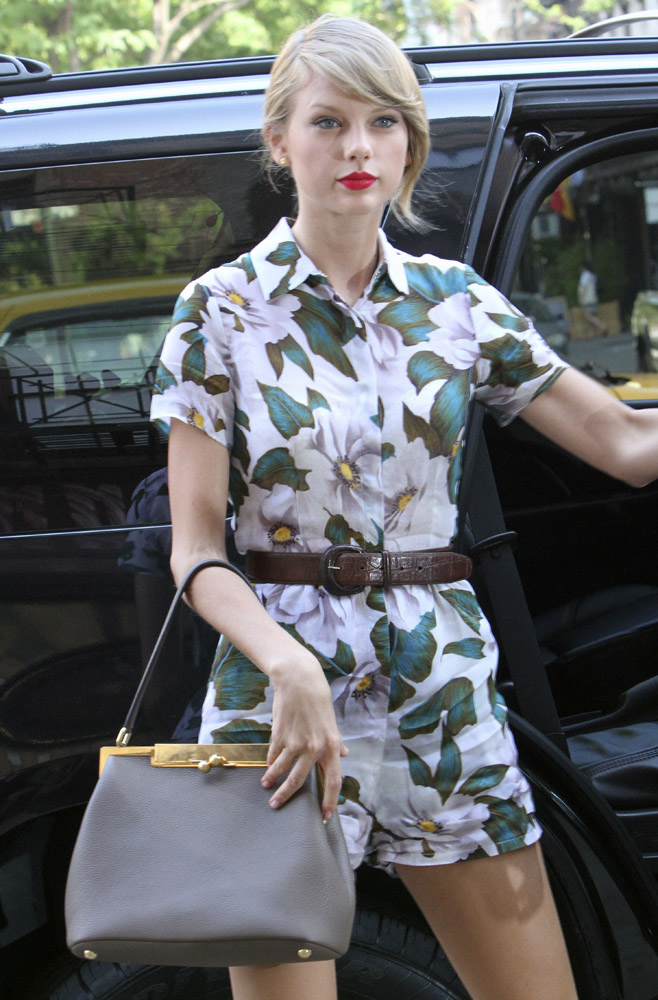 ---
ONE by Gelareh Mizrahi I Don't Wanna Go to Bed Python Python Heart Purse
$1,050 via ShopBop
This outfit basically writes the book on how to successfully pull off a novelty purse–clean, simple basics offer the perfect balance.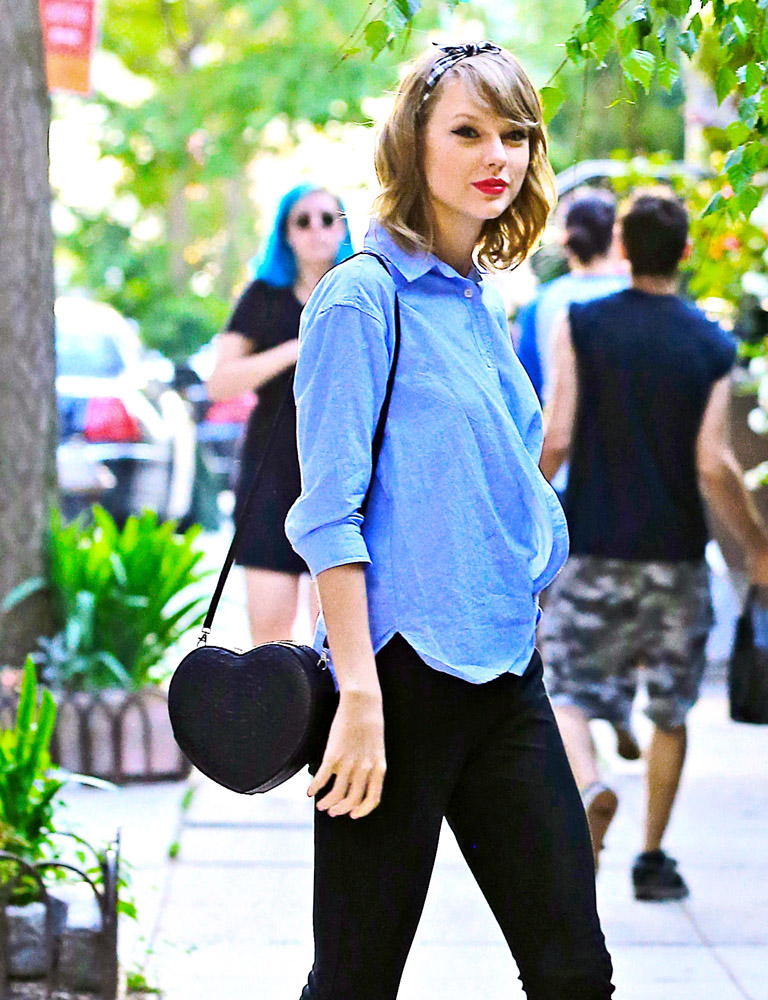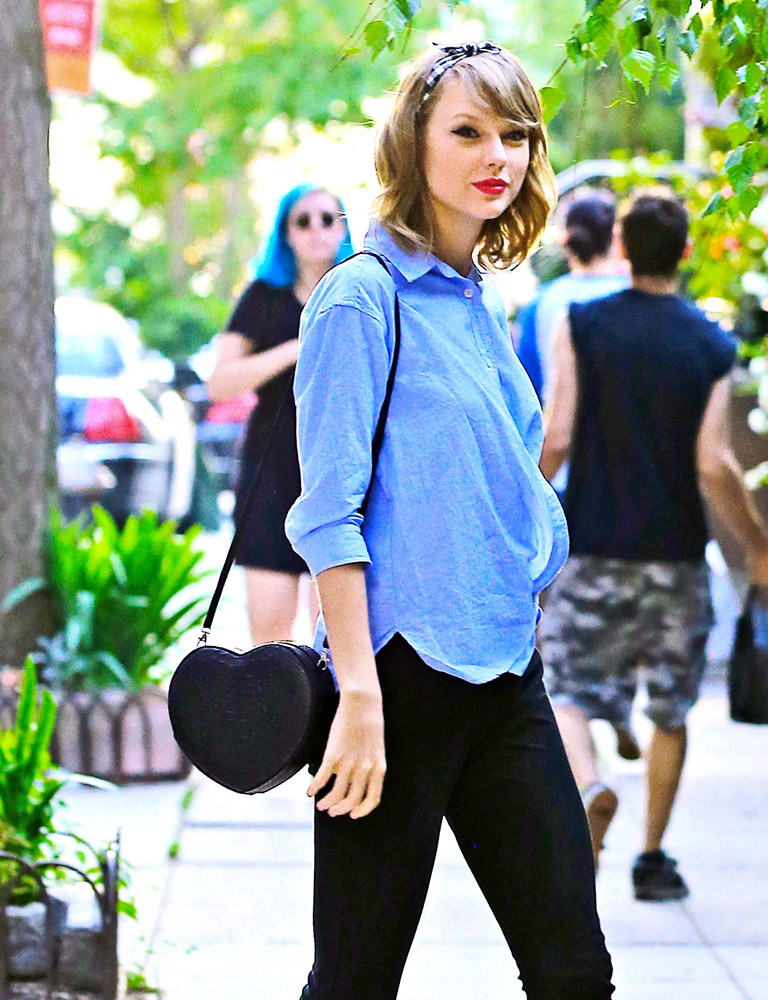 ---
Elie Saab Flap Bag
The interesting thing about this outfit is that the dress doesn't have any green in the print, but Taylor's purse fools you into assuming it does.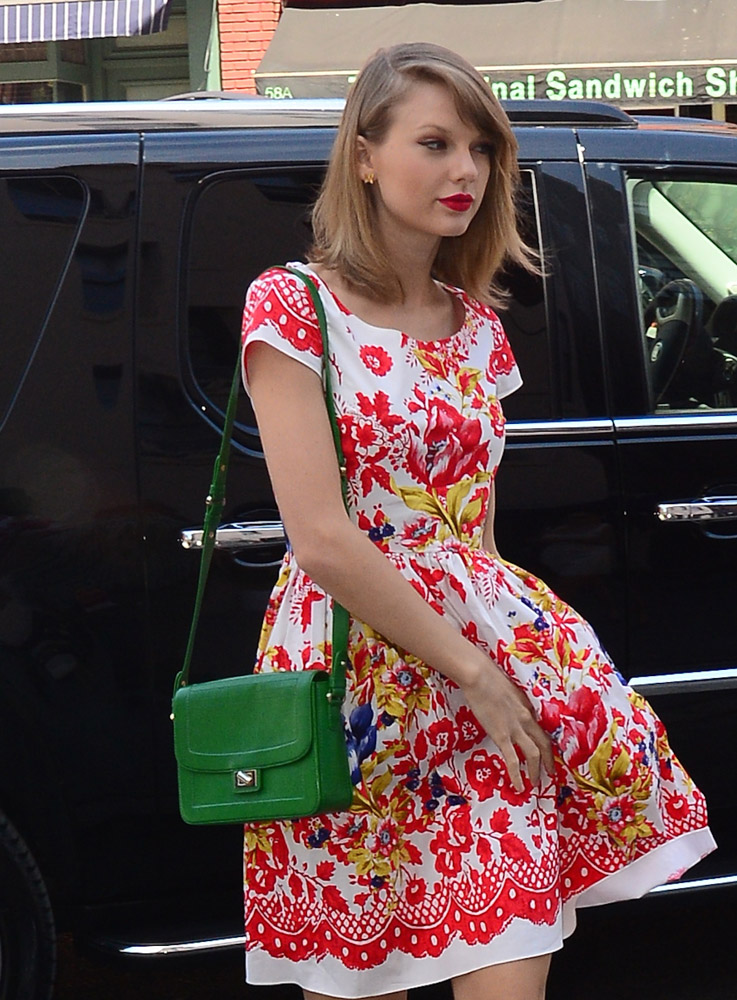 ---
Bhailiu Streamlined Satchel
This bag has long since sold out, but before Taylor made it popular, you could have picked it up at your local Anthropologie.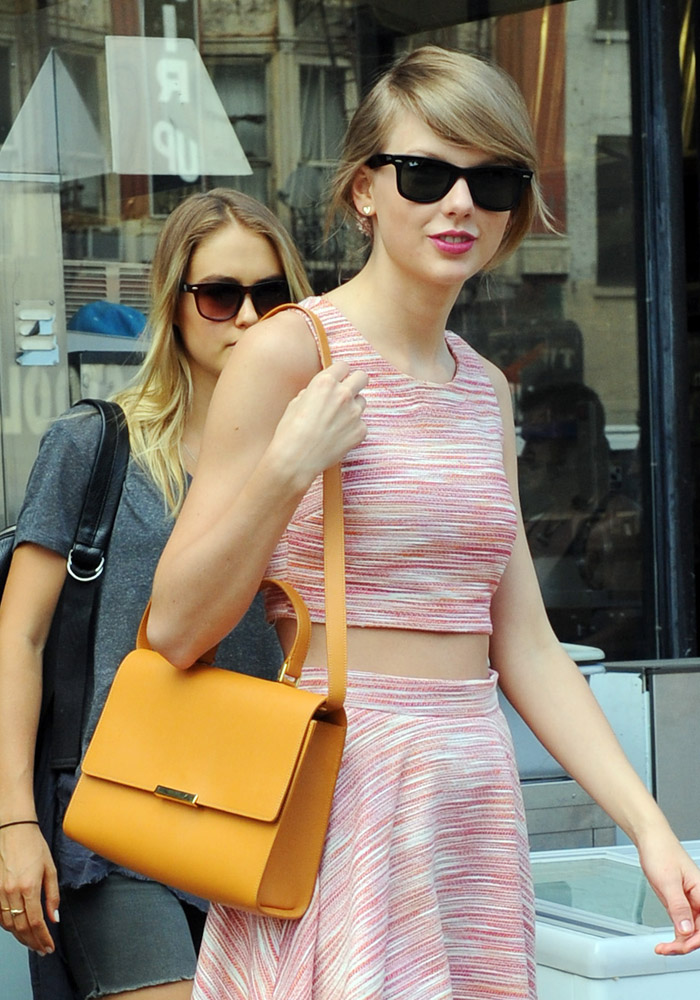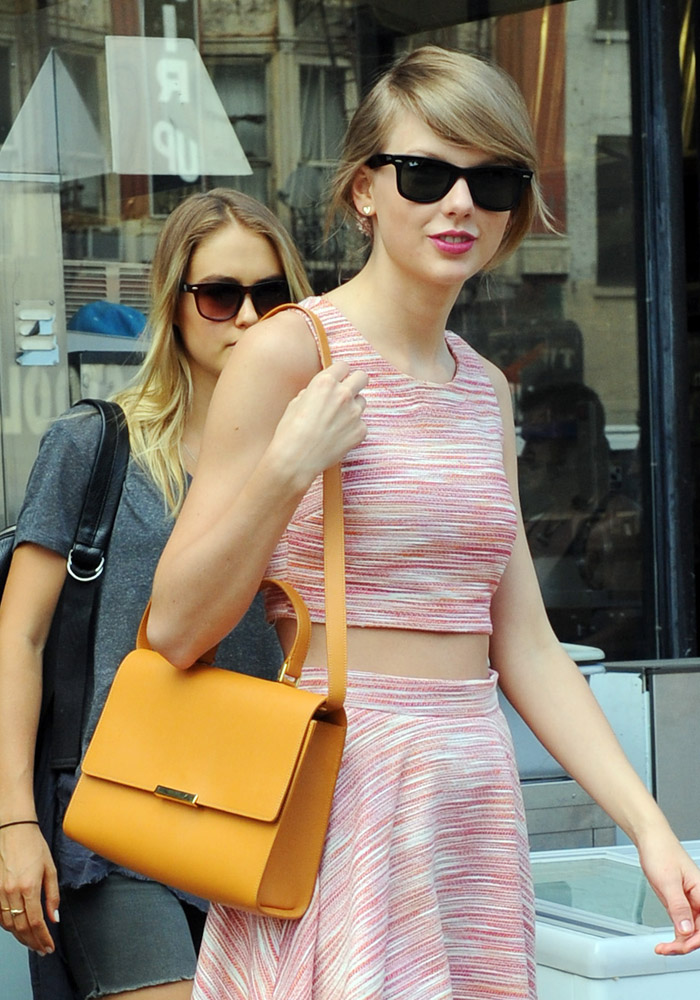 ---
In addition to Taylor's affection for this bag, J. Mendel has dressed Swifty for the red carpet several times.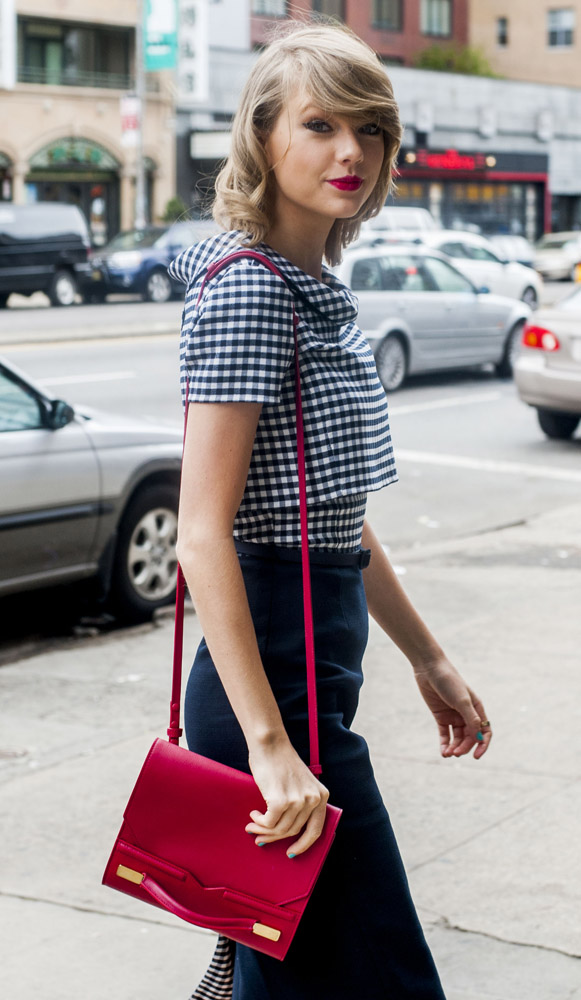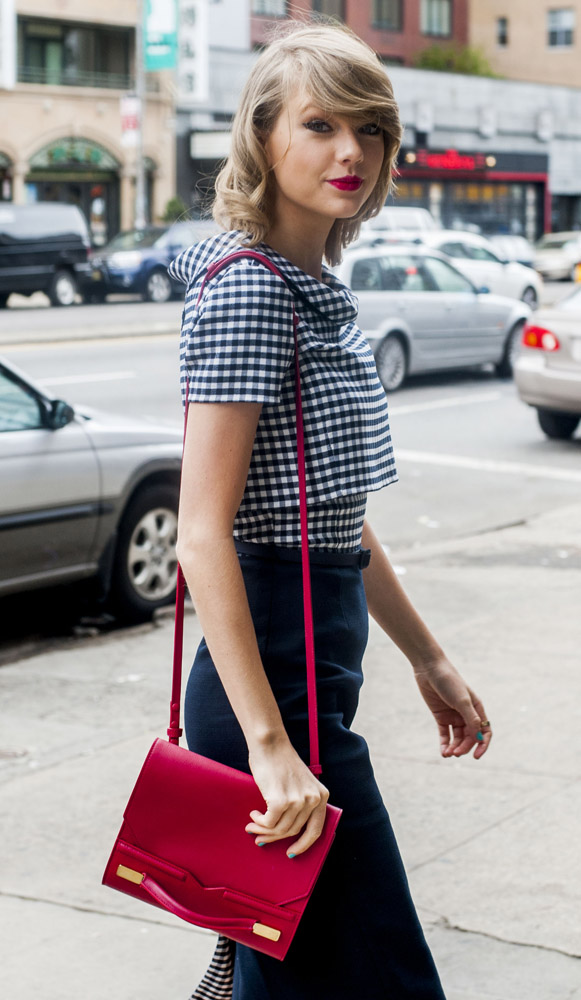 ---
Elise Saab Flap Bag
These are the most common type of Taylor Swift paparazzi photos these days; either ascending or descending the stairs to her home in Tribeca.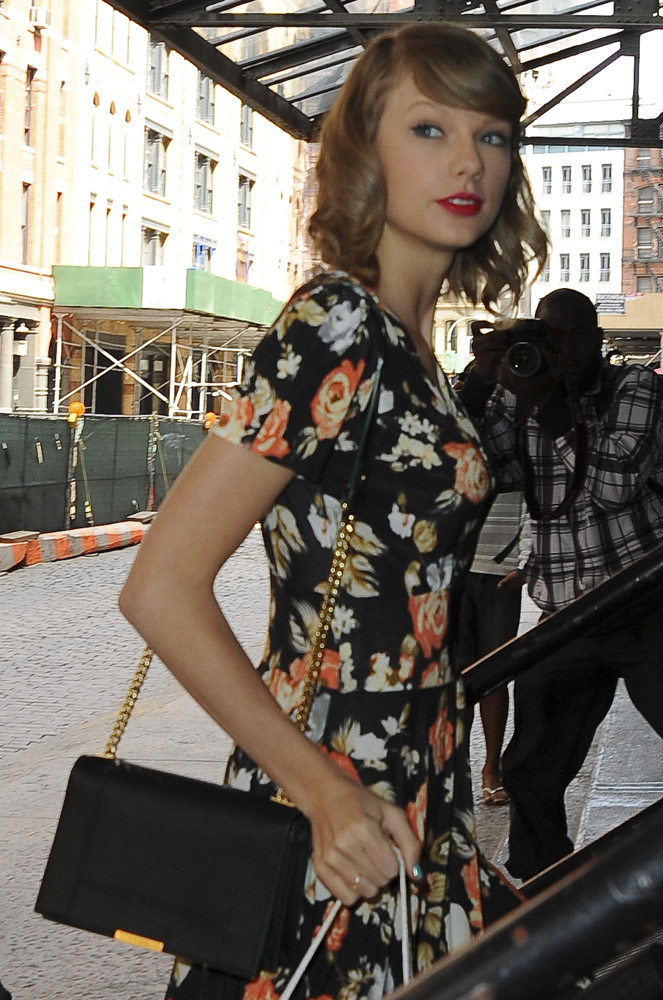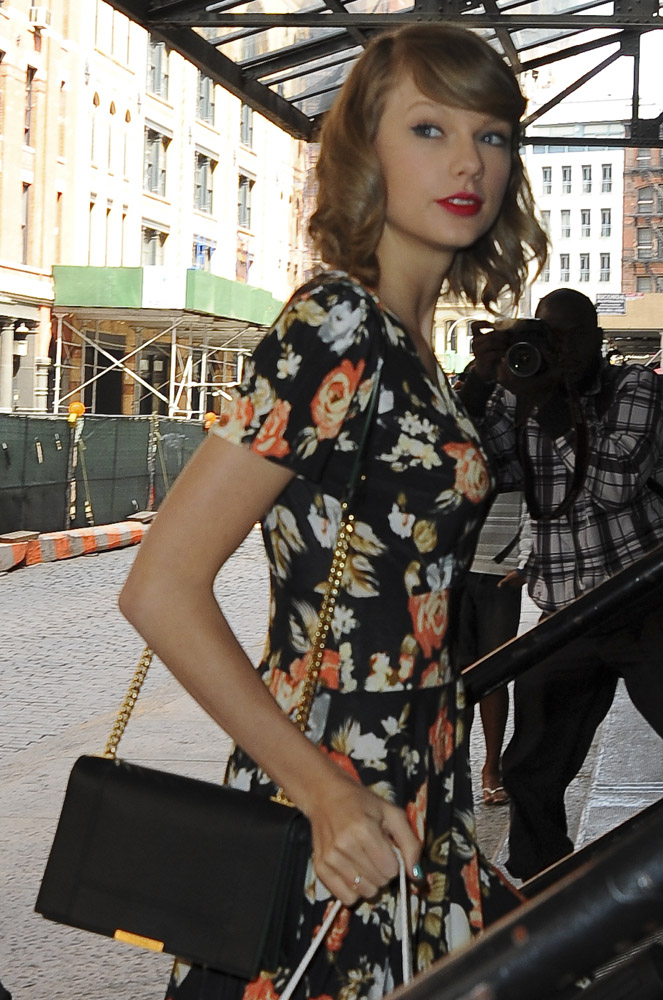 ---
M2Malletier is super hot within NYC fashion circles right now, which is usually a direction that Swift doesn't take. I'm glad she did here; it's a perfect compliment to her angular J. Mendel look.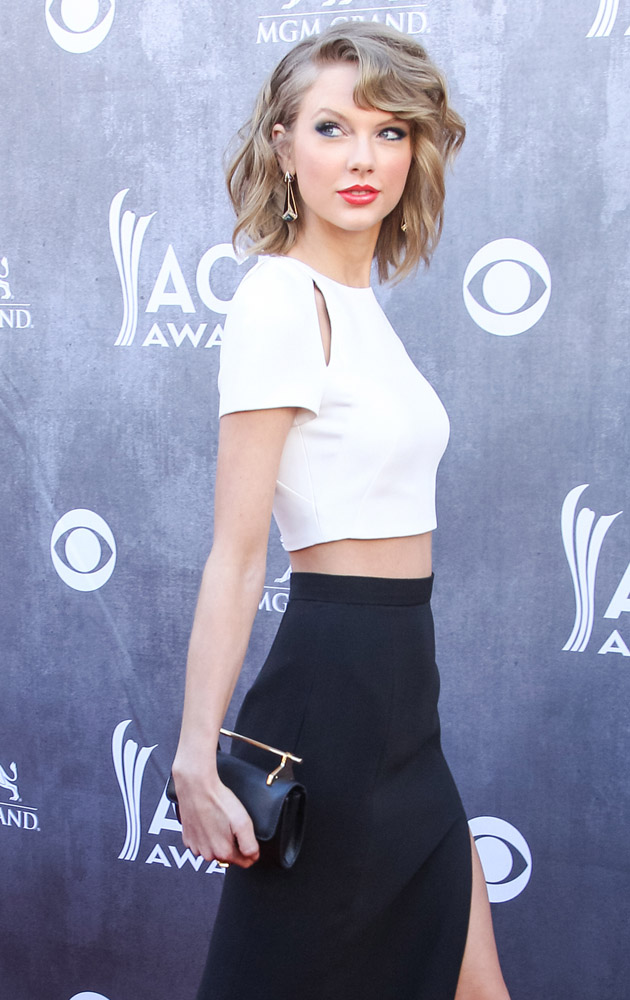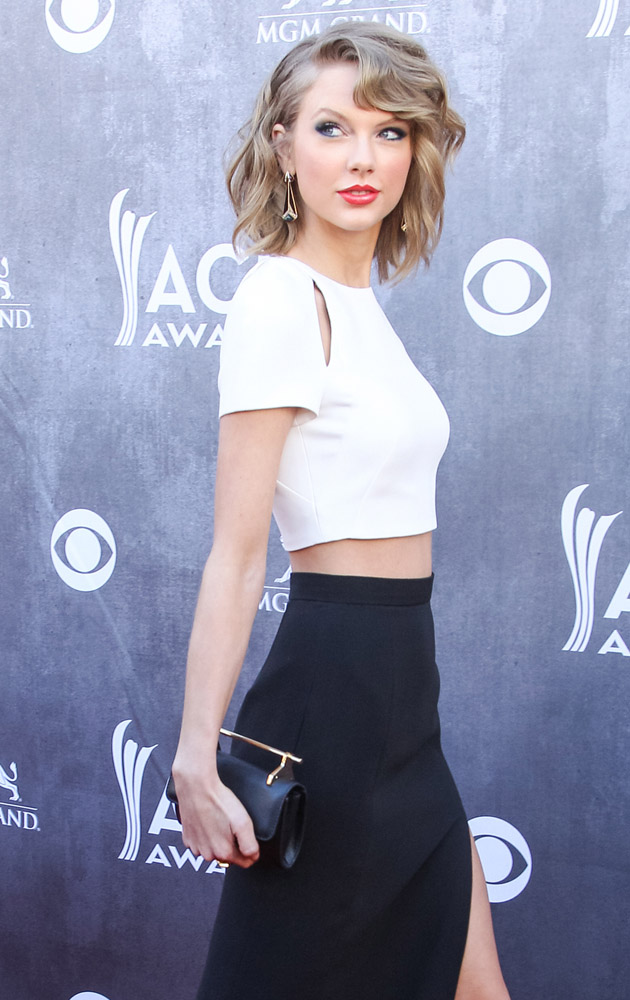 ---
Cuore and Pelle Caterina Purse
Taylor's appreciation for this indie-designed bag means that it's now sold out.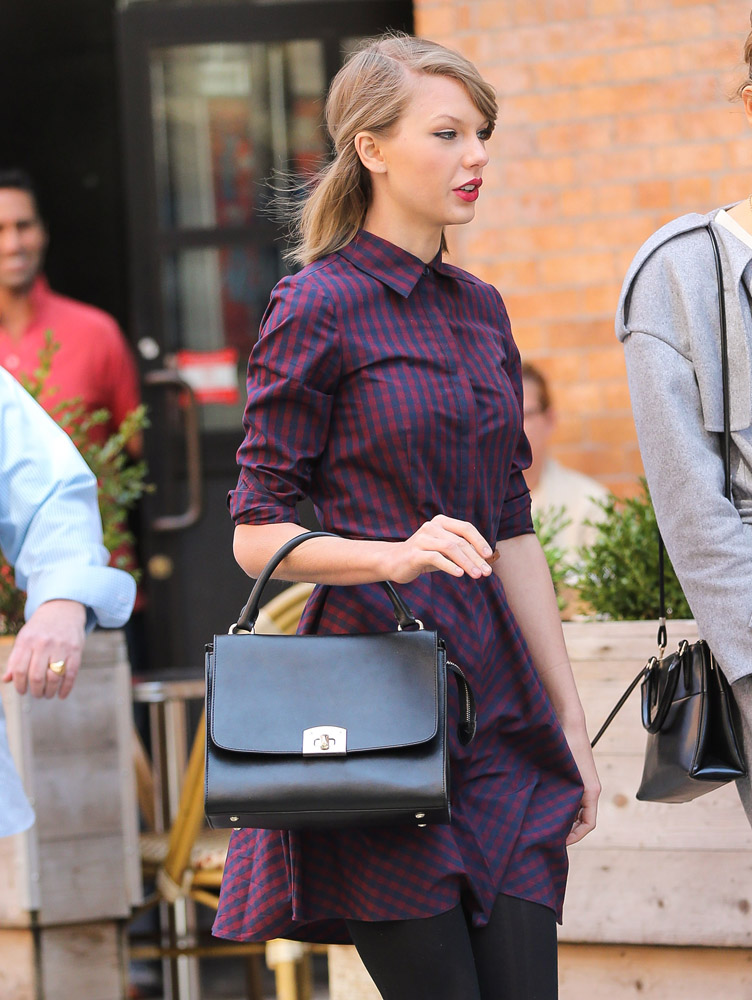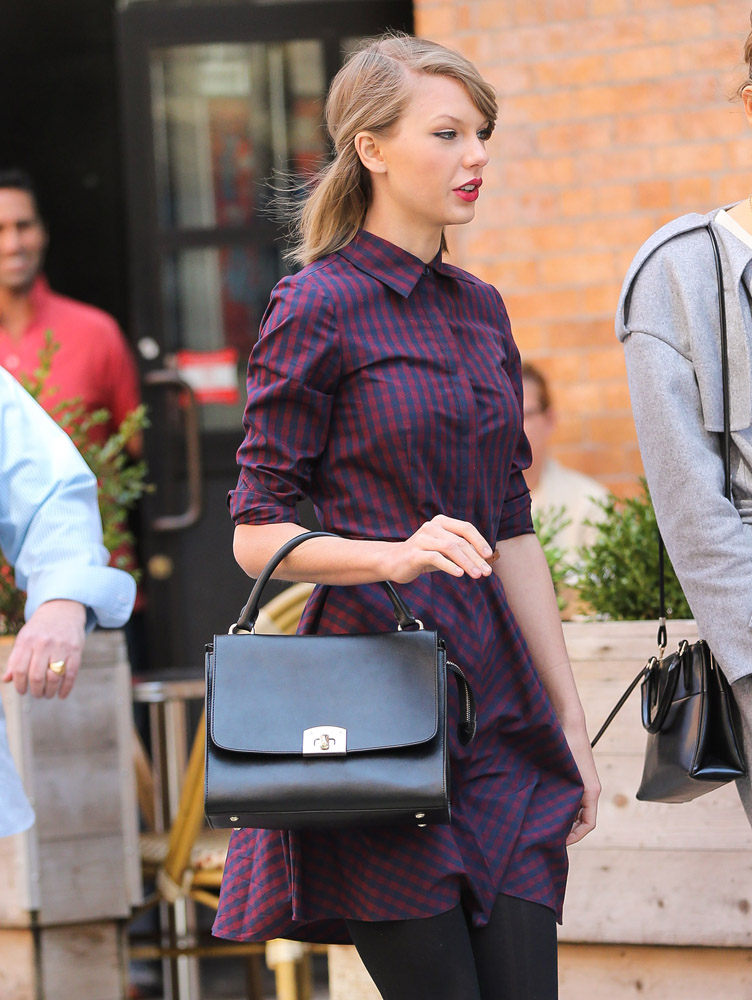 ---
Based on photo evidence, this bag is far and away Taylor's favorite of the past couple years.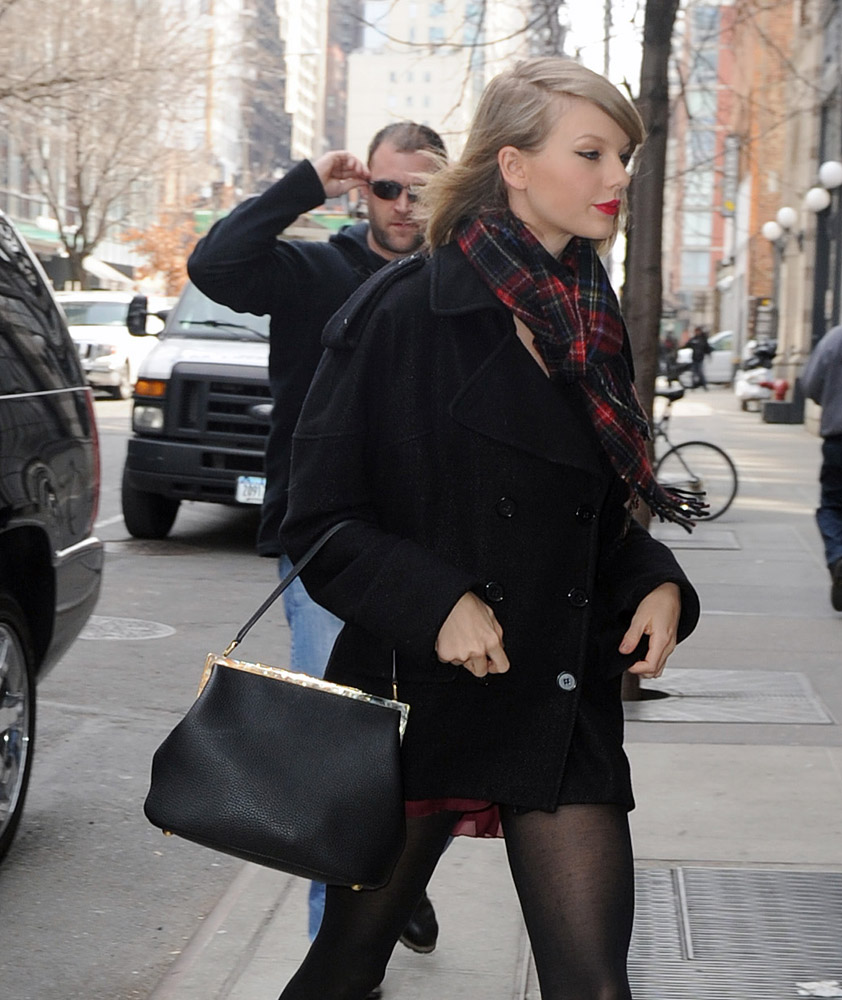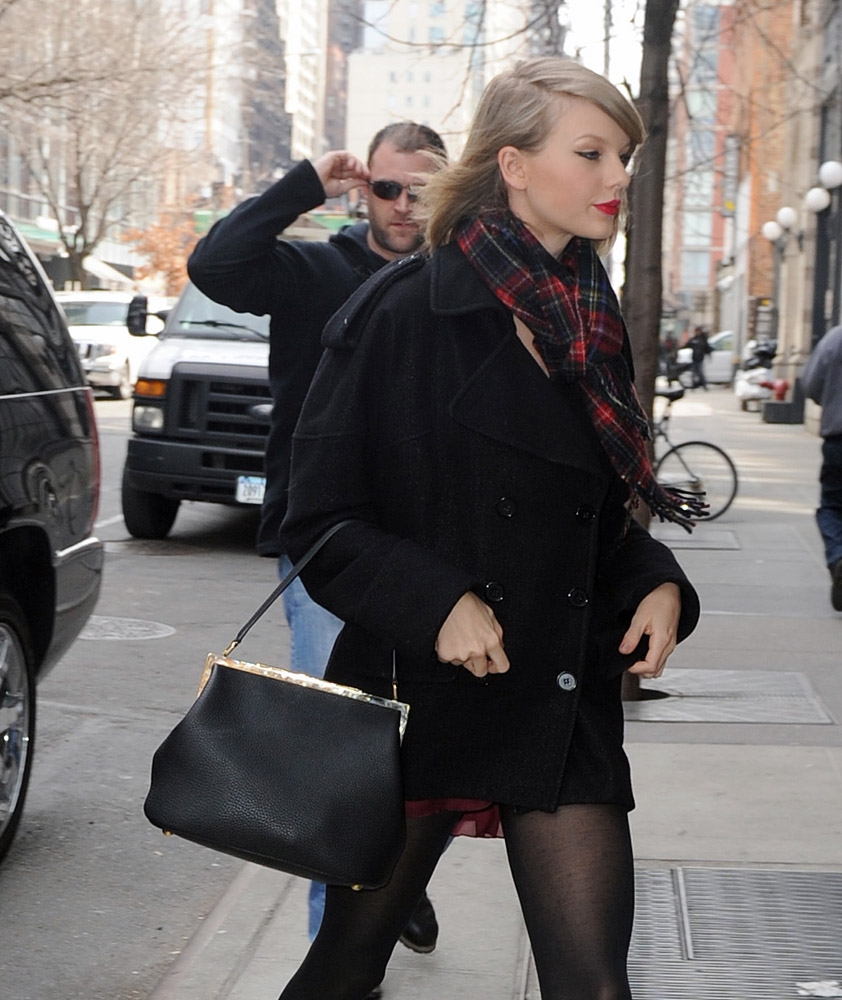 ---
When T. Swift loves a bag, she gets it in more than one color, because she's T. Swift.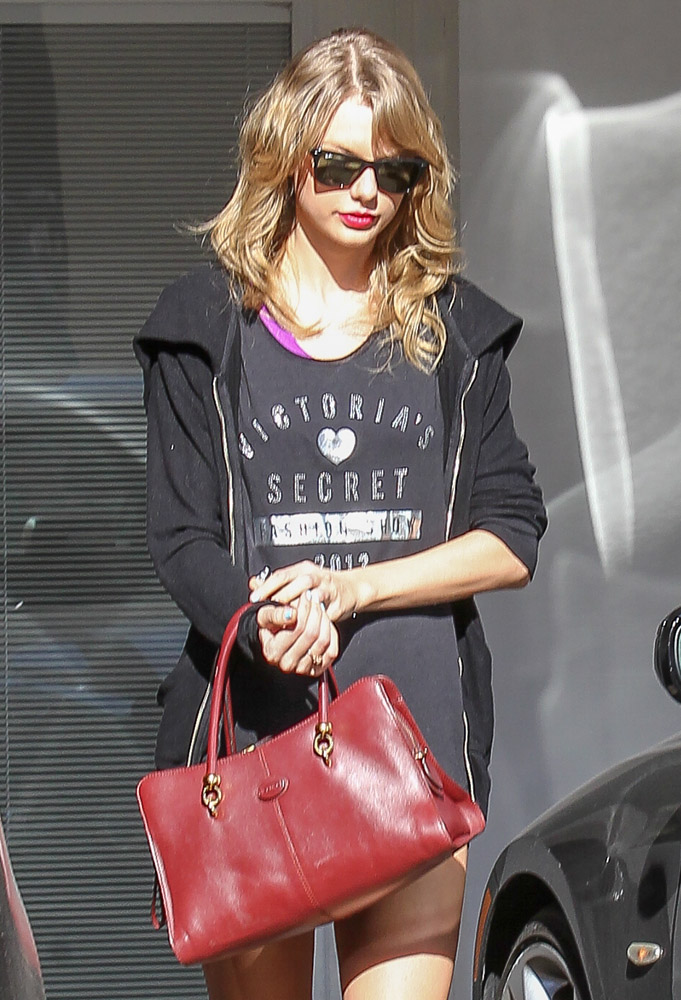 ---
Mark Cross, with its vintage feel and traditional structures, is such a perfect brand for Taylor's usual look.