Or should I say, The Many Bags of Catherine, Duchess of Cambridge? It's been over a year since Kate married Wills in a wedding that I will admit staying up until the wee hours of the morning to witness, but it seems like we can't quite get used to what we're supposed to call the former Ms. Middleton. That hasn't stopped anyone from talking about her, though, particularly when it comes to fashion. The things that Kate wears and carries sell out immediately, and not just in her native Britain, but all over the world.
Why is that, exactly? It's not just the royal caché; Kate's ensembles are generally a well-calculated combination of both high-end and attainable pieces, which gives her personal style an accessible, real-girl feel to it that celebrities don't usually have, let alone actual royalty. When Kate was still a commoner, the handbags she carried were never showy or ostentatious. As a duchess, that remains true, except that she's more often carrying clutches than tote bags. Ahh, the perks of having an entourage to do the heavy lifting! Check out our roundup of Kate's accessories, then and now, after the jump.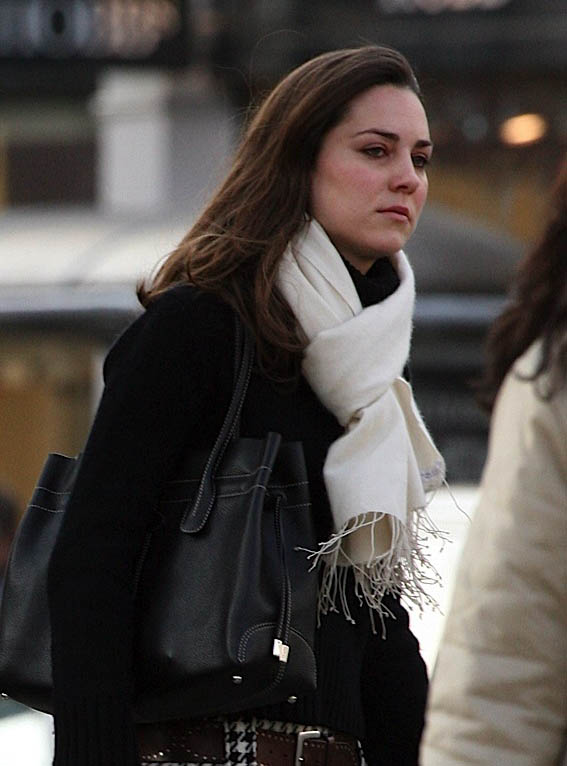 First, let's go back - way back - to when the British press was still calling her "Waity Katie" and no one knew if Prince William would ever make an honest woman out of her. As a relatively normal woman (if the girlfriend of a prince), Kate did what most of us do - she carried a neutral, function work bag like the Tod's D-Bag Tote. A newer version of this style is available for $1845 via Saks.
1 / 11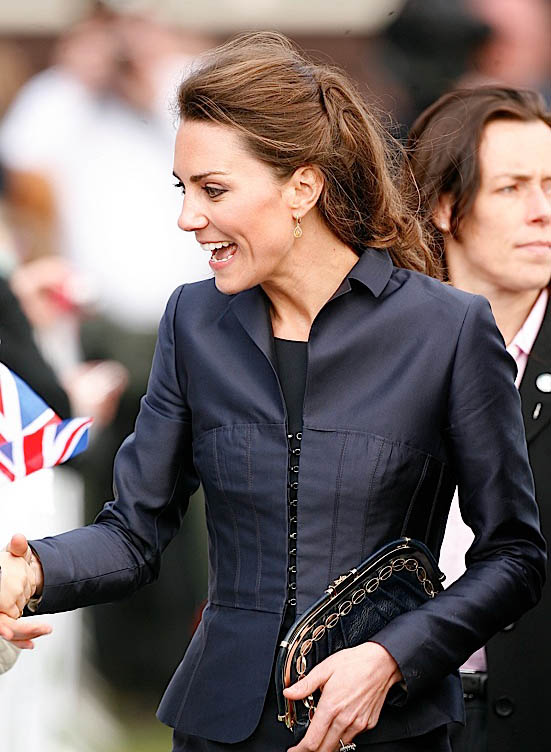 When Kate and Wills' engagement had been announced but they had yet to wed, Middleton's wardrobe was positively frumpy on occasion, perhaps out of the Palace's desire to frame her as an appropriate future princess. The Anya Hindmarch Shell Frame Clutch is the only redeeming aspect of this ensemble, but better things are to come. Shop Anya Hindmarch via Net-a-Porter.
2 / 11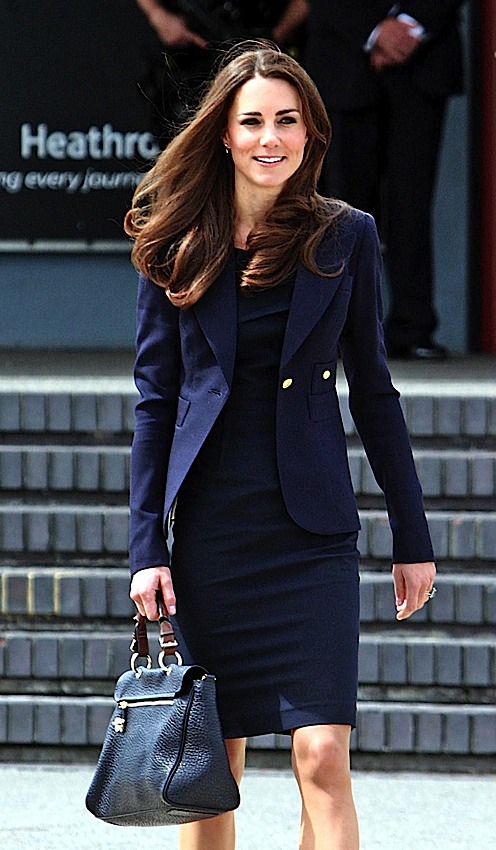 After the wedding watched 'round the world, the first handbag Kate carried was a Mulberry Polly Pushlock Satchel at Heathrow Airport, where she and Wills were jetting off to Canada. Shop Mulberry via Net-a-Porter.
3 / 11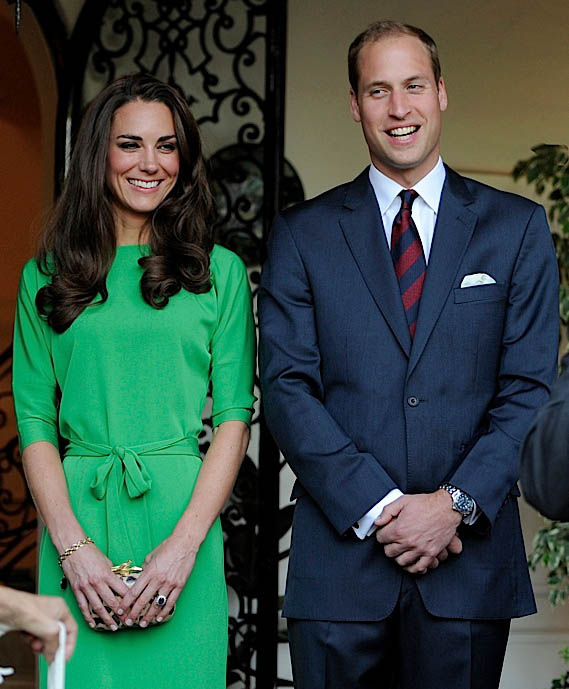 Shortly after their honeymoon, Kate and Wills embarked on their first North American tour. Kate's carried almost exclusively British designers since her engagement was announced, but while in America, she went with a local bag - the Diane von Furstenberg Lytton Minaudiere in leopard print. Buy through ShopBop for $395.
4 / 11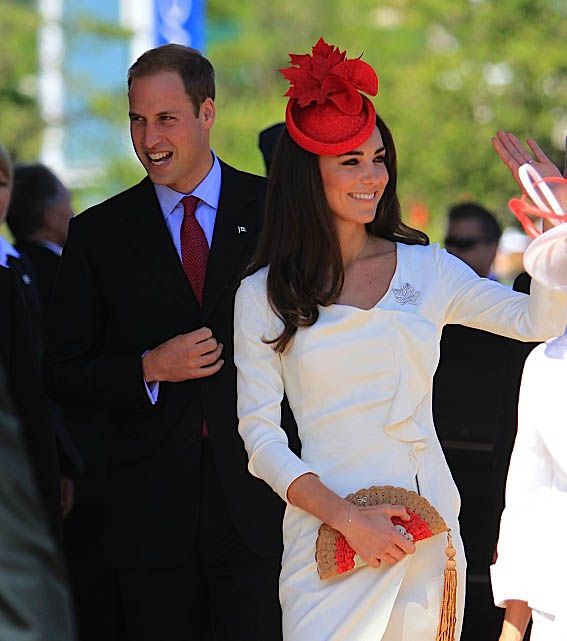 When the trip took the pair to Canada, though, Kate went back to one of her favorite Brits with the Anya Hindmarch Raffia Fan Clutch. Shop Anya Hindmarch via Net-a-Porter.
5 / 11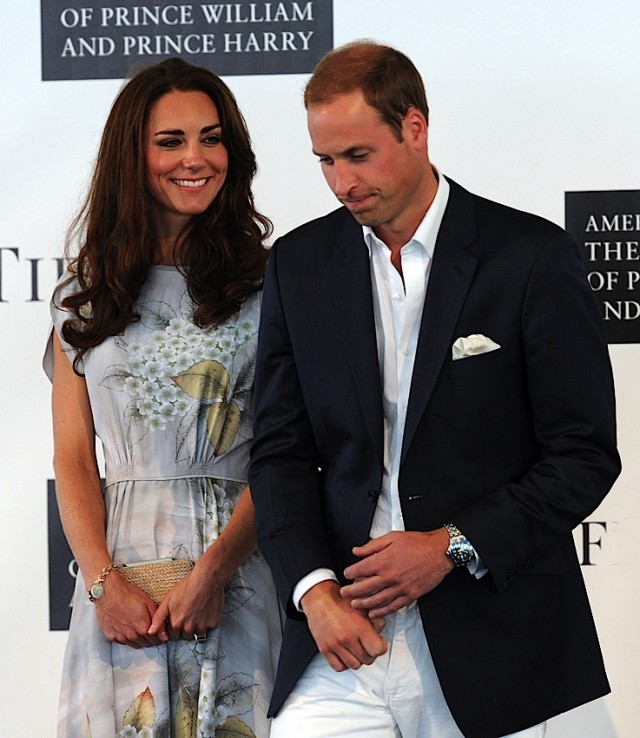 If there's one British brand that Kate's put on the map, it's definitely LK Bennett. She's almost constantly wearing the brand's shoes, and this LK Bennett Natalie Natural Clutch is also a perennial favorite. A similar option can be had for £195 via LK Bennett.
6 / 11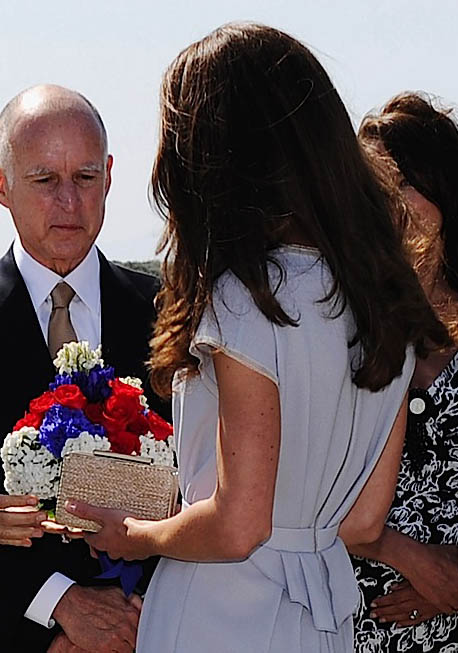 I'm tellin' you, this little LK Bennett clutch comes out a LOT.
7 / 11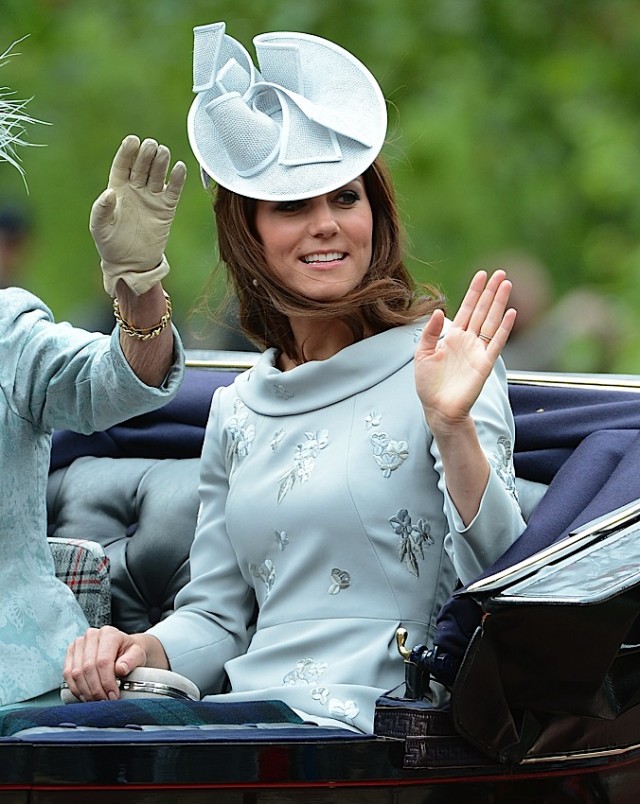 Now that she's a princess, it's almost all tiny clutches, all the time. Sometimes it seems like there might not actually be anything inside them at all, but rather they simply provide something for Kate to do with her hands in photos. In this case, it's a Alexander McQueen Skull Box Clutch in dove suede. Shop a similar McQueen clutch for $1655 via Neiman Marcus.
8 / 11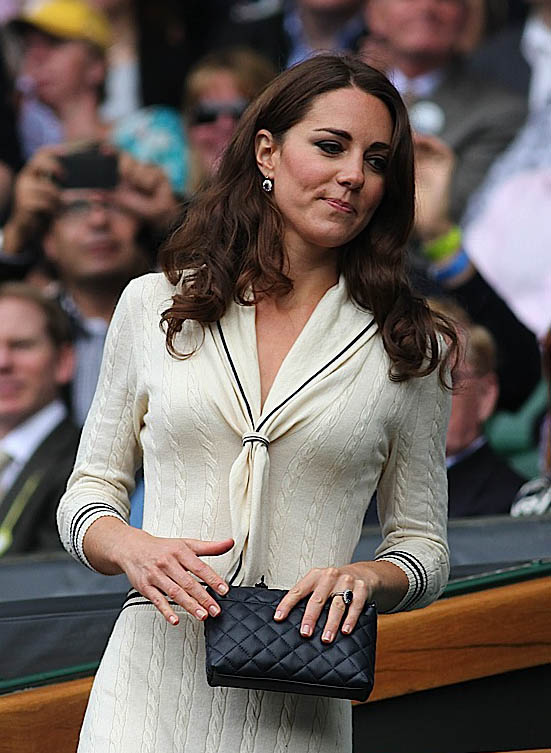 When I first saw this picture of Kate carrying this Jaeger London The Kate Quilted Clutch, I thought that perhaps she had stepped a bit out of character to embrace a little bit of Chanel. Not so! Jaeger London even named this little black bag after her, and she's carried it quite a few times. You can have your very own for £75 via Jaeger.co.uk.
9 / 11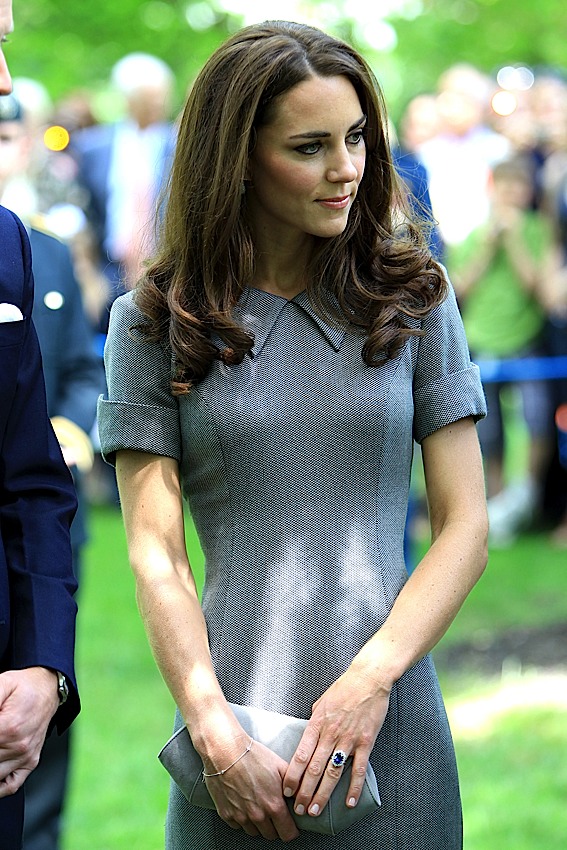 Bags like this Hobbs Somerton Patent Bag make me curious about just how vast Kate's clutch closet must be; it matches her grey sheath perfectly. Sadly, this may be one of the few brands about which the Internet holds literally no information.
10 / 11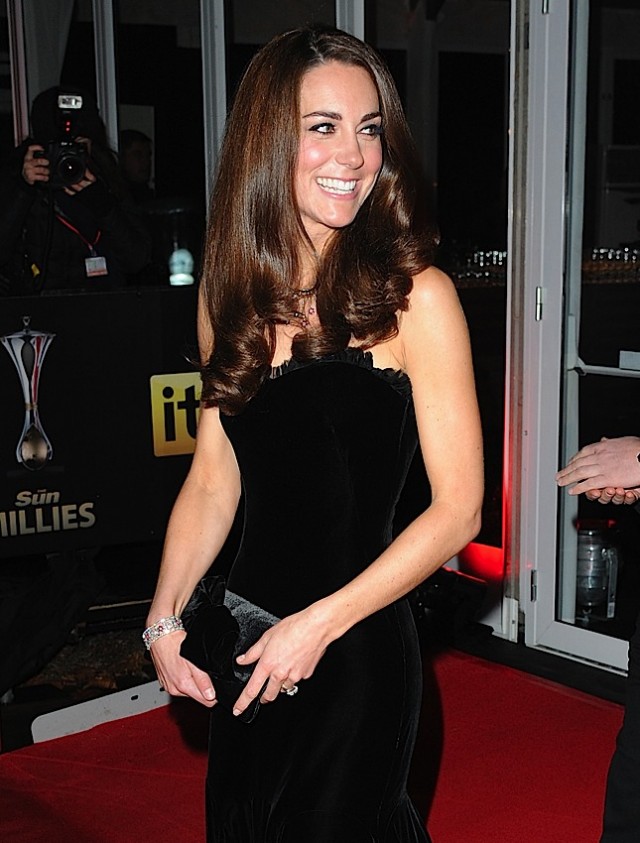 The Jaime Mascaró Black Velvet Hilary Clutch also matches Kate's dress perfectly, but I'll admit that black is a bit easier to match. It's a very reasonable 149 euros at Pretty Ballerinas.
11 / 11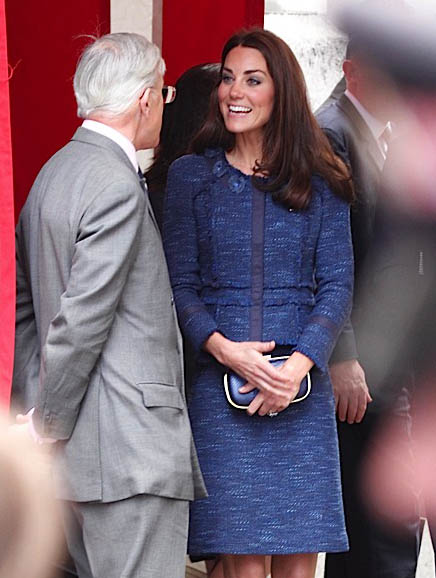 Ultimately, though, Kate's affections often go back to a handful of her favorite designers. This Anya Hindmarch Marano Clutch pops up in a lot of different versions in Kate's outfits. Buy through Net-a-Porter for $720.