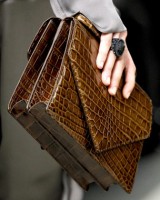 While the entirety of Italian fashion is busy making itself over in technicolor, leave it to Tomas Maier and Bottega Veneta to step back for a moment to remind us all of the not-insignificant charms of a functional, neutral, well-made luxury bag. That description might seem like it would portend a collection of boredom, but quite the contrary – Bottega Veneta Spring 2011 speaks softly, but carries a big stick.
With these designs, Maier sends a clear message – a bag doesn't have to have a gimmick to be great. Texture and ease abounds in this collection, and that translates into exotics, frayed edges and a host of variations on Bottega's traditional intrecciato theme. The results are functional and beautiful, and there's not a fad in sight.
Photos via Style.com.