Sometimes it is far better to leave a classic untouched versus trying to amp it up with interesting renditions for each new season. Bottega Veneta is synonymous with both their intrecciato woven leather and classic Veneta shape. For Spring 2011, Bottega Veneta decides to stick with clean white intrecciato leather along with frayed accents, leaving us with a bag that looks a tad unfinished.
Actually, the bag just confuses me. Of course I have zero doubt that everything about this bag in person will be luxurious; the leather, attention to detail, and even the fraying. But it is just so odd.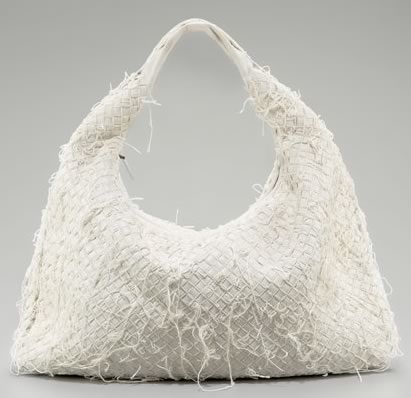 Typically when anyone thinks of Bottega Veneta they think of simple and refined and that is what the brand usually delivers. But this is a different take. A strange take. I can however imagine this bag working well with flowing sheer blouses and crisp trousers. But I have to be honest, it is simply not for me. Is it working for you? Buy via Neiman Marcus for $2,480.