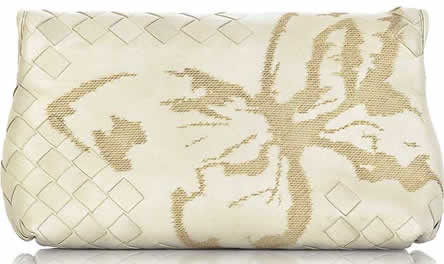 Bottega Veneta Butterfly Clutch
Yesterday was Vlad's birthday and we celebrated with an amazing steak dinner and a trip down to the Homestead Speedway Race Track, where I gave him his present, professional driving lessons. Now you have to understand Vlad is an avid car man, a guy who obsesses over engines, horsepower, carbon fiber, etc. Me? I like how cars look, but as he has taught me more I have in turn began to learn much more about cars. Any sports car driving down the road can be identified and approximate price and horsepower can be given by me now. But it is not just me learning about cars and Vlad not learning about what I love. Really, how do you think this website got started? As Vlad saw my love for handbags he helped me started this site and is still a very integral part of the website. He can identify bags and even will tell me if something is fake! I love it! So yesterday at dinner we overheard the women at the table behind us speaking about their new bag obsession and if the handbag they love is worth the price. They were speaking about Bottega Veneta, and if I did not find it rude to interrupt their lunch, I would have popped over and told them Bottega Veneta is a timeless investment. But I think there is a great way to break into a brand if you are a little wary; go with clutches and accessories. If a brand meticulously makes their small leather goods, you can be assured their larger leather goods will be of amazing quality also.
Last week I told you about the Bottega Veneta Butterfly Bag, and the response was split down the middle. I personally like the bag, but I will not buy it, it is a bit too much for me. But I found the perfect consolation prize, the Bottega Veneta Butterfly Clutch which is designed with ecru woven leather and butterfly detailing on the back. This fold over clutch from Bottega Veneta is one of their house favorites, being sold in various sizes and colors (we had tremendous responses with the Pink Bottega Veneta Clutch giveaway). This clutch is ideal for someone who loves the butterfly print but is not totally in love with it enough to want it all over their larger tote. The print is on the back of the clutch, so it does not need to be seen at all times, but adds a fun touch. There is a magnetic fastening for the flap closure and blue suede lining. Buy through Net A Porter for $770.