Those who follow Demna Gvasalia and his work at Balenciaga have seen it all in the seven years since he was appointed creative director. Known for his sometimes kitschy, often outlandish, occasionally logo-laden designs, Gvasalia is one of fashion's most experimental designers. It came as no surprise then that it was he who Gucci and Alessandro Michele called upon to "hack" Gucci.
Inspired by the Archives
It was with Balenciaga's versions of Gucci's most-beloved bags that we were introduced to a BB Monogram print. Appearing on the runway at the brand's Spring 2022 show, the Gucci Jackie and Ophidia bags were Balenciaga-ified, bearing a BB Monogram instead of a GG Monogram.
That Monogram, which is further expanded upon this fall with the brand's BB Monogram collection, was actually inspired by vintage bags from Balenciaga's past. Of course, we all know that vintage bags are an inspiration to nearly every major fashion House at the moment, but it's also not off-brand for Demna Gvasalia either. In fact, the designer's logo lines (think the Ville and the Everyday Tote) were massively popular during the Gvaslia for Balenciaga heyday.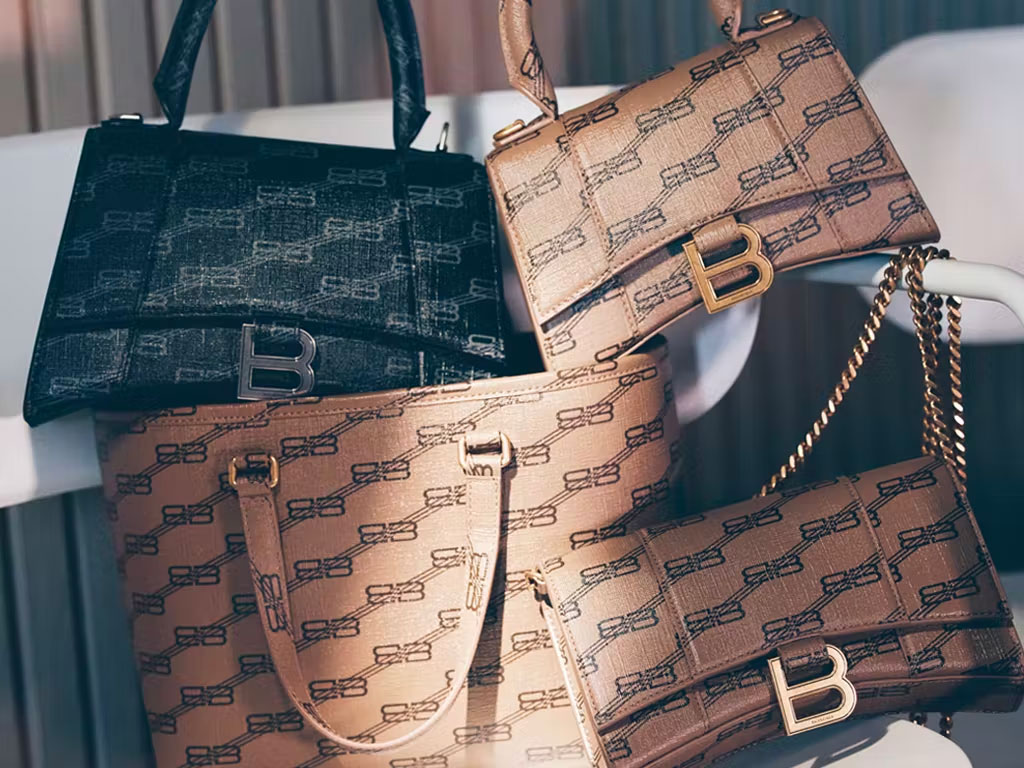 Though in the last few seasons Gvaslia has focused on less logo-heavy designs like the Hourglass and the Ghost Bag, along with the revival of Balenciaga's classic Moto bags. But logos are inherent to the House's DNA, and the old joke, 'is a bag really Balenciaga if it doesn't scream Balenciaga?' exists for a reason. So if you're a fan of logos, buckle up; BB Monogram is here.
New House Staples, Monogramed
For Fall 2022, Balenciaga gives its new House staples a monogrammed makeover. Silhouettes like the Hourglass, Le Cagole, and Signature Tote appear with a BB print and oblique diagonal motif. Just like other luxury Houses' signature monogram prints, BB Monogram is shown in coated canvas, but there are also some bleached denim versions, which feel very Balenciaga.
And while the logo love boom of the late 2010s definitely slowed down at the turn of the decade, Monogram never really goes out of style, and Balenciaga, it seems, agrees. Do you?