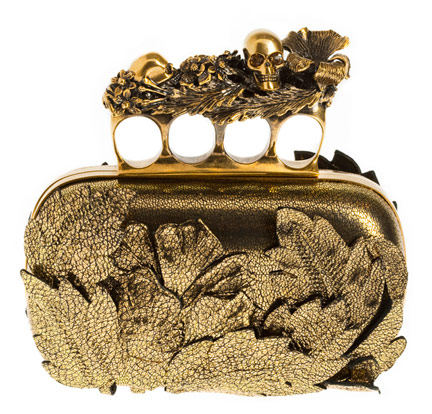 Spring 2011 bag collections have already started to emerge for preorder on all of the major luxury retail websites, but some brands are quicker about having their items posted than others. I have yet to find any Alexander McQueen Spring 2011 handbags up for grabs, but I was able to find a few press pictures of the collection for our mutual enjoyment.
McQueen's new creative director, Sarah Burton, only showed one bag during the line's runway presentation, so finally getting to see these promo shots is enlightening indeed. Alongside the requisite fantastical skull clutches, the brand is also offering several pieces that look downright functional under their leather foliage. If these pieces are an indication of what is to come from the brand's handbags, then Alexander McQueen certainly remains in capable hands. As if spring's runway show even left any doubt.
Photos via Style.com.