Typically we would cover these items on PurseBlog Savvy, but today I wanted to add a little savvy fun to PurseBlog. The Cosmetic Case; a seemingly simple accessory that does not take much thought. But if you love your handbags and accessories, it does. A cosmetic case is a very functional bag. Sure, it doesn't take a rocket scientist to make one, but it is an entirely usable accessory.
My cosmetic bag right now is a spacious silver Tory Burch bag. Tory Burch is my go-to for cosmetic cases and I am seriously loving the paint splattered Tory Burch Cosmetic Case.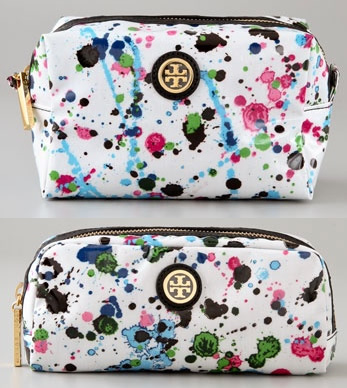 These two cosmetic cases from Tory Burch are totally fun with their multi-colored paint splattered outside. The faux-patent leather is easy to wipe down for makeup spills and the splash of colors is fun and fitting. The larger of the two is the size I have, which fits much more that its 4″H x 6″L x 3.5″D body seems it would allow. To be honest, it may just be a pouch, but the price is well worth it. Buy the larger for $65 and smaller for $55 at ShopBop.