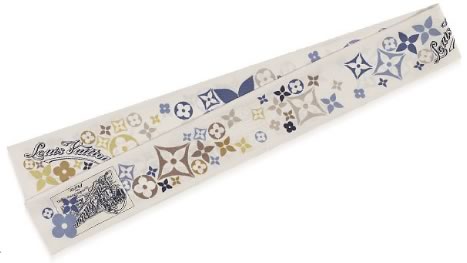 This delightful little accessory is so amazingly versatile that I decided to devote this week's Tuesdays with Twiggers blog to not only sharing some newly released Louis Vuitton Bandeaus, but also to share with you the variety of ways it can be used. The fabulous bandeau should be a staple in every girl's Louis Vuitton collection. It is relatively inexpensive and can dress up even the most bland outfit or bag. The bandeaus are typically released throughout the year, at various times each season. Sometimes it seems as if a new one is being released each month! The bandeaus are generally produced in either a 100% cotton material or 100% silk. The bandeaus approximately measure 42-48″ long x 3″ wide and can be purchased for a mere $120.
The most recent releases of bandeaus are the Louis Vuitton Sweet Flowers Bandeau which consists of a solid background (choice of rose, blue, red) upon which various Louis Vuitton symbols are displayed. Another fun bandeau that was recently released is the Louis Vuitton Denim Bandeau. Released to celebrate the new black denim, this bandeau is available in four colors (brown, blue, black, pink) and consists of the Louis Vuitton monogram logo with gold colored accents.
So, now that you are thoroughly in love with one of these new bandeaus, the question still remains as to what you can do with this cute little thing. Well, for starters, you can tie it around your neck to wear as a scarf. You can tie it in your hair to wear as a headband, or tie it around your ponytail. Some gals will use the bandeau as a belt. Or the really adventurous will wrap it around their wrist! You can also wrap bandeaus around your handles to protect that beautiful Louis Vuitton vachetta from the elements. Or tie it in a bow around one handle! There is no right and wrong way to wear the bandeau!
Do you bandeau? If so, please share some pictures with us!
For more information, and to order a bandeau please visit: eluxury's exclusive Louis Vuitton boutique, or call: 1-866-VUITTON