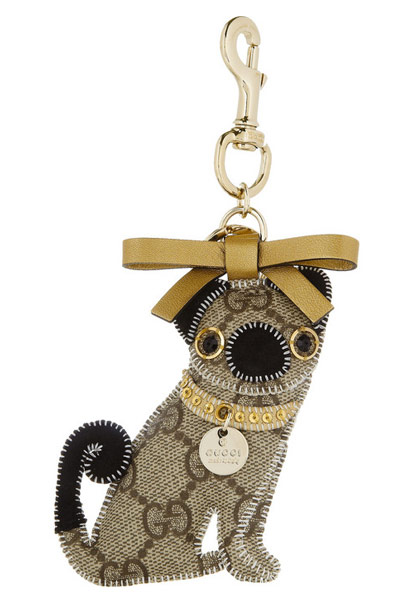 Gucci Oliver Pug Dog Key Chain, $185 via Net-a-Porter
Have any of you ladies ever seen Life with Father? It's a 1947 movie starring Irene Dunne and a 15-year-old Elizabeth Taylor, and it is absolutely hysterical. If you've never seen it, it's a great movie to watch with your mom while visiting over the holidays, if you can get your hands on a DVD copy. I can personally promise that you'll laugh more than you ever have at a classic movie.
The reason that Life with Father is relevant to a post about the Gucci Oliver Pug Dog Key Chain should be obvious to anyone familiar with the movie – in it, Irene Dunne has an unbelievably funny argument with her long-suffering husband over how she intends to get their son a suit of clothes for free from a department store by returning a ceramic statuette of a pug (which she calls a "pug dog" each time she refers to it), and the idea of returning one item to justify the purchase of another and convincing yourself that you're getting the second for "free" should sound familiar to most shopping addicts. I'd never return this cute little pup, though. Not a chance.
This charm makes me smile even more than it would on its own because my mom and I refer to the idea of returning an ill-advised purchase to get something else "for free" as the Pug Dog Principle, but even without that little bit of personal attachment, this Gucci pup is still one of the cutest bag charms I've ever seen. If he had popped up in time for my Guide to Bag Charms last week, he would have undoubtedly had a starring role in that post, and as it is, he should still be on your gifting list. In fact, if you wanted to get one for me, I'd be your friend forever. I'd even promise to not return it and put the money toward a pair of Alaia shoes. Buy through Net-a-Porter for $185.