Versace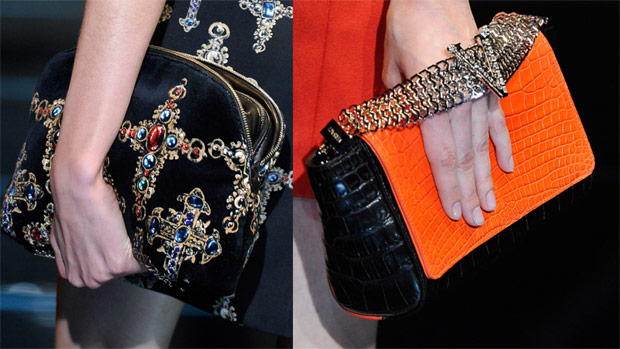 Images via Vogue.com
Before taking a look at the stills from Versace Fall 2012, I had heard the collection repeatedly described as Rooney Mara-inspired and high-end goth and all of these other things that made me think that the handbags stood a chance in hell of being really, really good. I was hopeful, you guys. Genuinely hopeful. I should know better by now. When Versace is involved, that sort of hope can only end in disappointment.
The bags in this collection could have been darkly luxurious and full of interesting detail. Instead, it looked like Ed Hardy had provided the accessories for Donatella's runway show, all tacky cross prints and unfortunate bling. Although I'm not sure if it's fair to criticize Versace for being too crassly and uncreatively 80s – after all, that's perhaps similar to criticizing Dior for being too New Look. And actually, the clothes themselves were in fact quite nice at times. The clutches, though, were terrible, and they were only saved in part by the distraction of a few bicolor croc flap bags that showed a bit of promise. Even then, Donatella just had to festoon the straps with a giant, blinged-out V, because apparently the brand can't help itself but to go at least one giant step past good taste. (more…)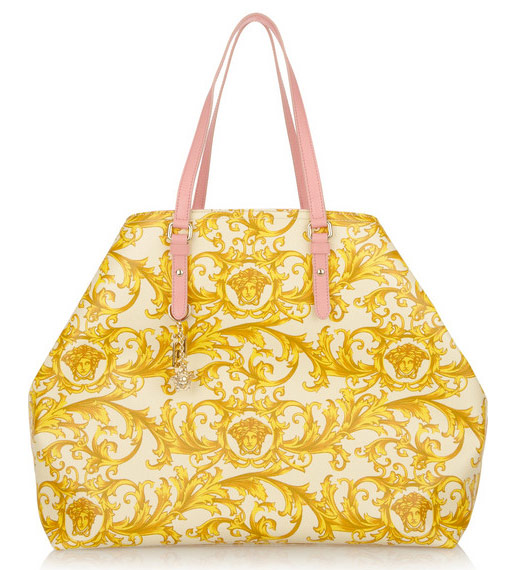 Versace Baroque Print PVC Tote, $1125 via Net-a-Porter
At first, I had no issue with the Versace Baroque Print PVC Tote. The yellow-on-white pattern may not be my personal taste, but it's the kind of strong, intricate visual for which Versace is known, so I can't fault them for pursuing that aesthetic. What I CAN fault them for, though, is charging over a thousand dollars for a very basic tote that's not even real leather. (more…)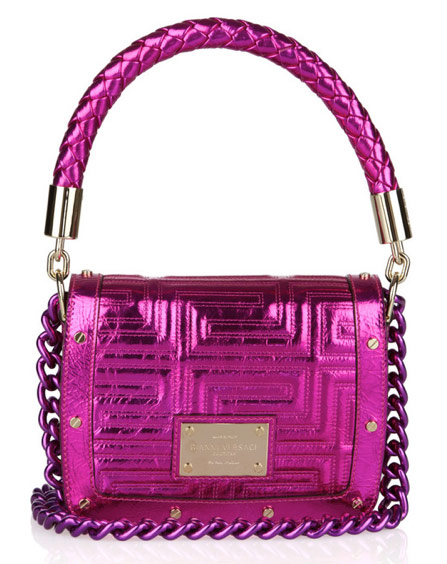 Versace Metallic Leather Shoulder Bag, $1625 via Net-a-Porter
Over the past few seasons, I've tried to be optimistic about Versace and its bags. I've been a long-time skeptic of the brand's accessories while still being a big fan of the brand's clothing, both ready-to-wear and atelier, and it's seemed at times that the bags were just one or two steps away from where they should be. I was hopeful.
As happens so often in life, though, my hopes have been summarily dashed by the Versace Leather Shoulder Bag. This is the kind of thing you'd find in the depths of Paris Hilton's closet circa 2001, and we all know that's not a compliment in even the faintest sense. (more…)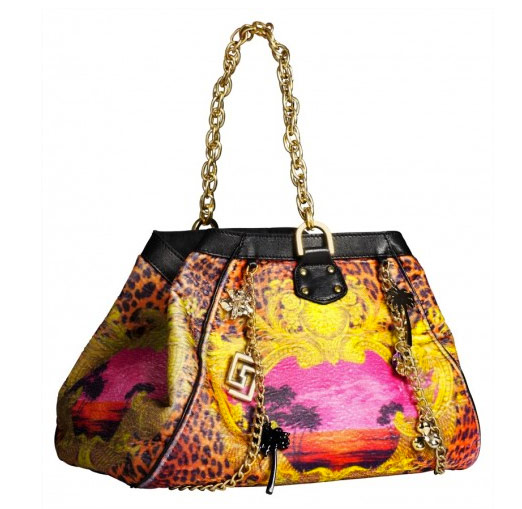 Images via Racked.com
Unless you've been living under a rock, you know that Versace x H&M is the high-low collaboration of the season. Slated to debut at select stores on November 17, the collection includes everything from leather jackets and dresses to a few home goods, which is a first for H&M's designer dabblings. What's relevant to us, of course, is that the partnership has also produced bags.
Unfortunately, like the regular Versace line, the purses are the line's low point. The collection includes a dress and jacket made out of real leather, which could possibly indicate that some of the bags are genuine as well (although I couldn't find anything indicating their fabrication), but the hardware removes any doubt that what you're carrying is from H&M. The rest of the collection has some very fun, colorful pieces, but the handbags just aren't among them. As far as prices go, I could only find the price information for one of them – the small black studded bag, which worked out to about $110 from the British price list on which I found it. Pictures of the rest of the bags are after the jump.
(Also, a side question: Did anyone else glimpse the charm based on the traditional Versace trim out of the corner of their eye and think it was a swastika for a split second? Just me?) (more…)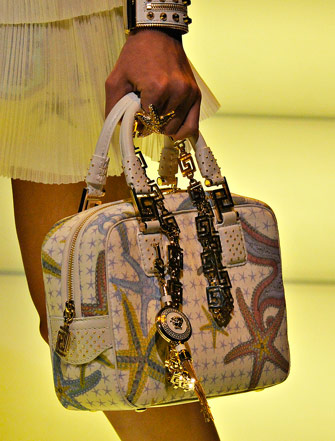 Images via Vogue.com
I have some relatives who live in South Florida. I haven't visited since I was a teenager, but my memories of Floridian seaside kitsch are still very clear: pastel starfish and seahorses and shells. Lots of them. Adorning everything from t-shirts to upholstered furniture. If the bags from Versace Spring 2012 are any indication, Donatella Versace may have spied on my childhood vacations quite frequently. For a brand so inextricably linked to Miami, these designs make a certain amount of sense.
The starfish and seashells gave way to an endless array of studded, quilted satchels and crossbodies that reminded me a little bit of Marc Jacobs circa 2008, but considering the bags that Versace has made in that same period of time, these designs feel like an improvement. If nothing else, they look very Versace, which is something that the brand's established customer base will probably enjoy quite a bit. (more…)
We aren't known to be the biggest Versace supporters at our site, but we've been feeling a it warmer lately. I know some people absolutely love the brand, but Donatella's accessories almost always go over the edge of overt opulence; they're often too ornate for my liking. However, upon seeing the Versace Structured Snake-Effect Leather Tote I felt true excitement. Sure, the overall design is simple, but the python print along with the coloring screams "fall statement piece." (It also sort of screams "Valentino Fall 2011," but that's another post entirely.) The sad news is that PurseBloggers, we have a problem: the price.
When the description read snake-effect and the price showed $3,995, I was certain there was a mistake. A mistype, perhaps? But no, this bag's faux finish is printed on leather; it's not exotic python skin. And no matter how much I want to tell you all that Versace is getting it right, the brand is still getting its prices all wrong. (more…)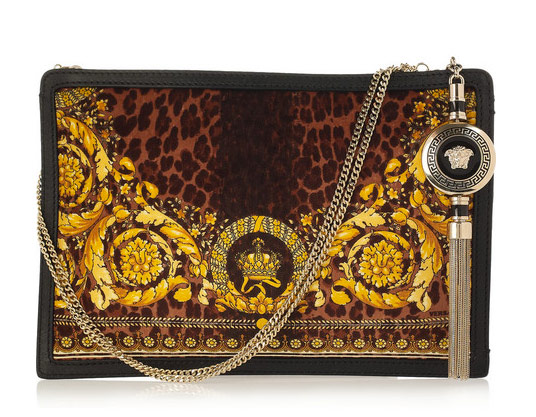 Versace Baroque Printed Bag, $995 via Net-a-Porter
I'm as hard on Versace as anyone, but I like to think of it as a tough love situation. I talk smack because I want the brand to improve its handbags, not because I take any particular delight in its struggles. Although I have to admit, some of the company's past bags have been almost delightfully bad, so there may have been a modicum of enjoyment on my part.
Versace may have turned the corner, though. The past couple seasons of ready-to-wear have been intriguing, and during the same period of time, I've noticed a conspicuous and considerable lack of Versace purses that make me want to throw a small fit. Not to mention that I actually like the Versace Baroque Printed Bag in all of its pattern-on-pattern glory. (more…)