Yves Saint Laurent Lucky Chyc Colorblock Tote, $1350 via Net-a-Porter
By now, we all know what spring's big trend are: Colorblocking, mixed brights, pink and orange, brights contrasted with neutrals. We've all been saying this since the collections made their fashion week debuts six months ago, and those looks have made their way to retail with a vengeance. And in the case of the Yves Saint Laurent Lucky Chyc Colorblock Tote, they've all showed up in one design. (more…)
The Elie Tahari Rebecca Tote, $598 via Bergdorf Goodman.
Yesterday, we talked about how hard it is to find a good upstart contemporary bag line and cited Diane von Furstenberg as a prime example of a brand who has found its handbag stride without much problem, and I'd like to offer Elie Tahari as another clothing brand done good. Tahari's bag line is only a couple of seasons old, but every time I see one of his bags at a store, I find myself nothing less than impressed by the designs and materials, particularly when you consider the price point. I saw the Elie Tahari Rebecca Tote at Neiman Marcus lately, and let's just say that my affection for the brand continues apace. (more…)
New handbag lines launch all the time, but it's relatively rare that one comes about that's truly worth a look, let alone worth the money. After watching his accessories collection evolve for several seasons now, I can confidently say that Jason Wu's bags are the real deal in every sense.
Fall might be a long time coming, but for a bag as good as the Jason Wu Miss Wu Tote in a seasonless shade of garnet, I'd suggest you start planning now. In a lot of ways, this bag reminds me of the Prada Limited Edition Runway to Green Tote that the brand produced for Net-a-Porter, except with just a bit more polish. The leather is shiny and smooth instead of matte and grained, and the enamel-laden hardware provides a subtle reminder of just who it was that designed the bag. I can't help but love the whimsy of Wu's little owl logo. (more…)
At first glance, I didn't even see the little white wings on the Bally Rachele Two-Tone Leather Tote – against a white background, they all but disappear into the scenery. Turned sideways, though, their effect is unmissable and perhaps a little awkward. Does anyone but me feel like this bag is wearing a nun's habit?
That's probably just me, but the white wings coming off the sides of this bag have me confused. I love a crisp, neutral bag with contrasting trim, as we all know, but the implementation of the trim in this particular design makes me want to grab on and give it a tug. Or maybe try and push it back into the bag, like it's stuffing that has come undone. Either way, it looks like all the white stuff is sticking out where it's not quite supposed to be. (more…)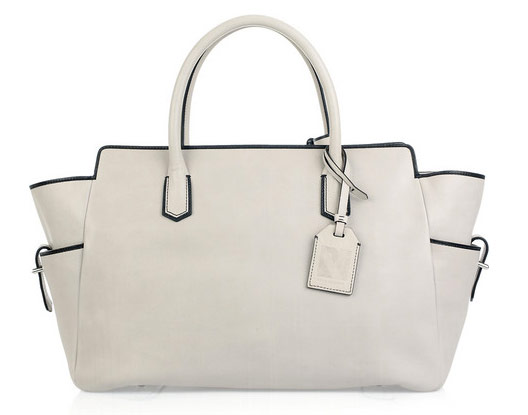 As I say often (and in fact, as I said yesterday), basic bags are a design challenge that we often ignore, but we shouldn't. The problem is that even women who want a more traditional bag don't want to think of their choices as "basic," so taking a simple shape and elevating it to the next level becomes something that almost any designer has to be able to do in order to satisfy his or her customers. And with such a glutted handbag market, doing that while simultaneously standing out in the crowd is difficult. There are plenty of mediocre bags out there to prove it.
The Reed Krakoff 510 Leather Tote, however, is one of the pieces that succeeds. That it pulls off a very Valextra look while maintaining a three-digit price tag is even more impressive; I can't help but think this would be at least a $1300 from almost any other brand. (more…)
Is it really almost April? You could have fooled me. There was a time earlier this month when it felt like spring was a foregone conclusion and the last gasp of winter chill had passed, but that feeling was wrong. Much of the East Coast has been unseasonably cold for the past few days, and the reality of the weather just doesn't match with the bright, optimistic colors contained in the packages of spring clothing that have been arriving at my doorstep for the past week. Surely this cold snap will pass, and when it does, I want to be ready with a bag like the Felix Rey Sardinia Basket Tote.
I've mentioned my personal rule that prevents me from buying a straw bag that costs more than $200 before, but this bag comes so close to the cutoff line that I think I'll give it a pass. Unless, of course, you guys want to be so kind as to help me hunt down a less expensive version with the same kind of tight, nubby weaving. (more…)
I thought Punxsutawney Phil predicted an early spring for us this year. He was wrong and/or the joke is on us. This morning I awoke to snow-covered buildings and tonight the temperature continues to steadily drop. I'm keeping my mind on the tropics in order to stay mentally warm.
Growing up in Florida we had a lemon and lime tree in our yard and these fruits always remind me of bright sunshine-y days. When I first spotted the Stella McCartney Fruit-Print Falabella Tote, my mind went to my childhood backyard and I was happy. But then I took another glance at the bag and wondered who would ever carry it. (more…)
The Stella McCartney Falabella Tote first gained favor over a year ago when celebrities as varied as Rihanna and Kate Hudson began sporting the simple, biker-chic faux leather bag with every kind of outfit you could imagine. Many variations on the Falabella theme have followed, and now that we're on (by my count) the third season rotation of these chain-trimmed purses, one has to wonder when McCartney will run out of ideas.
I can't tell the future, but unfortunately, inspiration didn't run out before someone suggested making a crochet version of the bag, which you can see at left. Or, come to think of it, maybe it did, because this iteration isn't exactly inspired. (more…)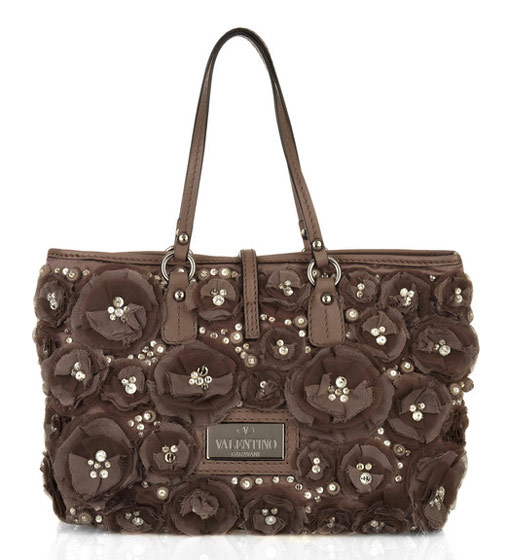 There's perhaps nothing so tragic in fashion as looking at a bag that you know for a fact to be real and thinking that it looks fake. Sadly, that was exactly the reaction I had to the Valentino Sequin-Embellished Rosette Tote. Perhaps this motif has reached its logical end for the brand – it may be time for Valentino to start mining a different theme, considering how successful it was with birds last week. (more…)
It seems as though there are few animal-derived materials from which a designer has not attempted to make a handbag at some point. We've seen a zillion different versions of leather and fur, comprising almost any animal you can somehow raise on a farm, plus eel and stingray. Missoni makes a bag partially comprised of the skin from chicken feet. There is nothing new under the sun.
Except for maybe horsehair. It's been used for centuries to make bows for string instruments, but Akris appears to have cornered the modern market on luxury horsehair purses with their line of Akris Ai Tote Bags. As far as I've been able to find, other brands have used horsehair to accent their designs, but this is the first bag in a while to use the material as the main attraction. The upside is that using the material doesn't harm the animals in any way; the downside, unfortunately, is that the medium version costs a whopping $4400. (more…)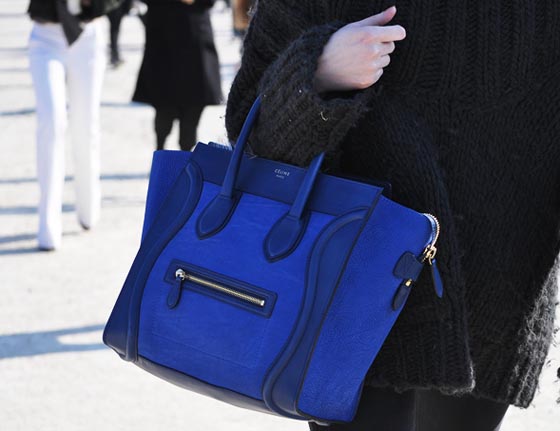 Have you ever seen a bag in person, talked yourself out of buying it and then obsessed over it for months on end afterward, at which point it has become sold out and you can no longer get it? That's the tragic story of me and the Celine Boston Tote.
I thought I had successfully put the bag out of my mind, but after seeing Leighton Meester carry hers two weeks ago and Tommy Ton's great photos of Celine bags on Jak & Jil Blog (from whence the above picture came), my obsession is back to full power and it shows no signs of abating. (more…)