New handbag lines launch all the time, but it's relatively rare that one comes about that's truly worth a look, let alone worth the money. After watching his accessories collection evolve for several seasons now, I can confidently say that Jason Wu's bags are the real deal in every sense.
Fall might be a long time coming, but for a bag as good as the Jason Wu Miss Wu Tote in a seasonless shade of garnet, I'd suggest you start planning now. In a lot of ways, this bag reminds me of the Prada Limited Edition Runway to Green Tote that the brand produced for Net-a-Porter, except with just a bit more polish. The leather is shiny and smooth instead of matte and grained, and the enamel-laden hardware provides a subtle reminder of just who it was that designed the bag. I can't help but love the whimsy of Wu's little owl logo.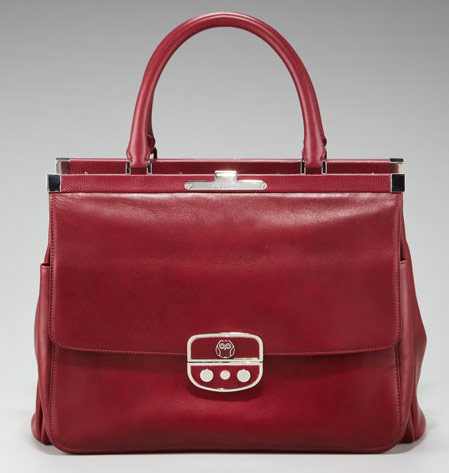 I know that it can be a little hard to get excited over a good everyday bag, but these are the kinds of designs that pay dividends when you own them. Sure, elaborately adorned minibags and clutches made out of delicate or exotic materials may be more interesting eye candy, but this is the kind of tote that will be both chic and functional for years to come. Wu's bags aren't one-season wonders, which is not something I can say for some of his design contemporaries. Pre-order through Bergdorf Goodman for $2495.