Blog Debates
Left: Proenza Schouler Extra Large PS1, $2,350 at Net-A-Porter.com. Right: Mossimo® Messenger Cognac, $34.99 at Target
One of the main things I had to get used to after moving to NYC was missing out on my bi-weekly Target shopping trips (and Chick-fil-A, but that is an entirely different story). I grew accustomed to shopping for all of my household needs and then browsing the designer collaborations Target had to offer on every visit. After all, Target has collaborated with many huge designer brands for their Target on the Go! International line. One of these designers is Proenza Schouler, which released a collection with Target in the mid-2000's. The collection was so sought after that Target just reissued several of the dresses a couple of weeks ago alongside other popular past designer collaborations. (more…)
Like most businesses, fashion tends to gloss over whatever moral and ethical quandaries that might be encountered on the road to aesthetic fabulousness. The use of animal fur, the health and employment rights of models and garment workers, and the absence of women of color not only from magazine pages, but also from the upper echelons of the corporate fashion world are just a few of the matters that industry bigwigs would rather weren't discussed.
But when John Galliano, Dior's top creative mind and one of the richest designers in the world, was hauled to jail for an anti-Semitic attack on a couple at a Paris café, the fashion world was too shocked to let it slide. When a video of a second verbal attack emerged, in the grand French tradition, it was off with Galliano's head. With Galliano's Spring 2011 Dior collection just hitting stores and Fall 2011 to come later in the year, that puts fashion lovers in an odd spot: If you love the work but disapprove of the man behind it, do you still buy the bags? (more…)

Sorry Khloe for making you wear the bag as a head piece, you kinda always get shafted with Kim and Kourt, don't ya?
Do any of you think that in 2011 there will be a "reality star" demise? Will it be at all possible that we all are not so consumed by what lollipop Kim Kardashian is snacking on or what Sketcher shoe she is wearing? I'd like to think so, but we are a society obsessed with these "stars". Hey, what exactly are the Kardashians famous for again?
2010 was the year of this self-promoting family. Their name was placed on everything and they marketed themselves brilliantly. One thing they assigned their names to was a collaboration line with bebe. And you know what was included in that line… handbags. Of course they were. (more…)
When the New Yorker takes on handbags, the storied publication is sure to produce some interesting bits of wisdom from around the fashion world. The magazine's profile of Bottega Veneta's Thomas Maier is only available subscribers (both online and old skool), but a few choice words on the designer's success at the once nearly-dead Italian brand have leaked out to us plebes, and they're mostly about the role of the handbag in Maier's oeuvre.
What I found most interesting, though, was Tom Ford's declaration concerning the inherent it-ness of the anti-it bag trend. We've talked about the sea change in bag trends in these parts before, but It Bag fatigue has created It Bags of its own, whose it-ness isn't negated by the fact that they aren't logo-covered or overwrought. Maier's handmade Bottega Veneta Cabat totes are credited by the magazine with pulling the anti-trend into mainstream favor, and they certainly had a hand in it, but I'm of the personal belief that Phoebe Philo's sleek, minimal bags for Celine are what broke the trend to its current, wide audience. And that entire thought just proves that Ford is right, as he so often is – people who love It Bags and those who hate them have far more in common than either group would probably like to admit. Where do you sit on this debate, which is clearly the most important issue of our times? I mean, it's getting coverage in the New Yorker, y'all.
My recent blog debate stirred up quite the discussion. The photo that I posted from Style.com was said to be of an editor of Nylon Magazine and also, despite our assumptions, not a counterfeit Birkin. In fact, it was pointed out to be a design by a company named Leah and Bliss.
So I did a little research and reached out to the contact info on their website. And I got a response.
They had seen the article and wanted to set the record straight. What I was told is that the bag in the picture on Style.com was not a bedazzled fake Birkin, but rather a Birkin-inspired bag. I was told there are differences in the design of this bag versus a real Hermes Birkin (to quote: "many many differences"). The concept of this bag is to be young and playful and to resemble the wearing of large, chunky jewelry.
This bag is officially coined the Leah and Bliss Glamazon and is made of hand-sewn Italian leather and then covered in gems for the playful touch. Mostly, the concept creator wanted to make it clear to me, and you, that this bag is not a counterfeit handbag and is manufactured in their factories with quality materials. Price for the larger version starts at $495 and smaller $295, but personal orders can range up to $1,000. (more…)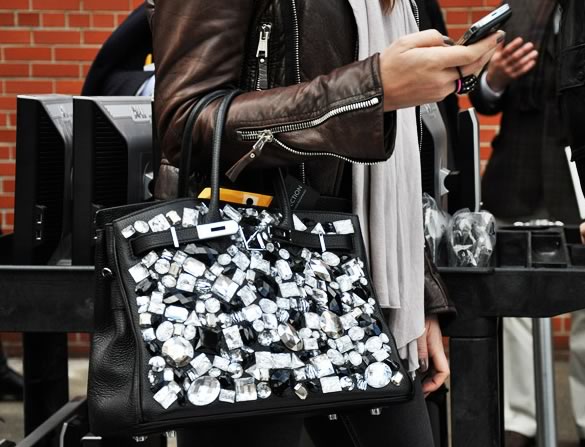 During NYC Fashion Week Tommy Ton, of Jak and Jill Blog, snapped photos for Style.com. His focus was on street style and what was being worn outside of the tents. There was one photo that caught my eye. A bedazzled Hermes Birkin. (more…)