Within the accessories industry, runway bags have a very special spot. They're the most directional of a season's accessories; they tell us where our beloved handbags are headed in the months and years to come and set size, color and texture trends that often endure for seasons at a time. Most brands produce many more bags in their full retail line than they include in their shows, but the runway bags are always the most fashion-forward and experimental of any given group.
Most runway coverage focuses on full looks, though, and even though we cover as many bag collections as we can, looking through all of those posts can be daunting if your goal is simply to get an idea of what's to come and where you'll be spending your money in six months. That's why we've distilled all of that coverage down to a list of bags that not only represent the very best of what's going on in accessories for fall, but give you some inspiration to start filling your savings account. Fall pre-orders will be here before you know it. (more…)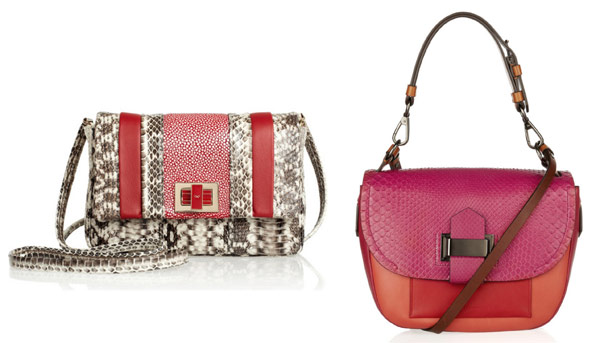 If I had a nickel for every post I've written about mixing colors and textures over the past year…well, I guess I actually do have a nickel, since I get paid for this. The point is, I'd have a lot of nickels. Not enough to retire, but enough to pay my rent, even though they give me a really hard time when I try to pay it in nickels. I'll admit, it's a heavy bag.
Anyway, the trends represented by the Anya Hindmarch Stripy Gracie Mini Shoulder Bag and the Reed Krakoff Kit Python and Leather Shoulder Bag are nothing new – exotics, brights, you guys are all old hat at this. But which do you like better, lots of natural snakeskin with a little bit of color, or lots of color with a little bit of texture? Check out the larger photos and vote in our poll, after the jump. (more…)
Marc by Marc Jacobs Snakes on a Frame Crossbody, $298. LeSportsac Divine Sunglasses Wristlet, $25. Both via ShopBop.
In my three years at PurseBlog, I've written a lot of posts that I never expected to write as part of my job here. For example, I never imagined myself Photoshopping a picture of a small, yappy dog next to a very expensive clutch for comparison's sake. I never expected to write half of the things I've written about all manner of Real Housewives. Today's Bag Battle, though? It might take the cake.
When I first saw the Marc by Marc Jacobs Snakes on a Frame Crossbody, I smiled at its relative novelty. A sunglasses bag! Cute! But yesterday morning I noticed the LeSportsac Divine Sunglasses Wristlet, and the coincidence seemed to fun to pass up. Of course, with two bags that share an unconventional theme, we have to put it to a vote: Which one do you like better? Check out larger photos of both bags and vote in our poll, after the jump. (more…)
Last week, exotic handbag designer extraordinaire Carlos Falchi had an event at Bergdorf Goodman in New York City. Naturally, I had to pop in to say hi and see the newest designs from the master. His area at Bergdorfs was filled with fans and shoppers picking out designs and having Carlos sign them. With the shopping mood in full force, I began to examine every Carlos Falchi bag I could get my hands on. Everyone including myself were buzzing about the superb quality and the fact that his bag are made in the USA.
Right now I am coveting the classic Carlos Falchi Hobo in both python and crocodile skin. As fall attempts to set in, I find myself drawn more and more to brown bags and both of these are stunning options. (more…)
A bag standoff between two Celine giants. In the blue corner, the Celine Cobalt Blue Mini Luggage. Entering the red corner, the luscious Celine Triptyque.
So different, yet both equally lovable. Which one captures your heart? Click to see the full gallery and let us know your pick!