Alexander Wang Jade Stingray and Suede Clutch, $795 via Net-a-Porter
If you're a regular visitor to these parts, you might remember that back when I did my Alexander Wang Spring 2011 preview, I more or less drooled all over the Alexander Wang Jade Stingray and Suede Clutch. The stingray version of this design comes in both ivory with rose gold and black with matte black hardware, and I would have gleefully forked over the required cash for both options. A roomy wristlet clutch with exceptionally cool hardware and panels of exotic leather? That's like asking me whether or not I'd like to have pizza for dinner: The answer is always "yes." But unfortunately, reality isn't quite as good as my dreams, and the clutch has one very important design flaw. (more…)
I'm always a big proponent of the daytime clutch, mostly because I think a lot of women assume that they're really hard to carry when that's often not the case. I wouldn't necessarily take one to the grocery store or on another errand that I know will require me to carry lots of bags or packages, but for a lunch with girlfriends or something similar, a clutch can be a great way to set off an outfit. After a few minutes with one under my arm, I tend to forget that it's even there.
And that's not to mention all the wonderful evening uses for a clutch. But what about a bag like the Alexander Wang Ryan Handle Clutch? This is the type of bag that requires the carrier to occupy one of her hands with its presence; the north-south shape and bulky top handle create an interesting look, but they also probably mean that it would be uncomfortable to hold under the arm as one might with more prototypical handleless options. (more…)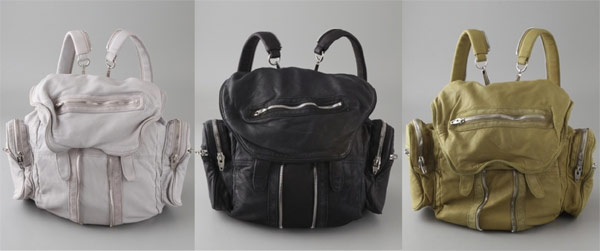 Many of you have already heard about this, but I'm moving from Atlanta to New York City in May. Megs' and Vlad's move last fall inspired me, and since I'm young, single and wouldn't have to change jobs (oh, the joys of working from home), it seemed like it would be a fantastic adventure. It still seems that way, but now that I'm getting down to the logistics of uprooting myself, I'm running into a few things about which I hadn't really thought. Among them, of course, is the suitability of my current handbag wardrobe. I think an uber-functional addition like the Alexander Wang Marti Backpack might be in order. (more…)
Now that almost all spring bags have made their way to online retail for pre-order, the season's what has begun to separate itself from the chaff, so to speak. Some of Alexander Wang's ideas for Spring 2011 have proven to be better than others, but the more I see the Alexander Wang Large Emile Tote, the more it seems to be among the best of his new bags.
The metal corner caps that Wang introduced with this collection have also carried into his Fall 2011 bags, and I couldn't be more pleased. They take a simple, functional ivory tote and give it just enough detail to be something special, which is exactly the kind of look you want in a bag that you intend to carry regularly. (more…)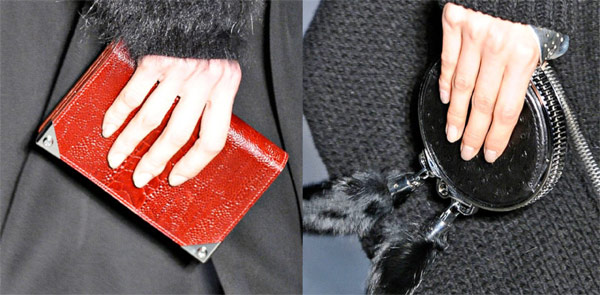 In keeping with previous season, we didn't get to see all the accessories goods at Alexander Wang Fall 2011. Wang tends to leave the bigger bags for press photos and send clutches down the runway in order to give us a diminutive taste of what's to come for the season purses, and that's exactly what he did, this time with little wallet-sized clutches and handheld bags with fur tassels.
Many of the bags had metal corners, which mirrored Wang's Spring 2011 accessories details and also tied the somewhat simple shapes and ideas back to Wang's downtown, cool-girl aesthetic. What was somewhat unexpected was Wang's use of uber-glossy patent, much of which I'm hoping won't make its way to retail in the form of larger bags. I'd prefer to see more vibrant crimson instead. (more…)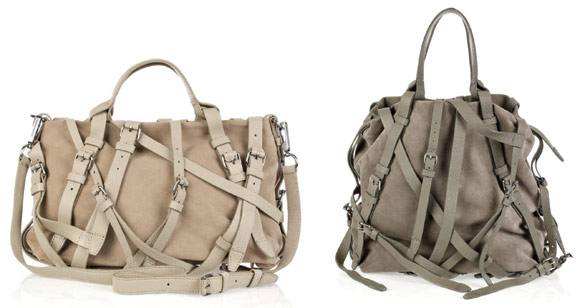 We've been anticipating the buckle-and-strap-covered Alexander Wang Ingrid Satchel and Alexander Wang Kristen Tote ever since stock photos of Wang's Spring 2011 collection emerged, and now that a few colors are available at PurseBlog favorite Net-a-Porter, it's time to do a more thorough inspection of the line's most eye-catching design. Are you feeling love, hate or ambivalence? Larger pictures to help sort out your feelings can be found after the jump. (more…)
It's exceedingly rare that I see a bag from Alexander Wang that I don't like or appreciate in any way, and it looks as though Wang's Spring 2011 bags will continue that trend in full force. His dark, sometimes-industrialist version of downtown cool certainly qualifies as "taste specific" and tends to skew young and urban, but for those of us who fit into his niche, Wang's relatively well-priced bags are among the most anticipated of any new season.
The standouts of this collection are the belt-covered carryalls, which will likely elicit gasps of excitement from some and groans from others, and the large, metal-cornered satchels with rose gold hardware that will surely dot young, fashionable arms near you in just a few months' time, but I'm more interested in the smaller bags. Specifically, the corner-capped wristlets, which look to be the perfect size for the phone-keys-cards combo that we all need to be able to grab quickly to run out of the house. I'm already plotting which one will be mine. The bags will make their retail debut in February, and we have full pictures after the jump. (more…)
"That'd be swell Trudy". Name that TV show! If right off the bat you knew it is a line Pete Campbell has often told his wife Trudy Campbell on AMC's hit series Mad Men, then you would be correct. I have a hard time thinking of anything other than Mad Men when I hear the name Trudy. Trudy plays the perfectly-put-together striving-to-climb-her-way-up housewife on the series. The handbags during that era were much more compact, structured, and ladylike. In fact, they are what designers are dabbling with more today.
The Alexander Wang Trudy Tote not only does not match with what I could expect Trudy Campbell to carry but also is a much more bland accessory for the brand. (more…)
Spotted at the Chipotle on Park and 31st. The lovely Melody with her Alexander Wang Rocco Duffle. She mentioned she loves the bag, but at times finds it heavy. She prefers to hold it in the crook of her arm instead of utilizing the shoulder strap.
Buy Alexander Wang via ShopBop.
I am not a backpack person. I never really was. When it came to school, I was a messenger bag kind of girl. But right now I am all about the backpack and of course that is because of designer extraordinaire Alexander Wang. Alexander Wang is the designer for me, so much so that if I was told I could only buy from one designer right now I would live very happily with my choice.
The typical schoolbag has been made super cool in the Alexander Wang Sydney Backpack. In fact, it has been made so cool that I feel like enrolling in a class just to buy this bag. Of course you don't need to be in school to carry a backpack, but I just about love this bag so much that I would consider going back to school for a new backpack. See, I find ways to get around my bag ban right now! (more…)
Chanel (and more recently, Marc Jacobs) has made an empire out of diamond quilting, but even for the most ardent fan of the Classic Flap bags, it can get a little repetitive. Still, quilting is one of the best and most versatile ways to add texture and detail to a handbag, and it shouldn't be discounted just because so many others have done it in the past.
Alexander Wang has the right idea about how to make quilting unique with the Alexander Wang Isis Frame Clutch. The classic motif reminds me a bit of what another famous Alexander (McQueen) has done for Fall, but Wang keeps the colors dark and the details industrial in order to tie the look back into his brand's style. (more…)