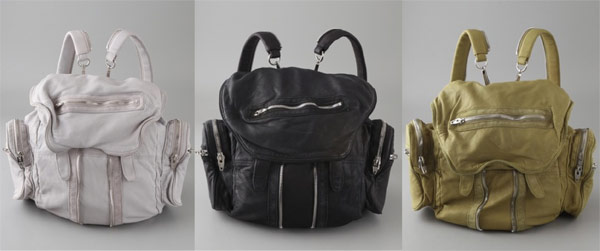 Many of you have already heard about this, but I'm moving from Atlanta to New York City in May. Megs' and Vlad's move last fall inspired me, and since I'm young, single and wouldn't have to change jobs (oh, the joys of working from home), it seemed like it would be a fantastic adventure. It still seems that way, but now that I'm getting down to the logistics of uprooting myself, I'm running into a few things about which I hadn't really thought. Among them, of course, is the suitability of my current handbag wardrobe. I think an uber-functional addition like the Alexander Wang Marti Backpack might be in order.
In Atlanta, everyone drives. Everywhere. If you're old enough to drive, you have to procure a car in one way or another or you can't go anywhere. It's sort of like Los Angeles in that regard, and I'm excited to sell my car and live in a city where I can walk to a corner store or ride the subway or take a cab. I'm sure that fascination will eventually wear off, but in the meantime, I need a utilitarian accessory wardrobe to help me out with my new transportation options. When you live in a car culture, it rarely matters how heavy your bag is or whether or not you can wear in on your shoulder if your arm gets tired. In New York City, I suspect that those concerns will be much more prevalent in my day-to-day bag choices.
Alexander Wang's cool, downtown industrialism is already very much in my stylistic wheelhouse, and he picked a perfect time (for me, at least) to come out with a backpack. The idea might be a little bit 90s for some, but with the right attitude (which I have, duh), I think these bags could look incredibly chic while still being functional for a walk to the grocery store. Now I just have to decide which color I want. Buy through ShopBop for $850.