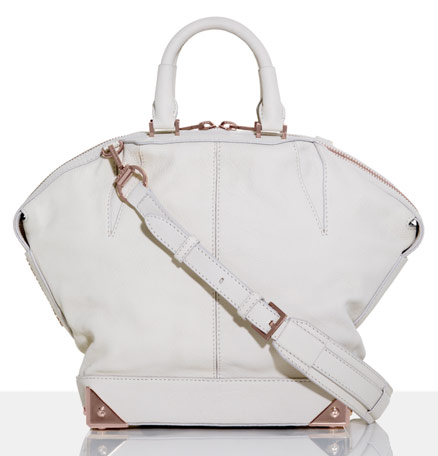 It's exceedingly rare that I see a bag from Alexander Wang that I don't like or appreciate in any way, and it looks as though Wang's Spring 2011 bags will continue that trend in full force. His dark, sometimes-industrialist version of downtown cool certainly qualifies as "taste specific" and tends to skew young and urban, but for those of us who fit into his niche, Wang's relatively well-priced bags are among the most anticipated of any new season.
The standouts of this collection are the belt-covered carryalls, which will likely elicit gasps of excitement from some and groans from others, and the large, metal-cornered satchels with rose gold hardware that will surely dot young, fashionable arms near you in just a few months' time, but I'm more interested in the smaller bags. Specifically, the corner-capped wristlets, which look to be the perfect size for the phone-keys-cards combo that we all need to be able to grab quickly to run out of the house. I'm already plotting which one will be mine. The bags will make their retail debut in February, and we have full pictures after the jump.
Photos via Style.com.