Your favorite feature is back for the Big Game! That's right, we're giving you a look at what one of the player's of the Tampa Bay Buccaneers will be carrying today to the Super Bowl. With the help of his wife (our photographer with an iPhone in this case), we got an exclusive look at the 11 year NFL vet's Louis Vuitton Keepall he'll be carrying when he arrives to Raymond James Stadium in a few hours when the Buccaneers take on the Kansas City Chiefs.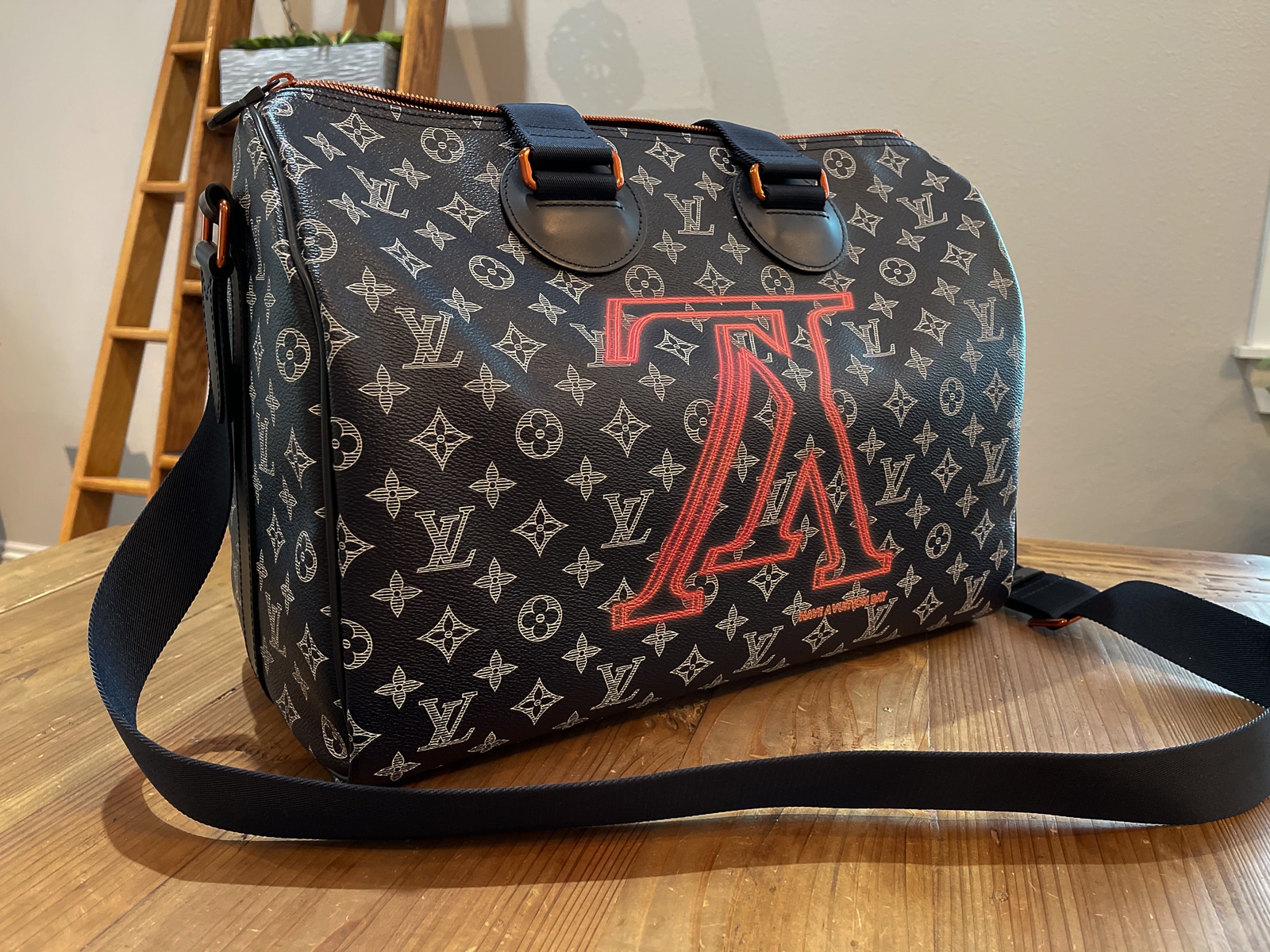 Ted Larsen and his wife Bre are personal friends, they're a couple we met when he played for the Miami Dolphins and they lived in our neighborhood. Not only did we hit it off right away, but also I quickly learned that Ted has a real affinity for bags, namely Louis Vuitton. He has an extensive collection of LV with a penchant for limited edition and small leather goods and was always grabbing a new LV bag or item for himself, his wife, and his kids (his daughter has an enviable collection already). He liked to show me the bags he was thinking about buying and majority of times, I told him it was perfect. Because come on, he's talking to an ultimate bag lover here and to give him some credit, he has great taste in designer bags.
The Super Bowl is the biggest sporting event in the US and one of the top 5 sporting events in the world (fun fact, 100 million pounds of wings were consumed during Super Bowl 2012) and I'm so excited to share a look at what Ted has packed in his bag today. Ted shared his Louis Vuitton bag and what he's taking to the stadium for the Super Bowl LV today. Also, it isn't a coincidence: Ted found it quite fitting to carry LV for Super Bowl LV. Take a peek inside Ted's bag!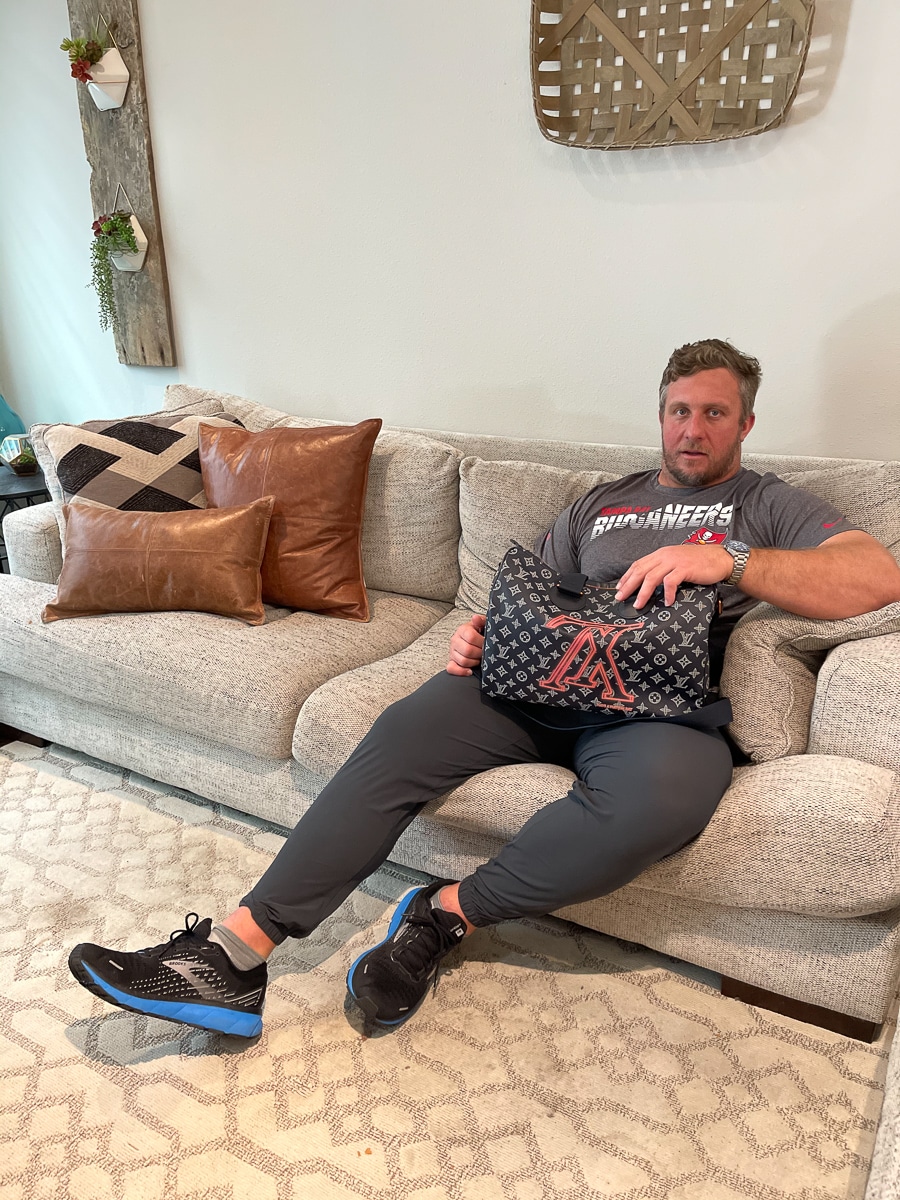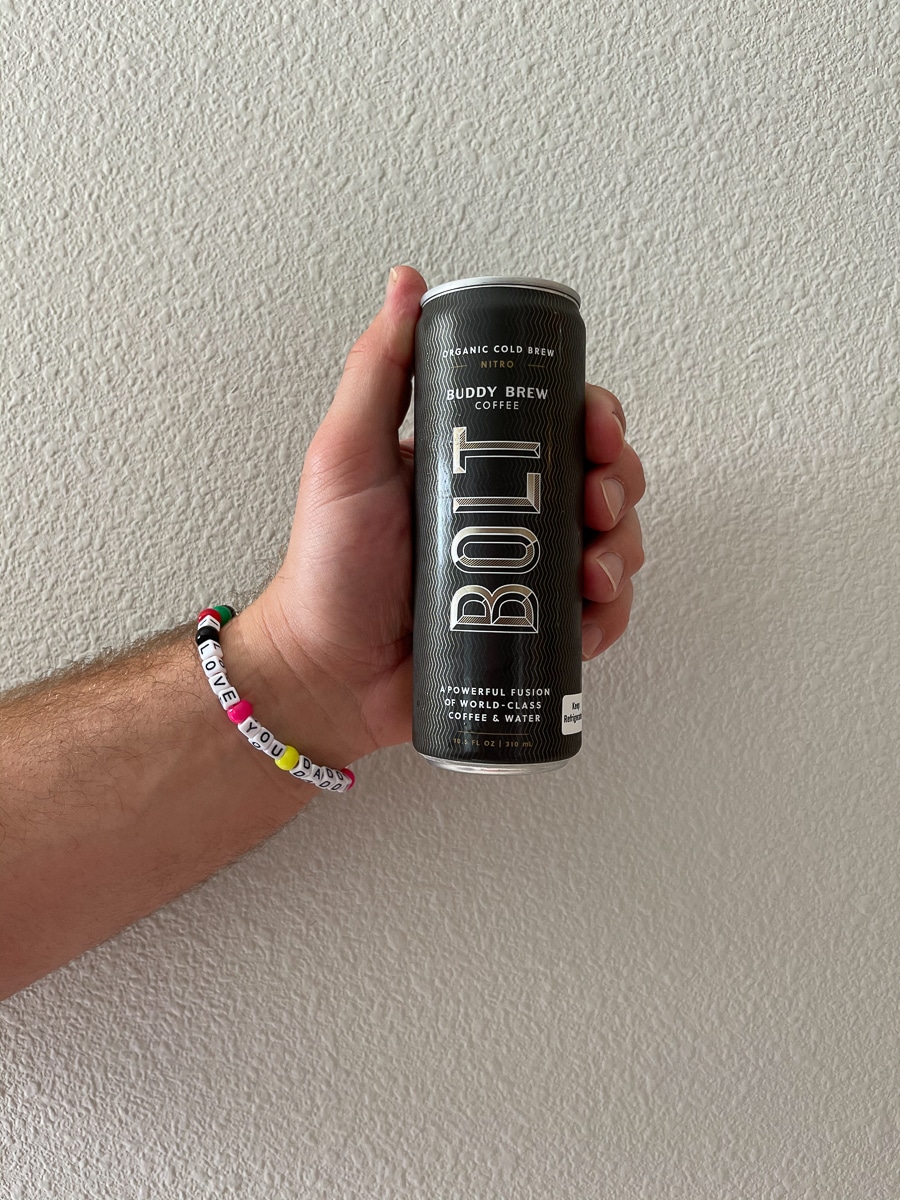 Name: Ted Larsen
Your Bag Today: Louis Vuitton Limited Edition Monogram Upside Down Speedy Bandouliere 40 Ink
What's a typical game day look like? Breakfast…lots of coffee! Quick drive to the stadium followed by more coffee, warm ups and then kick off! Then more coffee at halftime (cold brew).
Any game day rituals? These vary year to year honestly. My favorite was seeing my kids before the game on the field but Covid-19 messed that up this year.
You've lived in many places when playing for different teams, what are your favorite spots in Tampa: Buddy Brew Coffee, Chill Bros Scoop Shop, Casa Ludovico and Bern's Steakhouse.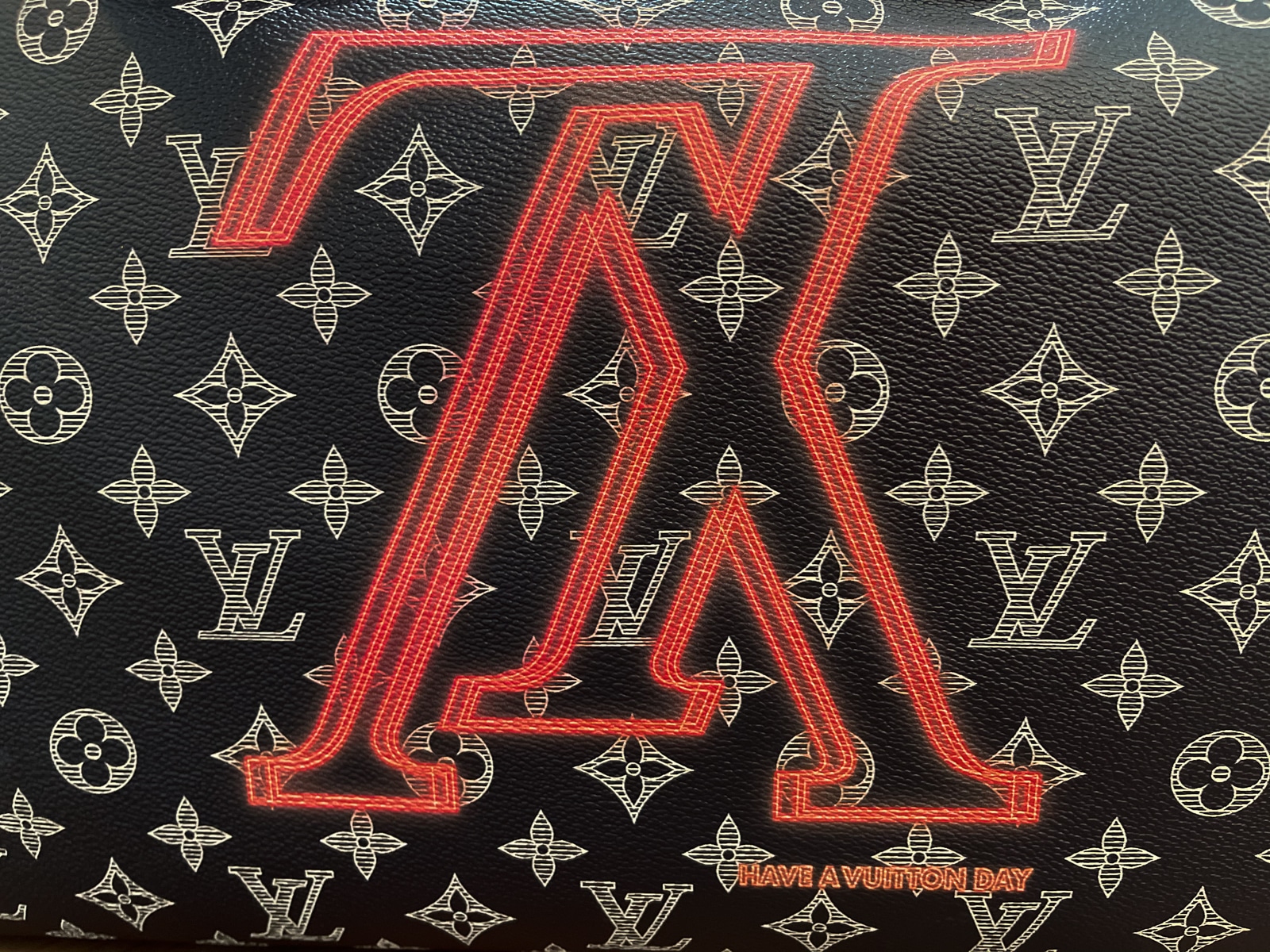 How's the atmosphere having the Super Bowl in Tampa and your team making it? Even in with Covid, Tampa is buzzing. We are the third sports team from Tampa to reach our respective championship this year.
Favorite song(s) to listen to before games? Kygo First Time and Firestone and Eminem Till I Collapse and Lose Yourself.
You're a Louis Vuitton lover, what's your fav bag in your collection? Have a 'one that got away'? I love my Supreme x LV Epi Duffle and I absolutely missed out on the Louis Vuitton Kim Jones Pacific Blue Keepall.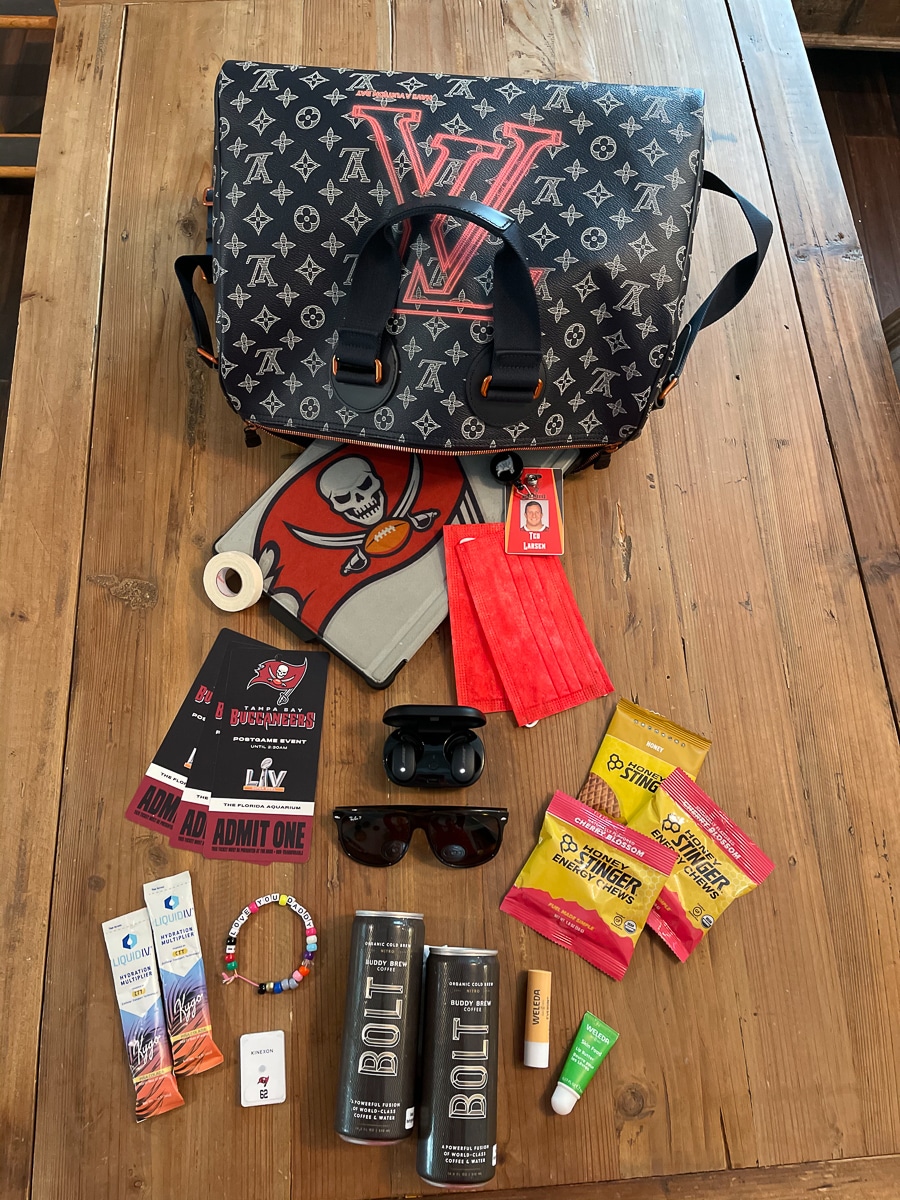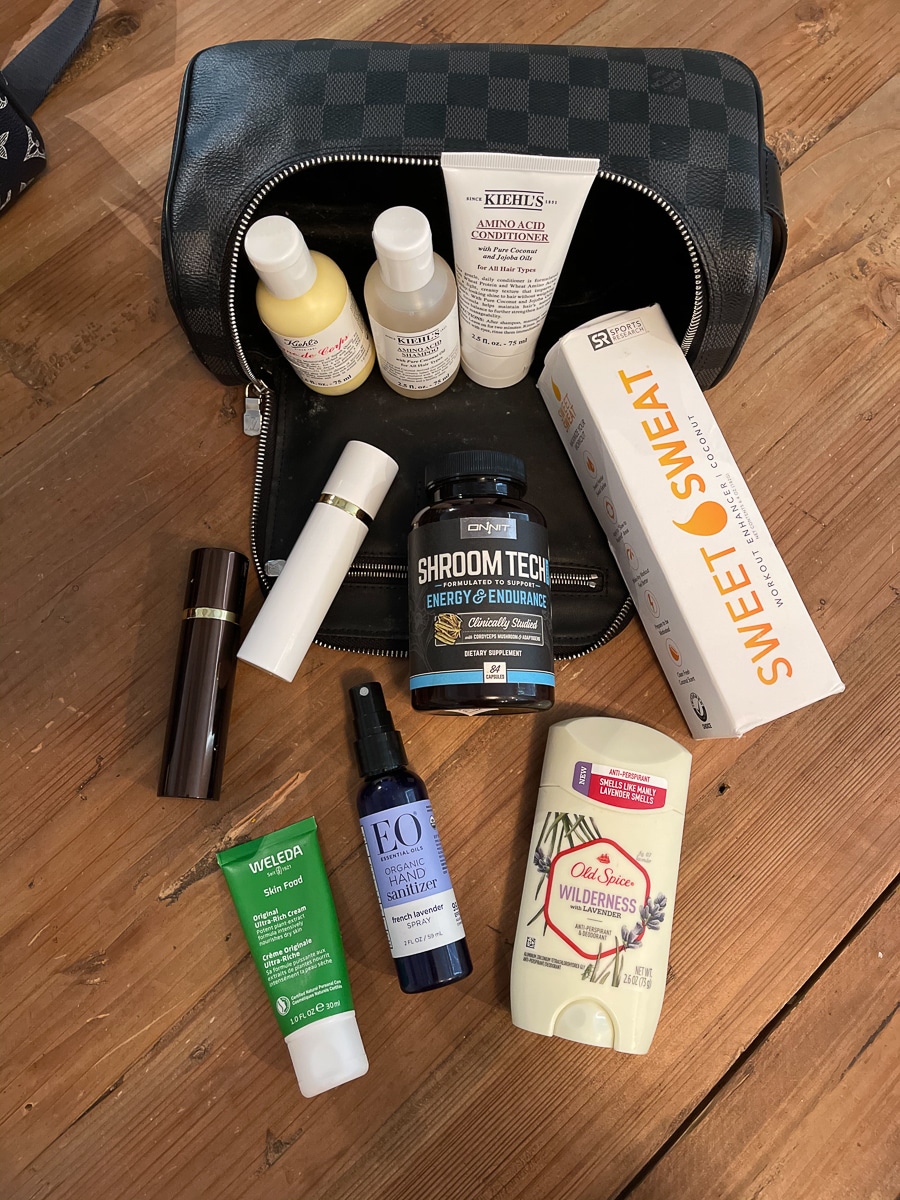 What's In Your Bag and Why:
Microsoft Surface – I use this to watch film and go over the playbook. Everything is now digital and on the cloud and I can now watch any practice or game clip I choose. This also has all our plays for the week and scouting report on the upcoming team.
Liquid Iv – I use these before and after practices and games to replenish electrolytes lost in the Florida heat. I love the honey stinger gummies before and during a game or practice as well for some easy to digest energy that tastes good too.
Bracelet – I have a bracelet my daughter made me that I always wear especially when I'm on road trips away from my family.
Weleda – I love the Weleda lip products, they're greatest year-round for me.
Shampoo + Cologne: I always have some Kiehl's shampoo and body wash and a couple Tom Ford cologne scents because even though I get grimy on the field I still like to smell good. Wether it's the desert of Arizona or the cold weather of Chicago.
Covid Essentials – Covid has changed a lot of how we operate. I've got masks, my favorite hand sanitizer and a Kinexon device. This is actually something new this season we use this every time we are playing, practicing, meeting or traveling for contact tracing.
Post Game Passes – I also have some post game passes for what we hope will be a victory celebration.