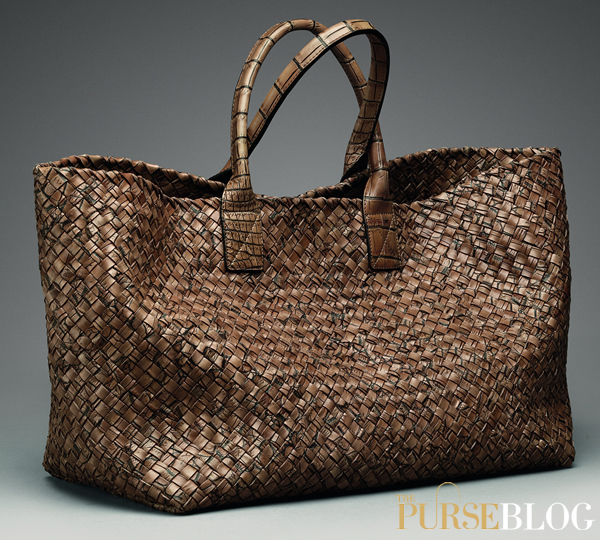 Ahhh, the Bottega Veneta Cabat. We have already gone over the meticulous process the craftsman undergo to create this magnificent handbag. To refresh your memory, the classic Cabat is woven by hand by two craftsman which takes them two days. Then an additional day is needed for finishing touches; like stitching, applying the handles, and finishing the edges. Before this entire creation, the leather itself is treated, prepared, and cut. The result is one of the staples of the house of Bottega Veneta and one of the most simple yet coveted bags.
For Spring 2011, the Bottega Veneta Cigar Cocco Lave Large Cabat will be released. This bag is the ultimate Cabat and my current weekend obsession.

I love the brown/black color on the crocodile skin. It gives the perfect amount of life to the bag, which is already a stand out because of the weaving technique. Before I get into the price with you – I must mention to keep in mind the size of this bag. This is the large size, which is entirely spacious (think weekend getaway size). This bag may be my weekend obsession, but it also is out of my price range. I am entirely jealous of whoever will be buying and using this bag. It will outlast us all. Buy via Bottega Veneta for $80,350.