Alright, I am in the mood to be honest today. So, Amanda, when you read this, don't hate me too much. I don't always like Valentino bags. I guess, for me, some bags are just too feminine. In fact, I almost end up laughing a bit to myself when I read one of Amanda's glowing Valentino reviews because everything she is saying is spot on, yet, I still can't get myself to see the light.
However, today, well today is a very different story my friends. I am looking at so many things I typically would stay away from but today, I am gravitating towards.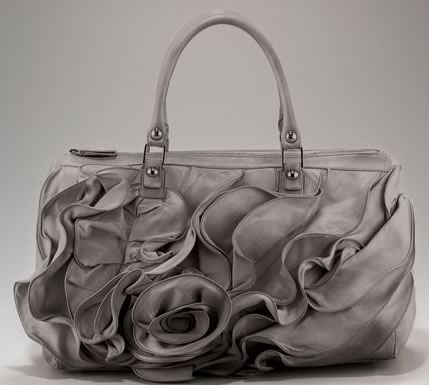 All I want to do is buy this Valentino Rouched Petal Zip Satchel and carry it all day every day. First of all, I have a weakness for gray handbags. In fact, I think it is fair to say that I like gray handbags more than black ones. Crazy, right? Well, in addition to the gray leather, I cannot get enough of the amazing raised ruffle and rose petal detailing along the front of the bag. The top handles have a 6 1/2″ drop which will fit comfortably in your hand or on your arm. Open the bag and find brown satin lining. The thing about this bag is that for some reason, it just works. It works perfectly. It's not too feminine; it boasts the right amount of femininity. This is the kind of bag that would be a great addition to your "I'm running errands" look just as it would your "night on the town" look. It is perfect. Buy through Bergdorf Goodman for $2695.