When a brand has a standout hit like Valentino has with its Rockstud bags and shoes, it can be hard for the average consumer to look beyond that and notice the depth of the brand's offerings. Balenciaga often has that issue – everyone loves the Motorcycle Bags, and because they became so synonymous with what a Balenciaga bag will look like, some great pieces tended to get pushed to the margins and left relatively unappreciated. With his new Balenciaga Le Dix, Alexander Wang looks to be making sure that the face of the new Balenciaga is one that he's created. In that spirit, it seemed only appropriate that the Valentino Intricate Soutache Tote got some love of its own, separate from the rest of the Valentino seasonal collection.
Valentino isn't trying to take the spotlight off its Rockstud bags in the same way that Balenciaga is trying to take a non-Motorcycle step, of course, but I do appreciate that the brand's accessories crew restrained itself from adding a studded element to these bags in some way, as Valentino does with nearly all of its accessories. I love Rockstuds as much as (if not more than) the next girl, but not everything needs to be Rockstudded. The ornate, tonal piping on the bag's front panel is as close to leather filigree as anyone will probably ever get, and the subtly luxurious treatment is a perfect representative of the Valentino aesthetic.
On top of that, this bag wasn't intended just to be admired – with its generous size and two handle options, the Soutache tote is clearly a workhorse. "Pretty" and "functional" don't often meet in the middle, and the combination should make this bag a customer favorite. If you needed proof that Valentino isn't just a one-trick Rockstud pony, this should do the trick. Unfortunately, it comes with quite the price tag.
---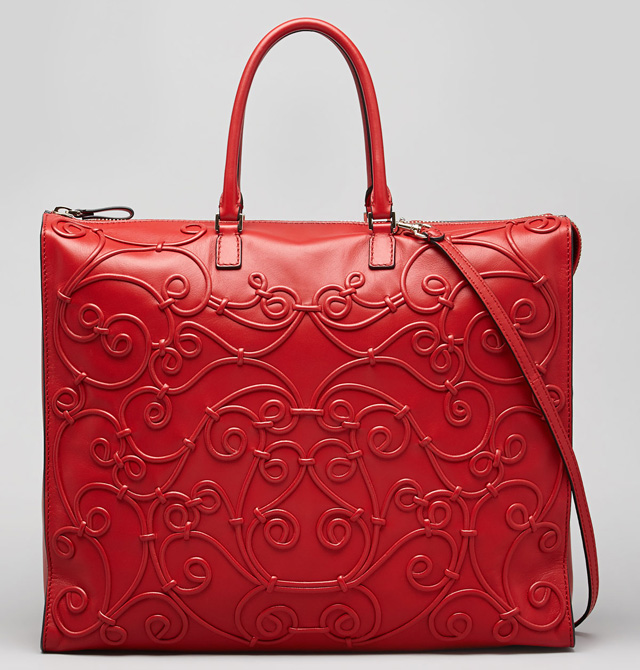 ---