You know, when it comes to handbags and the reviews we do here on PurseBlog, we can be all over the place. Sometimes we (me, Megs, Amanda and Anna) can be in complete agreement and other times we don't see eye to eye at all. This all makes sense, of course, because, well, we all have different likes and dislikes. (I know, I am stating the obvious here, just bare with me.)
However, I feel as though we tend to be most polar on our view points with some of the big time designers, like Valentino. But, when it comes to Valentino, Amanda said it best in her review of the Valentino Laceland Tote when she said is not completely comfortable claiming she loves or hates a given Valentino creation. I feel the same exact way.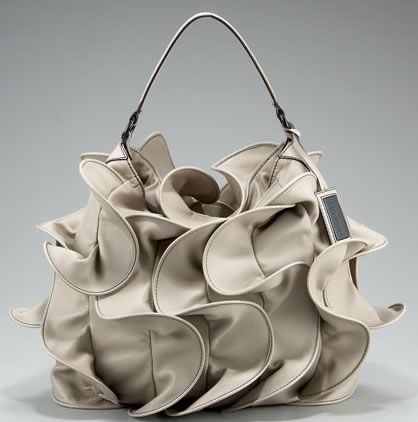 So, as I sit here contemplating how I feel about the Valentino Rouches Napa Hobo, I also wonder not only what my fellow PurseBlog writers think but also what you all think about this bag. There is a large part of me that really wants to like the bag, but there is a nagging part of me that thinks it is nothing more than heinous. So, let's break it down.
No matter what the state of the economy is, there is something to be said for possessing one of the big name brand bags – which Valentino is a part of. The leather itself is downright gorgeous. It is supple, beautiful and flawless. As a hobo, the dimensions are pretty much spot on: 13 1/2″H x 15″W x 8 1/2″D with a 5″ shoulder drop. I wish the drop was a bit larger, but I won't make that a point of extreme discussion. I love satin lining, so the fact that this bag is lined with black satin, I obviously like it a bit more. Yet again, is that enough to make or break a decision – no.
The ruffles. The ruffles have me on the fence. When I think about really tapping into my feminine side, I like the ruffles. When I think about how borderline gaudy the bag looks, I hate the ruffles. But that is the thing. The ruffles are *supposed* to help the bag stand out; they are supposed to make the bag unique and one-of-a-kind.
Finally, the price. Yes, this is Valentino and yes the prices tend to be a bit inflated compared to the rest of the handbag market. However, would you throw down almost $2600 for this ruffled, leather, hobo? The price is what is making me quiver. If the bag was cheaper, I would go out on a ledge and buy it. I need a statement piece and frankly, this bag is exactly that – a statement. But with everything being said, does this bag make so much of a statement that you would be willing to throw down big time bucks? If so, buy through Bergdorf Goodman for $2595.