Of all the trends currently floating around the fashion sphere, there's one that is exciting the inner child in all of us – Barbiecore. That's right. Everybody's favorite pink-clothed 'It' girl has made her way back into the fashion lexicon and, decades after the doll's inception is influencing the style choices of those who have long closed their toy boxes for good.
As often goes with the most eye-popping fashion trends, style enthusiasts use handbags to lean into the phenomenon without playing full-on dress-up. So aside from the obvious explosion of pink in our handbag collections, what more can we expect from the emergence of this playful trend? And why is Barbie paraphernalia (or what's been dubbed Barbicore) taking hold of fashion over 60 years after the Barbie brand was created?
Come on, Barbie, let's go party … and explore fashion's funniest new trend.
But Why Barbiecore?
American businesswoman Ruth Handler created Barbie in 1959, releasing the doll under the toy company Mattel, Inc. With a slew of playsets and later TV shows and movies, Barbie soon became a household name with Barbie's Dreamhouse and her signature bubblegum pink style established as part of the doll's coveted and unique aesthetic. From the start, Barbie represented fun and embraced overt femininity. It's this sense of playful femininity that's so closely associated with the Barbie brand today and why the 11.5 inch tall doll has always been more than a toy.
Barbiecore hasn't exactly popped up out of nowhere. The girly pink-on-pink style has long boasted an association with fashion. But its sudden emergence on the runway, street style scene, and every style guru's Instagram feed isn't by chance.
The announcement of the new live-action Barbie movie set to be released in July 2023 and starring Margot Robbie as the titular character has caused interest in the Barbie universe to soar. Newly released photos from the set showing Robbie in a cohort of bright pink costumes have sent the internet into a frenzy.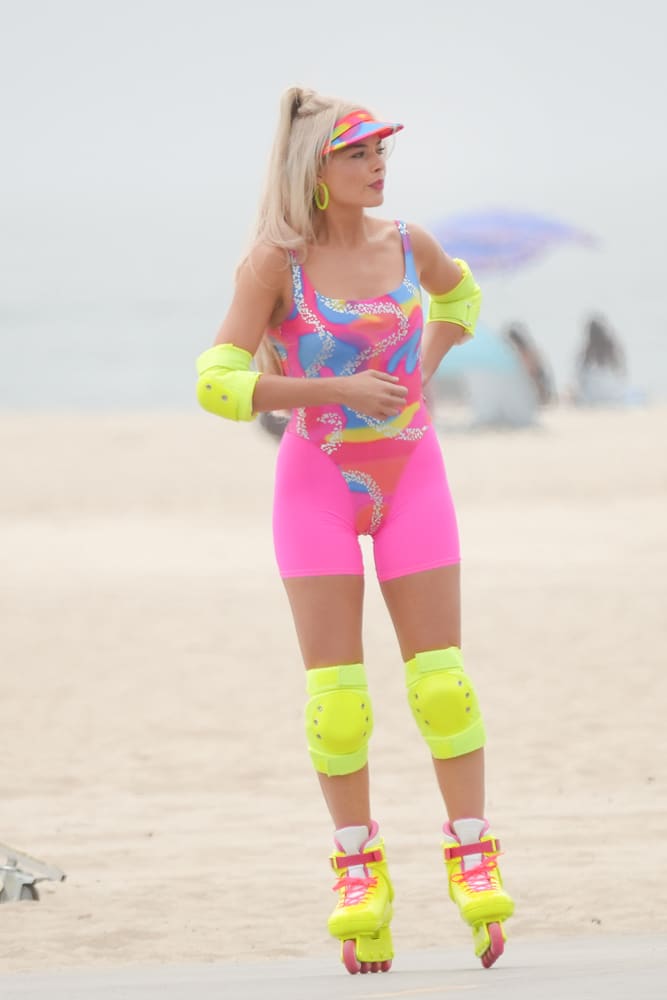 The resurgence of retro styles from previous decades is having a huge influence on this new trend. Barbiecore's cropped jacket and skirt combos and pink frocks nipped in at the waist channel 1960s style. Think of Jackie O's iconic pink suit and the anointment of the rebellious miniskirt as a cultural icon. The bold electric pink neon hues, sporty-inspired leg warmers, and other athleisure-infused looks of the 1980s can also be seen in today's Barbie style.
And, of course, the influence of Y2K's girly and cartoonish statement styles on the contemporary emergence of Barbiecore cannot be overlooked. From the bright pink hues and dependence on denim to the heavily adorned designs and decorative motifs, the impact of early 2000s style on fashion's obsession with all things Barbie today is clear.
Barbiecore Within Fashion
Barbiecore has been popping up within fashion for decades. From elements of the Barbie style dominating early 2000s fashion pop culture with movies such as Legally Blonde and Lifesize to Moschino's Barbie-themed Spring/Summer 2015 runway show, the doll's style codes have long been adopted by the fashion elite. But this season, Barbie's signature pink has become bolder and brighter.
One of the most widely circulated examples of Barbiecore this year is Valentino's Autumn/Winter 2022 collection. Featuring a cohort of vibrant bubblegum pink looks, the so-called "Valentino pink" has been branded the color of the season and has proved a favorite shade of Instagram stars and A-listers on the red carpet. There's also a big focus on monochrome Barbiecore with all-over pink looks, bags included.
What Does Barbiecore Mean For Bags?
First of all, all things pink.
Many brands have released some of their most coveted styles in energetic pink hues to honor Barbie's color of choice. From classic designs to new creations, Barbiecore's power over this season's handbag hot list is strong. Simon Porte Jacquemus has introduced his label's popular Le Bambino style in a shade of playful baby pink, while Saint Laurent has released a neon bubblegum pink iteration of its fan-favorite Sac de Jour. Valentino's now iconic pink shade of the season appears on a series of the label's Rockstud designs and Versace's assortment of Medusa bags are covered in varrying shades of pink leather and plexiglass adornments.
The season's most popular Y2K bag shapes are routinely spotted on the arms of fashion's 'It' girls in Barbie's signature shade. The curved hobo silhouette and slick shoulder styles are proving to be a favorite.
Delicate floral embroidered and flashy sequin-cloaked bags are another fun way to express the Barbiecore trend this season. Dior's peony pink Toile de Jouy pattern is one of our favorites, as well as Prada and Chanel's glittery styles.