I am in love. Valentino continues to make me a happy handbag fan. Yes, in the past, I've snubbed Valentino and thought that some bags were less than impressive. Today is not that kind of day. I am highly impressed with this Valentino Glam Tote. In fact, if I had some cash saved up, I would have bought it on the spot.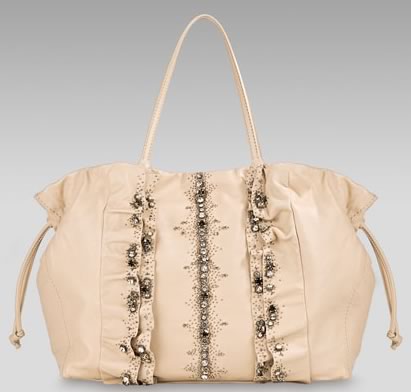 Before I get started, I must say, I really wish that Bergdorf Goodman would have larger images of products they carry available. However, luckily, they do have a zoom function. This zoom function has allowed me to fall in love with this bag. If it wasn't for that function, I probably would have passed the bag by. But instead, I was able to look at the bag a bit closer and completely admire the exquisite and intricate bead work.
This tote is comprised of nude napa leather and has double top handles. With the tote being as large as it is, I do wonder if slightly larger handles would do the bag a bit more justice, but it wouldn't be a deal breaker for me. I wasn't really interested in the drawstring sides, but I can let that go too. See, this bag, it is just downright gorgeous. The stripes of mini-studs and crystals intertwine splendidly. And since some of the studs and crystals happen to be on the two-layer ruffles along the front of the bag, there is a bit of movement. I can picture myself carrying this bag as I walk through a restaurant and the the light being reflected off of the studs and crystals – amazing. It typical Valentino fashion, this bag doesn't come cheap, but like I said earlier, if I had money saved up, this bag would be mine! Buy through Bergdorf Goodman for $2690.