Bottega Veneta decides to layer a pattern on top of their signature intrecciato woven leather. The material itself is so beautiful and luxurious that it seem a waste to mask it, and often the extra patterns compete with the weave's natural lines.
I'm usually a bit dubious when
This time, though, I think they got it right – the argyle pattern of the Bottega Veneta Argyle Veneta Intrec Argyle Boston Bag works on its own and with the weaving.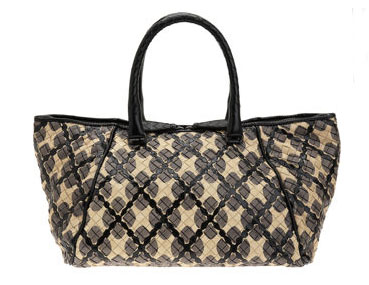 The traditional diamond structure of the painted argyle shares some of the diagonal lines of the intrecciato leather without completely mimicking it, which is the key to its success. The rounded edges of the argyle is in contrast to the right angles of the leather, but the two still fit together in a logical and visually pleasing way. From a distance, you don't notice the woven structure, but it provides a nice surprise when the bag is examined close-up. The bag works on both levels, and it provides a great example for how to mix textures and patterns the right way. Buy through Barneys for $2700.