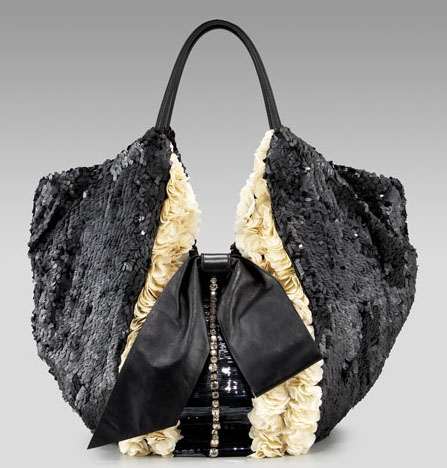 Gossip Girl was a repeat last night, and you do not even want to hear the string of profanity that came out of my mouth when I realized the kind of shenanigans that they were trying to perpetrate on me, and right before the holidays and everything. Don't they know who they're dealing with here?!?!
Ahem. Well, even though this all means that we can't have a Gossip Girl recap, it doesn't mean that I still can't make a post that's tangentially related to the show. I can and I will! And it just so happens that the Valentino Shining Flower Tux 360 Tote, which was the subject of a major plot point during Trip Vanderbilt's election a few weeks ago, has now become available for pre-order.
And really, I think you need a bag this bombastic in order to inspire major primetime subplots. It's looking a tad cheesy in these pictures, but based on what we saw on the show and how I bet it would look in person, I think this bag is completely gorgeous and really unique – something that Valentino manages to pull off again and again.
In fact, the folks at Valentino may be the most innovative designers on the high-end bag marketplace, and seeing what will come out every season from them is one of my favorite parts of that very special new handbag time of year. They may not match everyone's personal style, but the attention to detail that goes into some of their more intricate bags is head and shoulders above almost every other manufacturer on the planet, and they're more willing to experiment with materials and embellishments than anyone else. The textural combination of sequins, ruffles, and crystals on this bag is definitely an attention-getter, and I love that they go all the way with their looks instead of trying to stay mediocre to expand their prospective audience. Buy through Neiman Marcus for $4495.