Pop sensation Dua Lipa hit the music scene in 2017 with the release of her debut album. The British-born singer quickly rose to international stardom, and in 2018, her single 'One Kiss' peaked at number one in the UK and became the year's longest-running number-one single by a female artist. It was only up from there, and her 2020 album Future Nostalgia garnered many accolades, from top-ten hits to six Grammy nominations.
Ms. Lipa is not only known for her musical talent but for her eclectic fashion sense and a myriad of designer partnerships. Dua Lipa has worked with several designers, walking the runway for Versace and Balenciaga to date. She first hit our radar in 2018, and it's hard to believe that it has only been 4 years since she appeared on PurseBlog for the first time. Since then, Dua Lipa has been spotted out and about with some seriously coveted designer bags, and we thought it would be fun to take a look at how her collection has progressed over the last 5 years and progressed it has! See below the many bags spotted on Dua Lipa since 2017, from newest to oldest!
Vintage Prada, Balenciaga, Bottega and More!
As of late, Dua Lipa has been loving her Balenciaga, which is not all that surprising considering she works with the brand and probably has quite a bit of access to its bags. Even still, they suit her ultra-90s throwback style very well. This large version of the Le Cagole just works so well on her — she's 5'8, so it doesn't swallow her. Her height is also why this cool leather coat works so well, IMHO.
Honestly, I think Dua Lipa is the only person who could make this outfit work. From the ultra-tight neon dress to the rainbow sneakers (are those Asics or Balenciaga, seriously?) and her incredibly cool JW Anderson Bumper bag, there are few who could look good in this pairing.
Leave it to Dua Lipa to debut the seasons most-hyped brand: Diesel. Her version of a Canadian Tuxedo is the only one I'd consider wearing.
I'm not usually a fan of kitschy animations on bags, but Loewe can do no wrong, and neither can Dua Lipa, who wore her Spirited Away Hammock bag to the beach.
This is exactly what I look like walking my dog around New York in the morning…not! Leave it to Dua Lipa to absolutely nail dog walking in style. She paired an under-the-radar cult favorite Luar Ana Mini Bag with sky-high croc boots.
As a street-style darling, Ms. Lipa is almost required to own at least one Telfar bag. I'd honestly prefer to see how she styles the mini (which I own and love), but here she's got airport style down pat with a large Telfar shopper in sunny yellow.
Dua Lipa was spotted on the streets of downtown NYC on this particular evening with her then-boyfriend, Anwar Hadid. She hit up Ray's, a bar on the Lower East Side owned by Justin Theroux and others. I know because I, too, was there on this particular night when she wore yet another denim ensemble and carried a sparkly Alexander Wang mini bag.
Honestly, no one wears leather better. This buttery matrix-style coat pairs so well with her Proenza Schouler bag.
If there's one thing I love about Dua Lipa, it's that her style is pretty unique. You never know what she'll be seen wearing or carrying. Spoiler alert: this Thom Browne bag isn't the only animal purse on this list…
A second point I'd like to make is that Dua Lipa seems to pick a favorite bag and wear it for a few weeks at a time. In the middle of the pandemic, her favorite was this Shoulder Pouch by Bottega Veneta. Dressed up or down, she makes it work.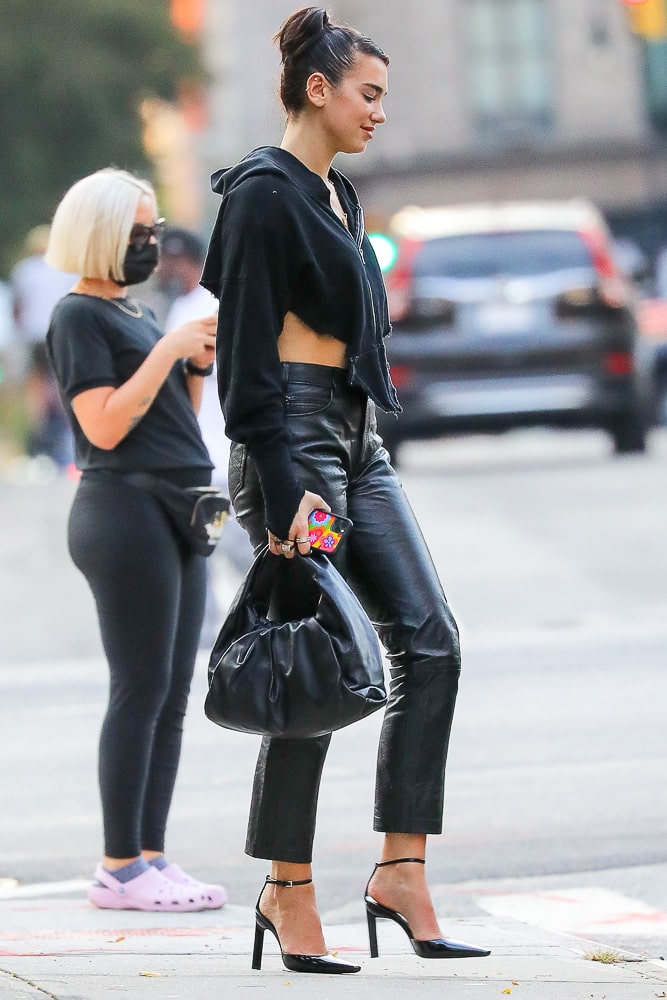 I'm not really sure what this top situation is, but I'll let it slide because her Chanel backpack is on point.
Dua Lipa joins a long list of celebs using their bags to hide from the paparazzi. This time, her Chanel Top Handle Flap was just the right size to block her face as she hurried into a car in New York wearing a patterned sweater and light wash jeans.
Early in 2020, just before the pandemic but right after Prada had re-released its iconic Nylon Shoulder Bag, Dua Lipa was spotted wearing leather (obviously) and carrying a vintage Prada Nylon Shoulder Bag.
IMHO I could care less about the tote bag, to be honest. I'm REALLY here for Dua's vintage red Chanel Bomber jacket from the 80s. Hailey Bieber owns the same one, and I've searched eBay countless times for it. It is, unfortunately, out of my budget.
Stalvey has been a favorite of the celeb set for a while. Known for its exotics, the brand boasts a range of fun colors, and of course, Dua Lipa chose a bright green neon.
I guess neon green is a favorite color of hers. This time she paired a bright sherpa bomber jacket with a checkered Off-White Jitney bag.
I remember seeing Dua Lipa in this bag when it first debuted and thinking I HAD to have it. Looking back now at her collection, Louis Vuitton is wildly out of the norm, so it's not surprising that she was only spotted wearing the bag once.
I'm sorry if I sound like a broken record at this point, but Dua's collection of leather jackets seems to rival her bag collection. I need this coat, but I would also take this gigantic Chanel.
Ok, I'm now convinced that Dua Lipa and I are meant to be friends with our 6-degrees of separation. Here she is, standing outside of my favorite bodega on the Lower East Side with then-boyfriend Isaac Carew. She nails the girly but edgy look here, carrying a fun green mystery bag!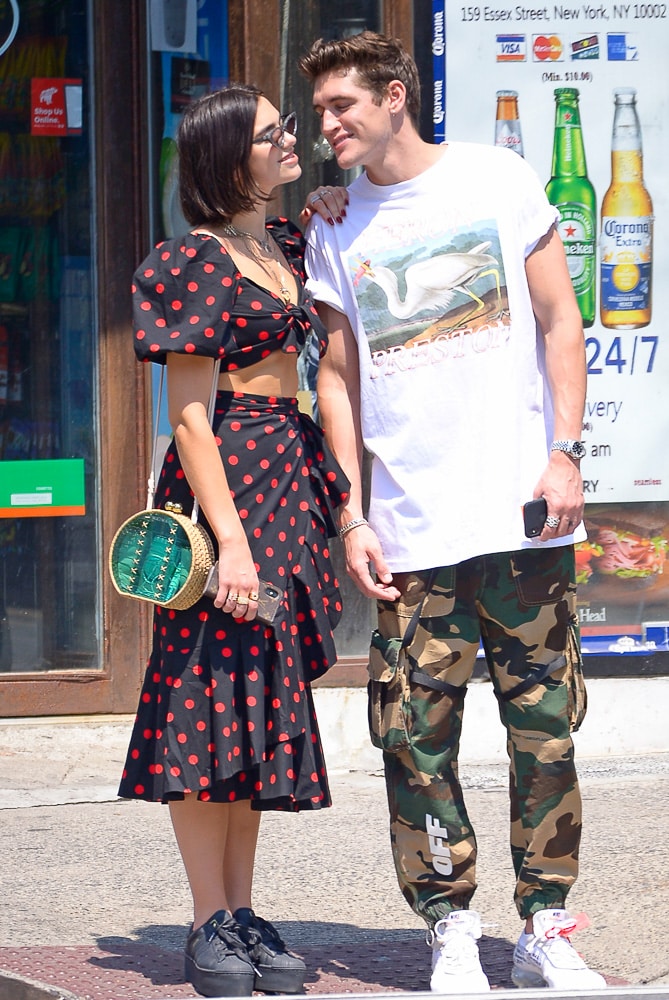 As promised, here's our second animal purse of the bunch, a Panda bag by Loewe. I'm not sure where I was when this bag was released, but I love it and must have it.
Here's Dua Lipa very early in her career, wearing a fur-free fur jacket (say that three times fast) and carrying a lady-like Prada monochrome bag.
We've made it to the very end of our compilation, and it starts a bit different from how it began, with a large Chanel Boy bag and a denim-clad Dua Lipa in London.