Over the past few weeks, I've been on a Demi Lovato kick. I know that I could be considered a little old for her demographic, but listen to Skyscraper and tell me you don't find yourself singing along. The former Disney star turned pop princess has been in the news the past few years because of her advocacy against bullying to her spot as one of the judges on X Factor. As I've followed along, I've come to really admire this young star. Demi has been through trials and tribulations,but she is open to speak about it in an effort to help other young girls.
The downside is that Demi's style is a little wonky. I know she is figuring herself out and she is still very young, but some of her outfits are questionable. When it comes to her handbags, Demi does carry designer bags, but not the most well-known styles. So let's get to it and see what she likes to carry.
1 / 20
Let's kick it off with Gucci! Like I said, Demi does carry designer bags, but often not the most well-known versions. In this photo she is carrying the Gucci Medium Babouska Heart Tote. Shop Gucci bags online.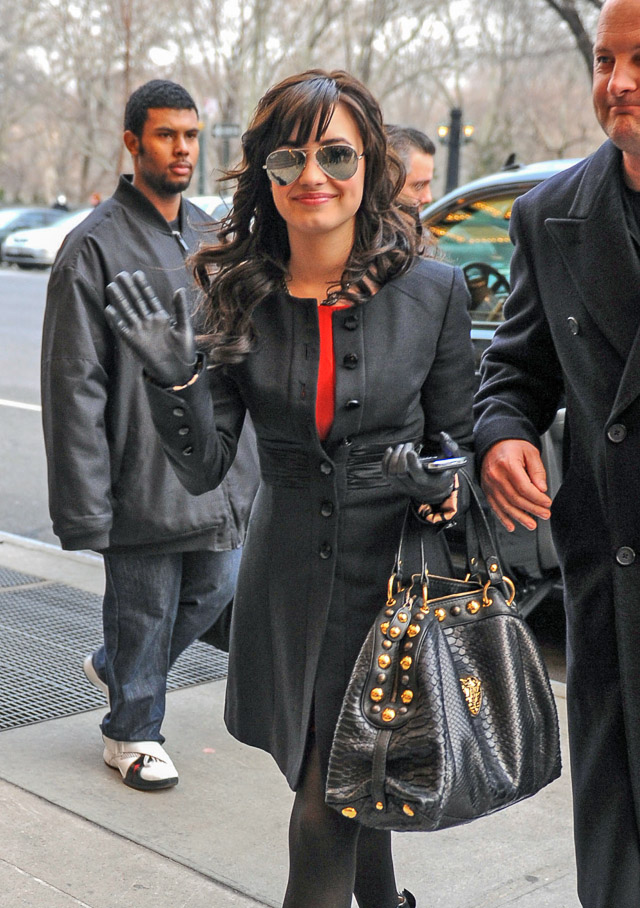 ---
2 / 20
This bag is a little more well-known - a fun studded Burberry bag. The British designer may be known for its demure plaids, but the brand has an edgy side, and Demi opted for it when carrying the Burberry Studded Elly Hobo. Shop Burberry via Net-A-Porter.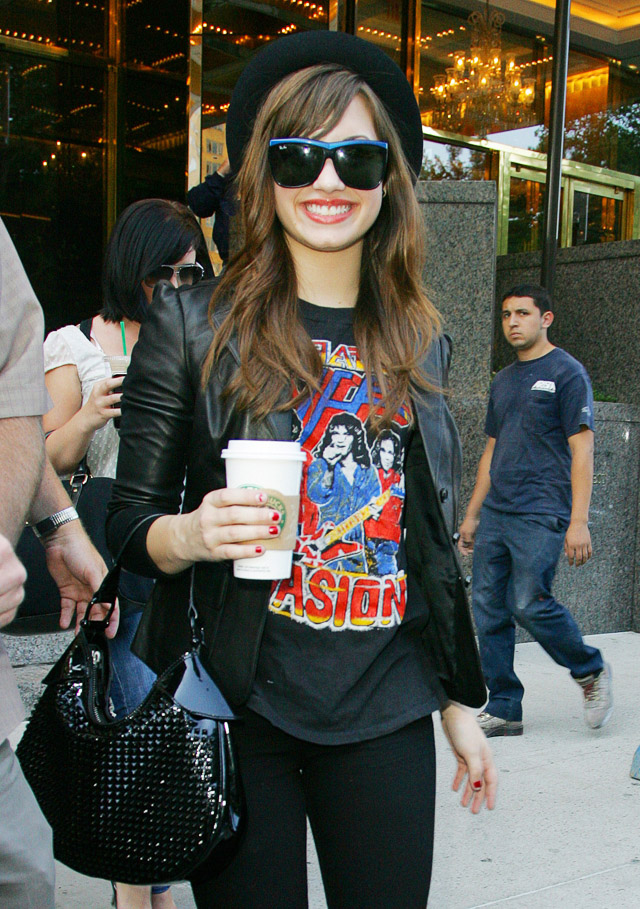 ---
3 / 20
Like I said, Demi loves brand names but always picks something off the beaten path. With this totally funky colorful outfit, she opted for the Prada Vitello Shine Bowler Handbag in purple... [Shop Prada via Neiman Marcus]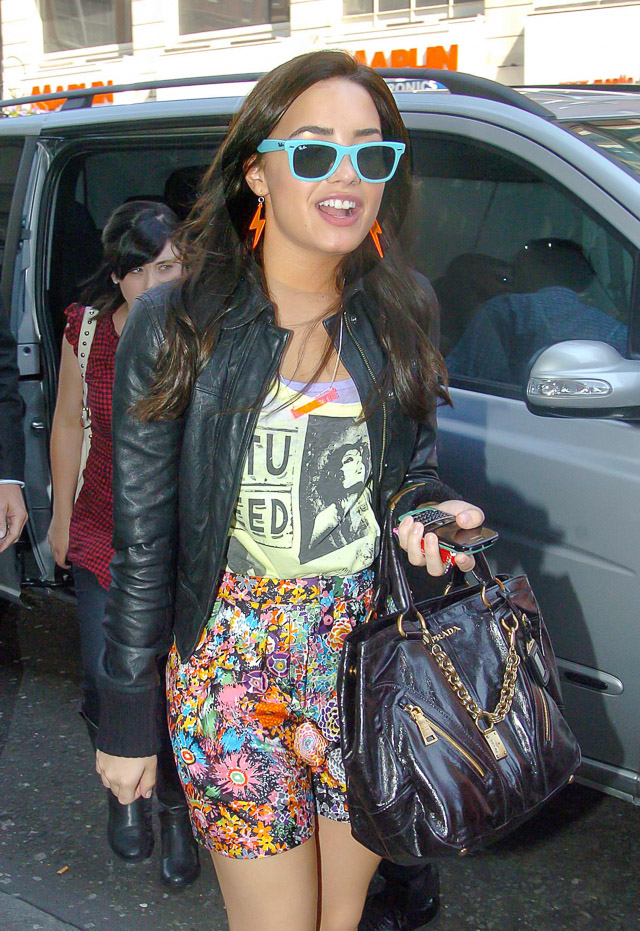 ---
4 / 20
... and she loves this bag so much she bought it in black also. Demi is quite the Prada girl! Shop Prada via Neiman Marcus.
---
5 / 20
Another brand she loves is Givenchy and way before the Antigona and the Pandora, Demi decided to carry the Givenchy Tinhan Hobo Bag... [Shop Givenchy via Barneys]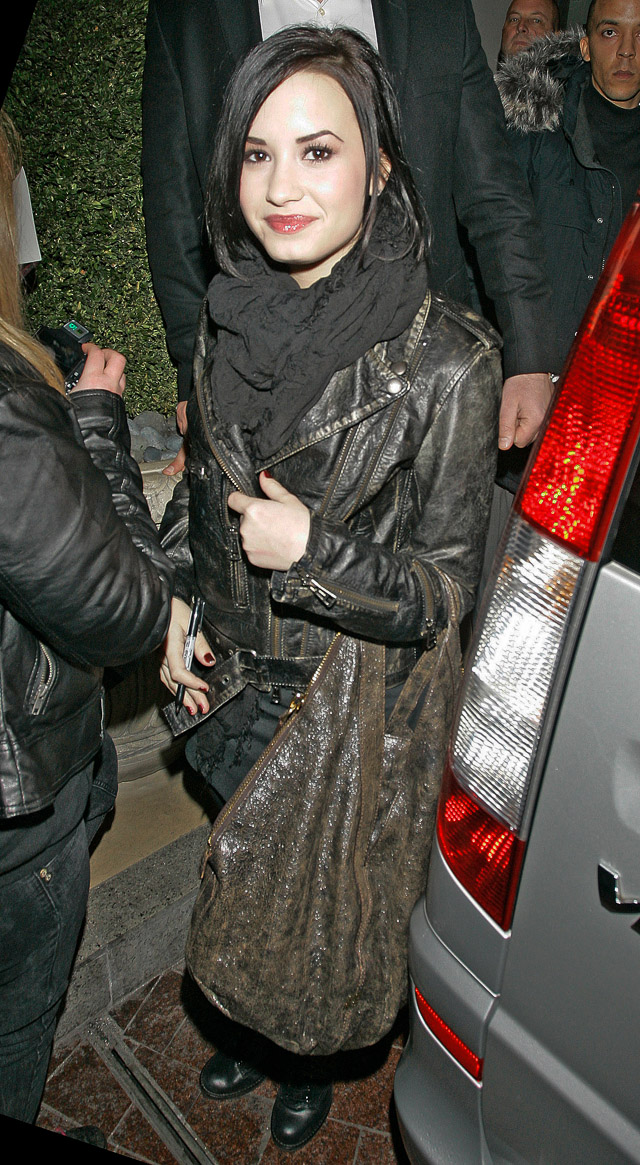 ---
6 / 20
... multiple times. Shop Givenchy via Barneys.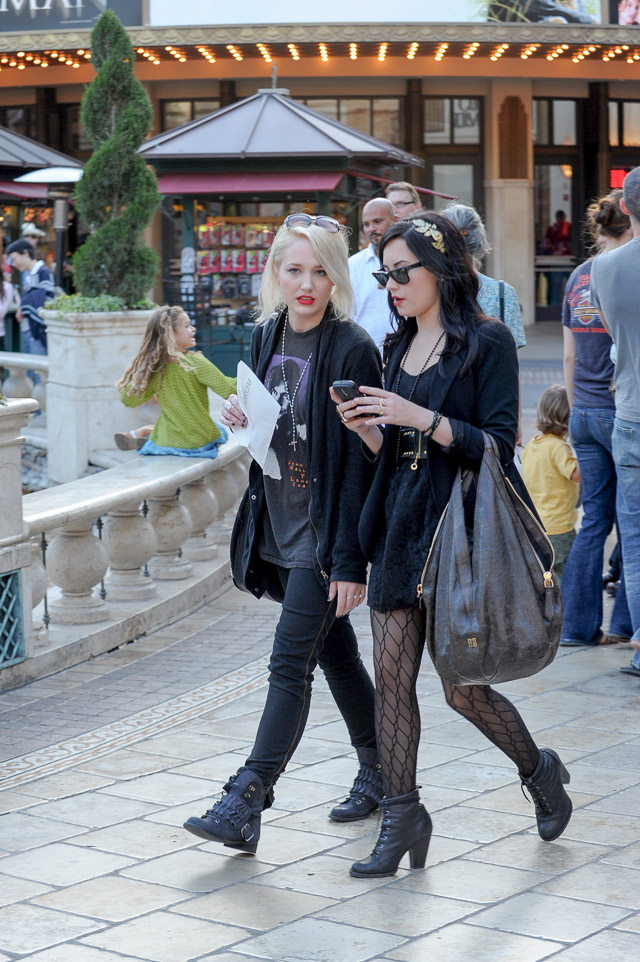 ---
7 / 20
Like I said, the teen starlet always seems approachable, and that comes to some of her handbag choices as well. This studded BCBGeneration Medium Studded Satchel is an affordable bag for most.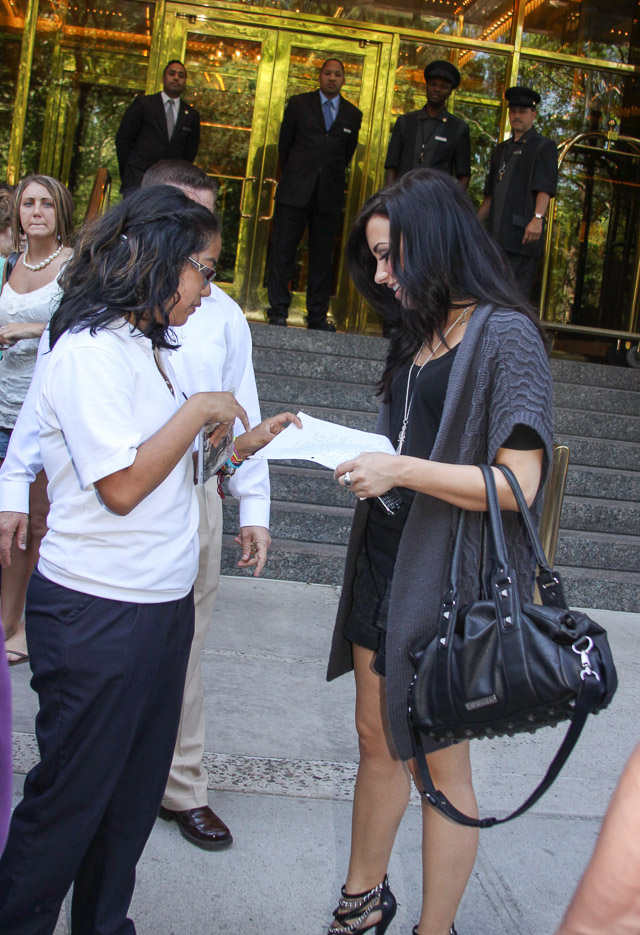 ---
8 / 20
Sparkly clutches? Demi has those too and this is one of the first photos of her at an event before she hit it really big. The good news is her clutch worked well with her outfit!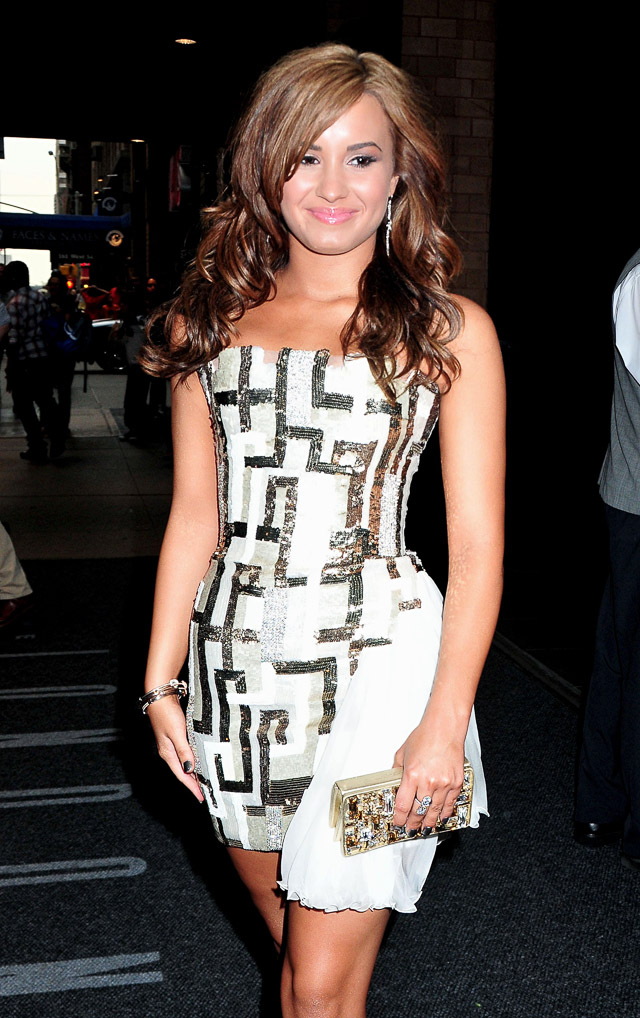 ---
9 / 20
Guys, I'm going to be honest - I really don't like this bag. Even worse, at first I wasn't even sure of its authenticity. What do you think of Demi's Louis Vuitton Monogram Multicolore Courtney bag?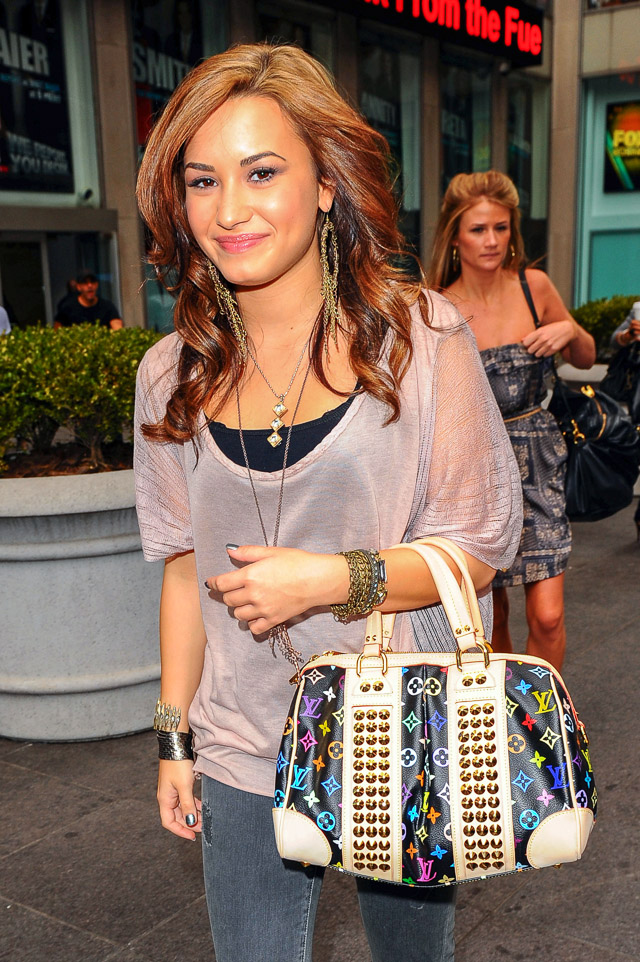 ---
10 / 20
One thing I love about Demi is she carries the bags she owns often. Another favorite in her collection is this sweet little Marc by Marc Jacobs Crossbody Bag. Shop Marc by Marc Jacobs via ShopBop.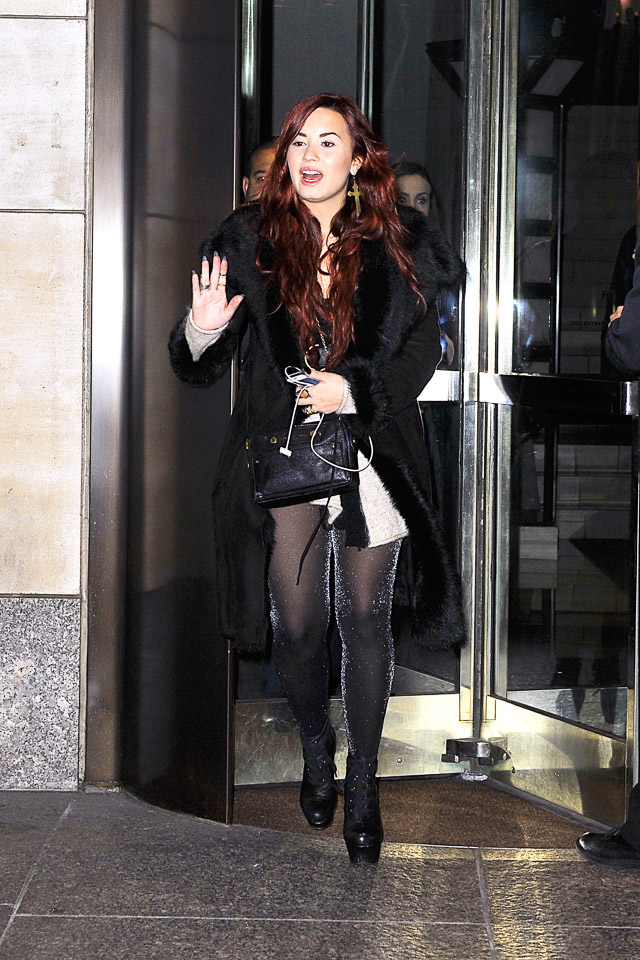 ---
11 / 20
She was spotted with this little Marc by Marc number again (and many other times, but you get the picture. Shop Marc by Marc Jacobs via ShopBop.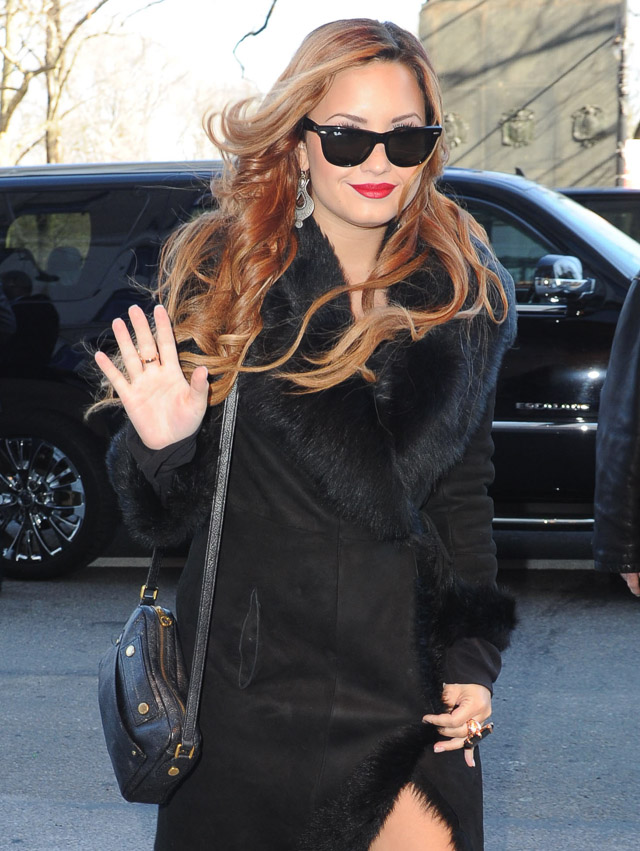 ---
12 / 20
At first glance, this bag looks similar to Coach, but upon further inspection it is another Prada bag, the And yes, that is Miley Cyrus hanging out with Demi. I actually quite like this Prada Cervo Shine Chain Shoulder Bag. Shop Prada via Neiman Marcus.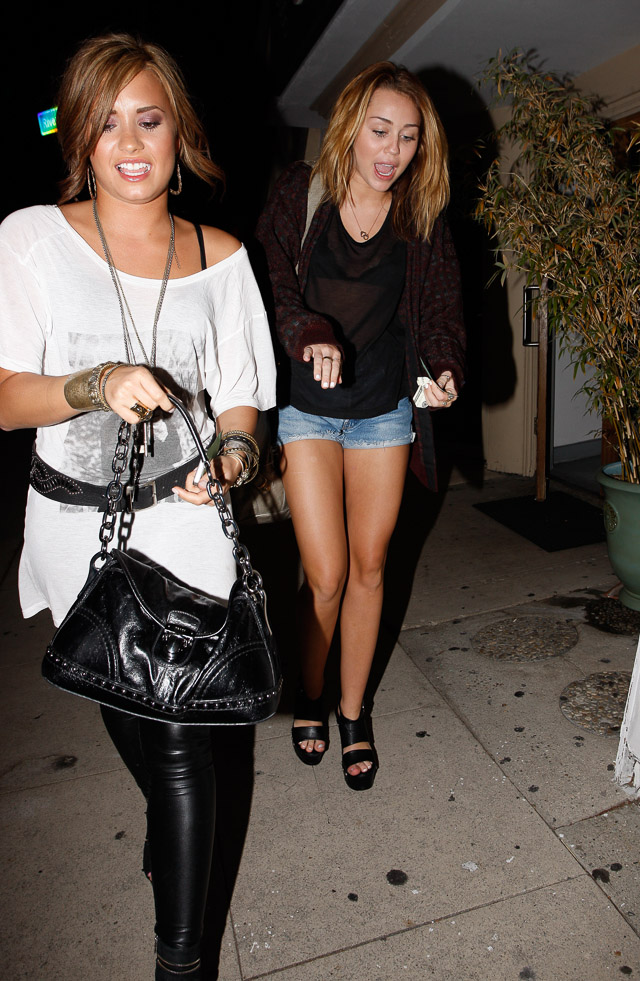 ---
13 / 20
Now onto a larger bag for the young star, her go-to when it comes to an everyday bag to hold everything is her Stella McCartney Falabella Shopper. Shop Stella McCartney via Net-A-Porter.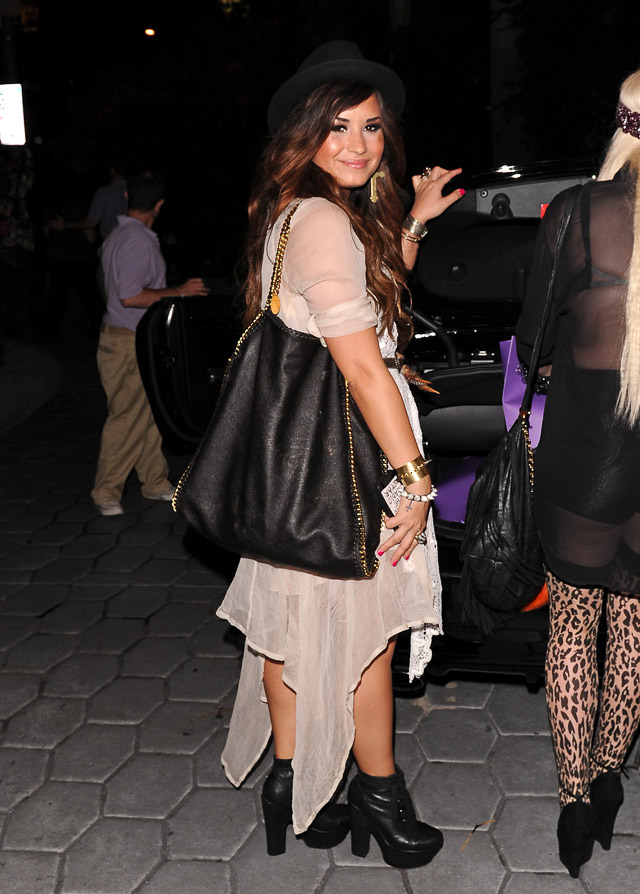 ---
14 / 20
Are you catching onto the trend? Demi loves carrying her bags multiple times with different outfits. This time its back to her Falabella (and a bowling pin). Shop Stella McCartney via Net-A-Porter.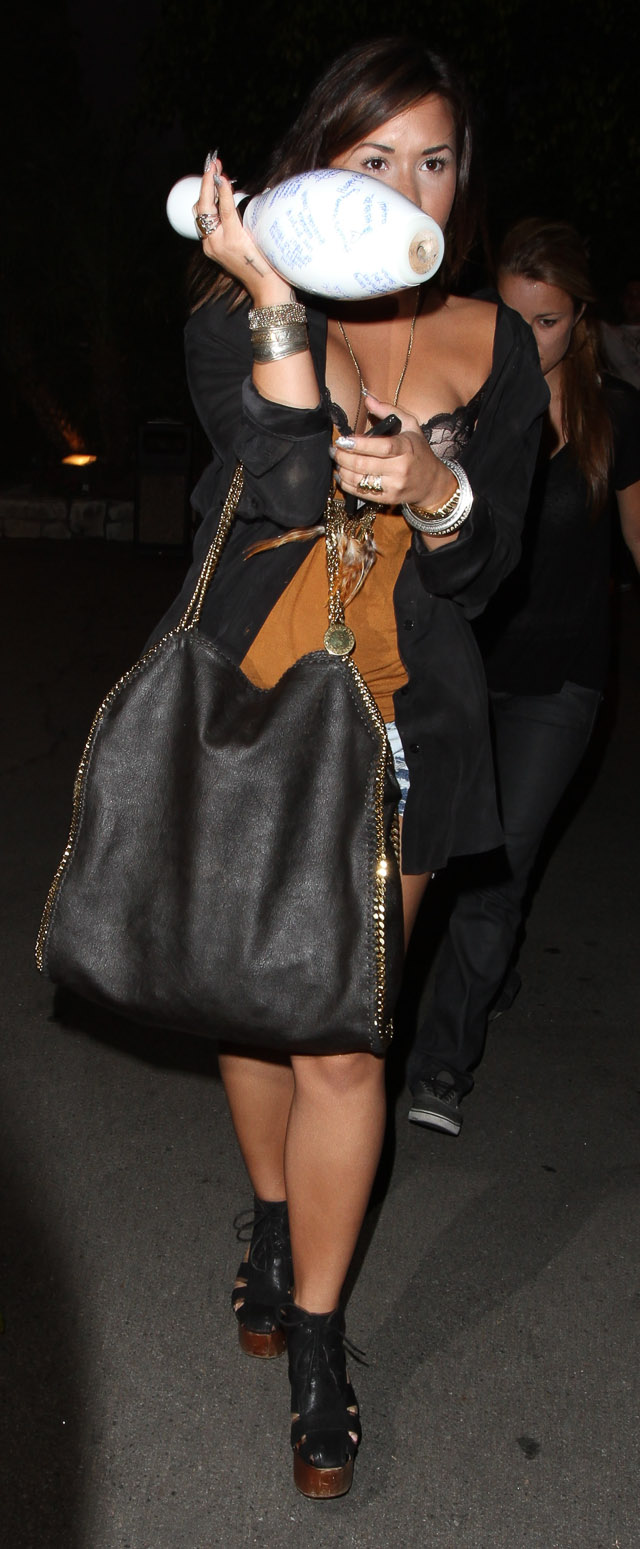 ---
15 / 20
I've always liked LV Damier bags and this Louis Vuitton Damier Azur Berkeley Bag seems like a great bag for Demi's style.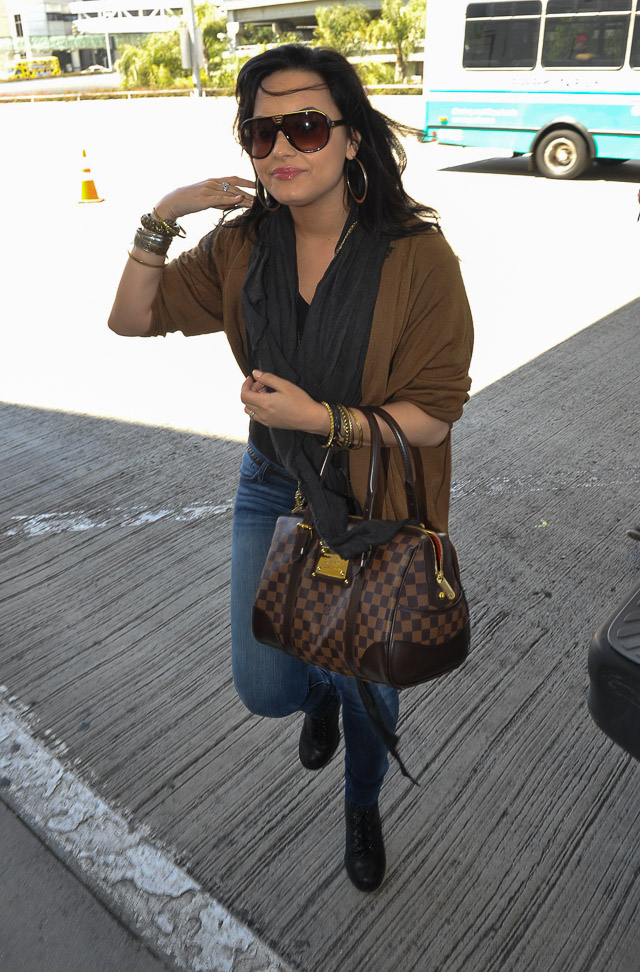 ---
16 / 20
Dressing up is part of the job and Demi looks beautiful in her Marchesa gown. Her Marchesa Resort 2012 Jewel Clutch matches her style well. Shop Marchesa via Net-A-Porter.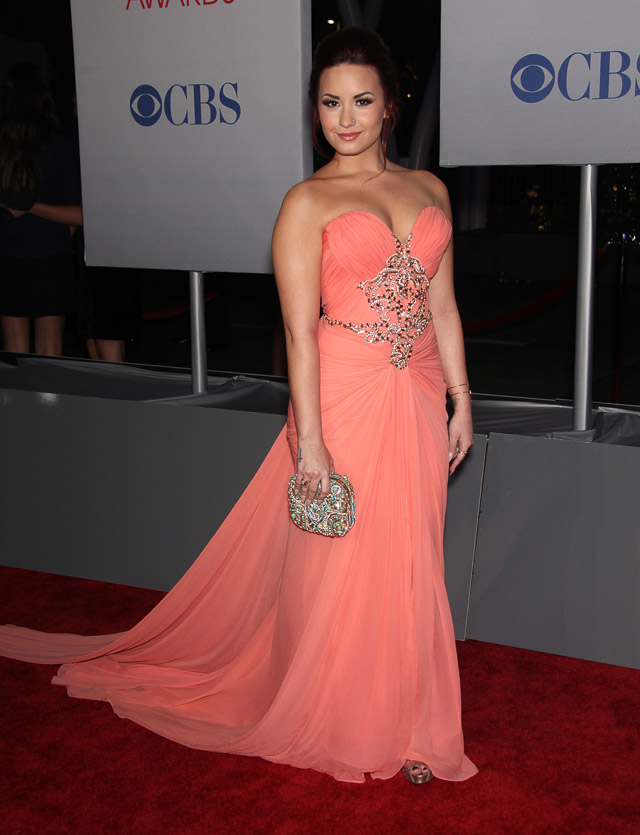 ---
17 / 20
This photo is recent of the X-Factor judge when she was spotted leaving dinner with Simon Cowell in NYC. Her Stark Fierce Clutch comes from the new line by heiress Petra Ecclestone.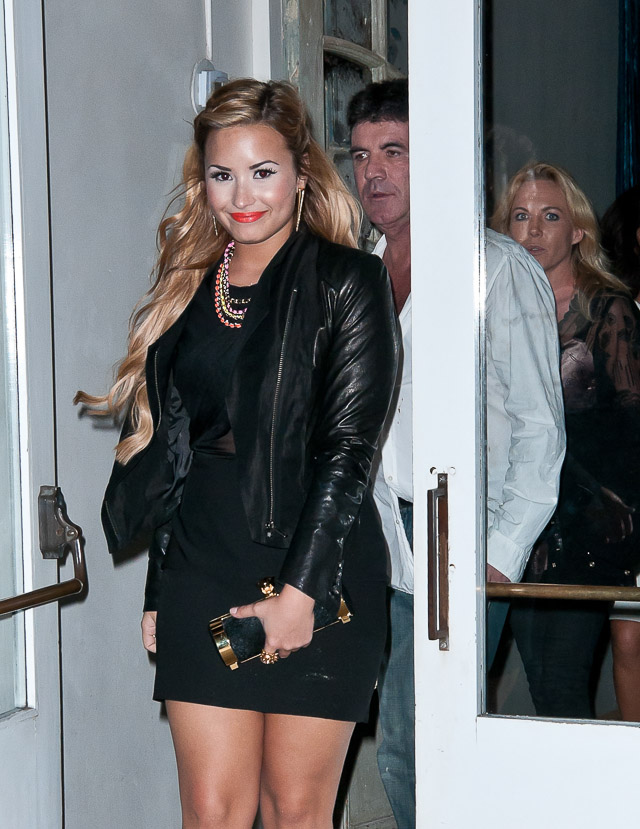 ---
18 / 20
Demi's style is funky and eclectic, and that can be seen by her clutch choice in this photo: pieced together leather along with a horn clasp.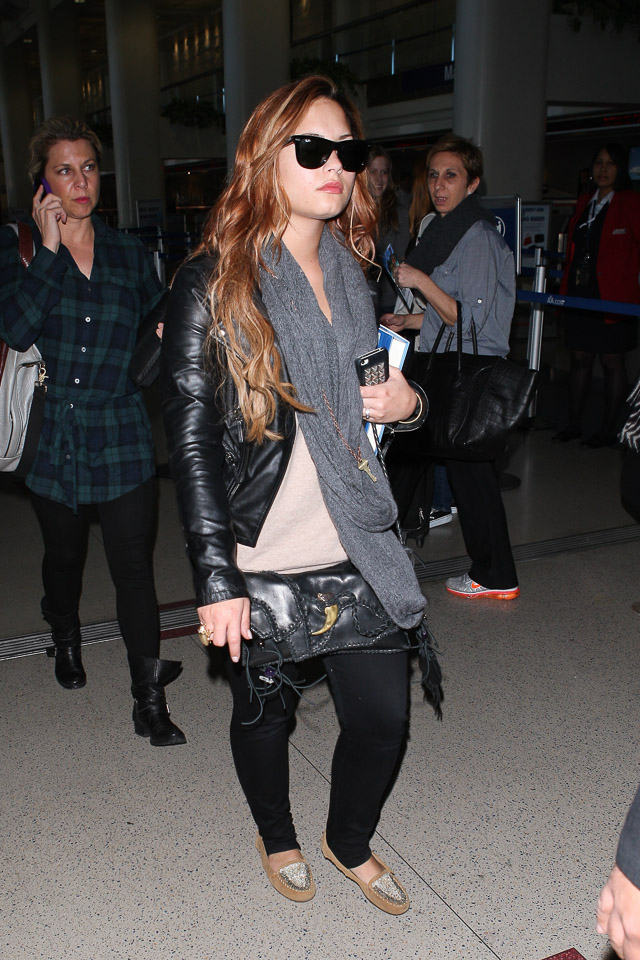 ---
19 / 20
A little fringe bodes well with her style, so I wasn't surprised to see her carrying the SL McFadin Fringe Bag.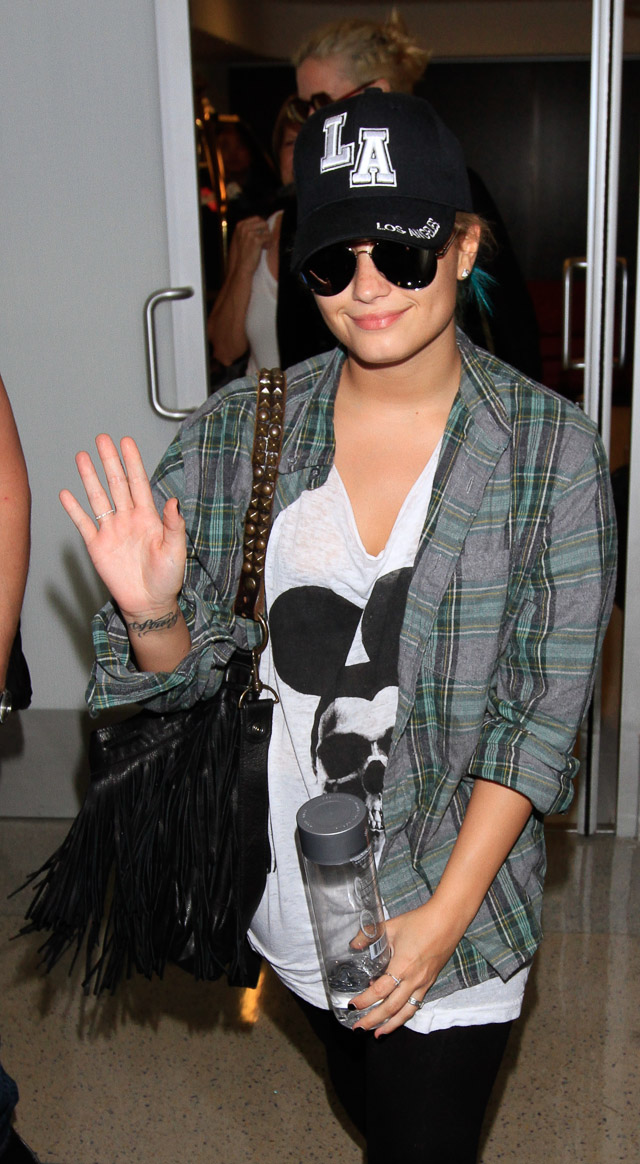 ---
20 / 20
Let's end this gallery on a Chanel note, because who doesn't love a Chanel bag? Demi does and here she is spotted with her Chanel Classic Flap Bag.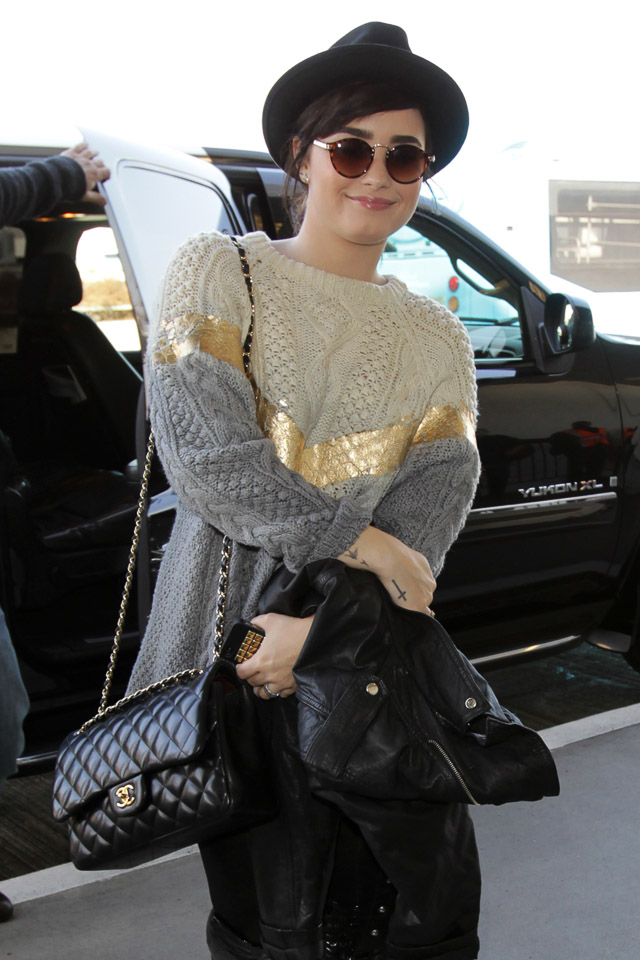 P.S. Please consider supporting our small, bag-loving team by clicking our links before shopping or checking out at your favorite online retailers like Amazon, Neiman Marcus, Nordstrom, or any of the listed partners on our shop page. We truly appreciate your support!