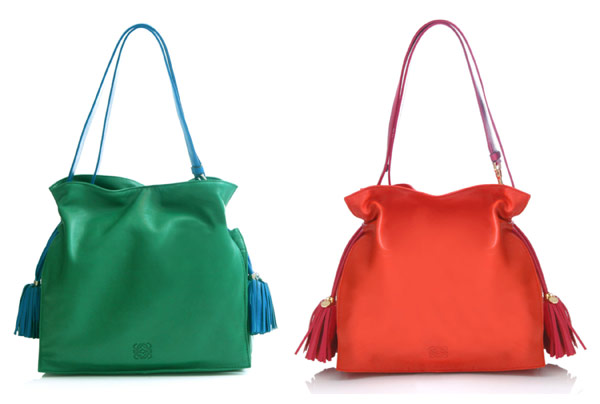 Loewe Flamenco Bag, $1726 via Matches in green and orange
If you've never seen a Loewe (pronounced Low-AY-vay) bag in person and they brand is available in your area, I'd encourage you to seek them out for a test drive around the department store or boutique of your choice. I still can't understand why so many starlets choose to carry the canvas version of the company's Amazona bag; leather is where the bags shine most brightly. And as with all brands that put an emphasis on materials, an in-person viewing is necessary to get the full effect.
Take the Loewe Flamenco Bag, for instance. It looks perfectly lovely in these photos, but a jaunt to Bergdorfs to visit one of its close cousins yesterday afternoon (and to buy the new Chanel Fall 2011 nail polishes) fully fleshed out my sense of the bag. You see that leather? It's amazing. The colors are vibrant. And this design, unlike the tote that I saw from the same line, can be used as either a shoulder bag or a crossbody.
This design also comes in an all-purple iteration, but the bicolor models above feel much more current. And even if you're not the kind of person who would leave the house in a cobalt blue top and kelly green jeans, the way that Loewe incorporated the trend into this bag is significantly more subtle and wearable than the idea of colorblocking sounds like it would be.
Choosing to pair colors that are already in the same family and fairly close in shade reduces some of the visual shock of wearing more than one bright at a time, but the effect is still strong and modern. Stuart Vevers, Loewe's new creative director and the man that brought Mulberry to the masses, continues to impress. Buy in green or orange through Matches for $1726 each.