Simone Camille Handmade Vintage 2-Tier Handbag. Well, I suppose this particular bag isn't so obscure; Nicole Richie has been spotted wearing it multiple times, after all.
There isn't a massive amount of completely fabric, bohemian handbags out there. Being one of the few people who embrace this style of handbags, it's apparent why I was so drawn to this
The bag is made entirely by hand by famed stylist Simone Harouche, who's known for her singular ability to transform and style stars with looks they've never imagined; witness Christina Aguilera's Back to Basics Tour. But clearly she has a fun sense of color and whimsy, contributing to this boho gem.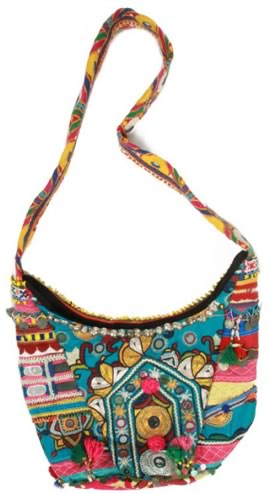 Apparently, looking for something different in the handbag world, Simone made a few of these bags for her and her pals and then it just took off. It's simple understand why; besides the current fascination with all that's gypsy or prairie-related, the perfect mixture of seemingly mashed-up vintage textiles coalesce to form a patchwork design that's so quirkily fantastic it's probably possible to wear with almost anything, provided you have the courage and the eye for combining the colors of all the crayons in the box. And let's not forget the art-box and oriental details; the mirror paillettes, poofy poms, and bursts of embroidery make this an artsy step up from any other flower-child-esque bag. Buy through Ron Herman for $1,495.