Marni Leather Frame Bag, though, has managed to make me as alert as a puppy who's been lapping up coffee.
After having endured nine hours of final examinations in the past two days, there's little that could lure me out of my practically brain-dead state. This
I've long been a fan of Marni, what with their tendencies to add wonderfully quirky and eclectic touches and colors. This bag, though, has more of a sensible feel, though the black acetate ball clasp adds an unexpected dash of fun. The dark, dusty flesh color combined with the rustic brown strap make for a color combination that's both unique and flattering? And because I've been lugging books around campus all week, I can't help but add that the bag's size is perfect for spiral notebooks.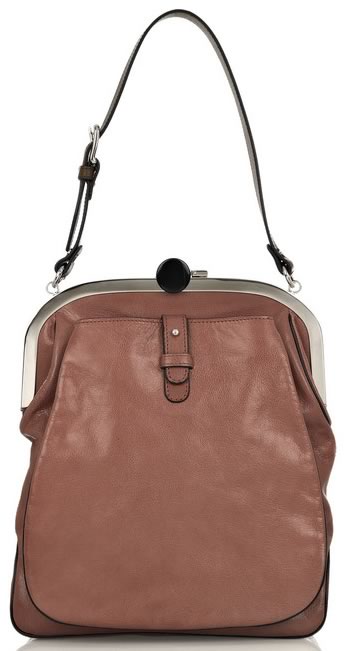 What I adore about this bag is that it is not clearly a warm or cold-weather bag. Rather, I can see it working with a simple summer outfit of soft boyfriend jeans and a tee as well as with a heavy woolen swing coat and furry earmuffs. While that's a cause of rejoicing, I'm still excited by the fact that it fits books vertically rather than horizontally. For me, that's the mark of a sophisticated schoolbag. Buy through Net-A-Porter for $1,480.