Want a little part of the Marc Jacobs Fall 2009 runway collection to yourself, but not ready to sink your teeth into $2000 worth of neon pink and green patterned python?
Then maybe the Marc Jacobs Cartoon Paisley Rage Bag is exactly what you need: a bit of the collection in wearable colors, at a palatable price.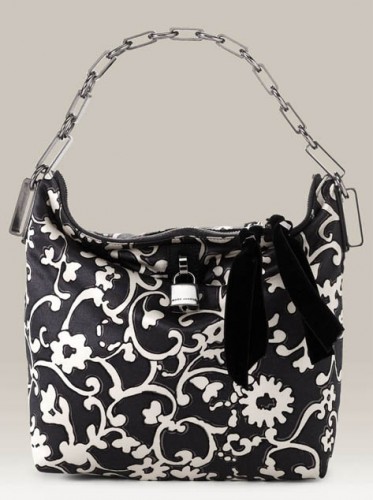 Instead of the neon that made up much of Jacobs' runway love letter to 1980s New York glam, this bag features a more sober palette of black and white, but in a similar print to the previous bags. As a result, it's not less graphic and bold, but might be easier to incorporate into the average wardrobe. After all, neon pink clashes with things, ya know? Also, instead of the glazed python that we saw in the collection's previous bags, this one is rendered in smooth satin, which lightens not only the weight but also the price. It retains the previous bags' chain detail, but the shape is a bit more basic. The bucket structure appears to be a bit awkward, I would have much prefered it as a flap bag, but I guess we can't get everything we want.