Dolce & Gabbana maybe not have as rabid or dedicated a following as some handbag brands, but that doesn't stop them from going confidently in the direction of their artistic vision season after season. As with any very specific point of view, the results are often mixed but they're always very obviously Dolce & Gabbana.
The Dolce & Gabbana Miss Rouche Ruffled Shoulder Bag is the continuation of an idea that we first saw in Fall 2009. Those bags were slightly more manic and ruffle-covered, but this hobo dials things back just a bit and gets it right.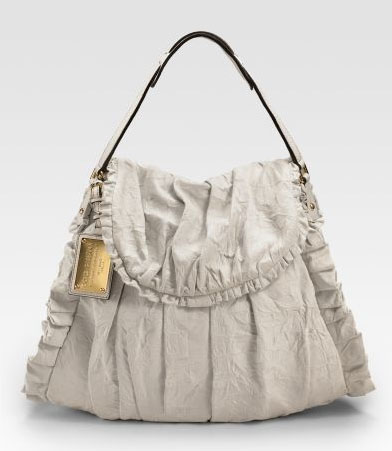 The beauty of this bag is really on the zoom-in, so I encourage you to take a trip over to Saks and play with their photo tools a bit. In these pictures the leather looks a bit thin, but on closer inspection, this bag looks like it would be soft and the wrinkled effect is feminine without being too girly. The same with the ruffles – they don't come off as too theme-y or unkempt because the bag is fairly simple in shape. It looks stiff in the photos, but something tells me it would loosen right up with a little wear and sag nicely. Buy through Saks for $1450.