West/Feren Joplin Leather Satchel is just the ticket; it can be carried in the crook of the elbow, but it's not too boxy as to make it sag in the middle when it's full. Rather, it has the shape of a 3D rectangle, which is quite unique. Cube shaped bags, while they are cute, lose their shape so easily and then just look sloppy. That's not the case here.
While I am, at heart, a girl who prefers bags with long or shoulder straps, sometimes I'm in the mood to carry something with a shorter, firmer strap. This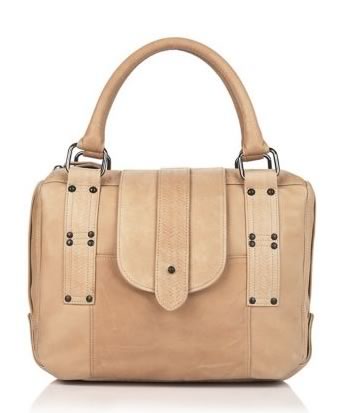 This satchel has the same quality as most of the West/Feren bags I've come across- it has a sort of vintage sensibility in the shape and the leather so that you know it would look best slightly slouchy and preferably worn with a floppy hat and a long bohemian maxidress. The shape is something you don't see too often among the sea of bland over the shoulder minibags that are so popular here in the South.
It recalls the style of a doctor bag from times past ever so slightly, in the handles and the front flap. But the studs, ever so subtle, ensure that it's still staying with the current trends. Buy through Bloomingdale's for $485.