Vanessa Bruno Un Tote immediately made me think of my friend's rule.
One of my fashionista friends has frequently said that you can tell a true hipster from a not-so-true hipster by peeking at his or her bag. The rules are as follows: if the bag is genuinely worn and old, the hipster is truly hipster. If the bag is actually new, probably designer, but means to look vintage, then the wearer is not a genuine hipster (extra points for head-to-toe American Apparel). Now, I don't mean to insult hipsters at all, but this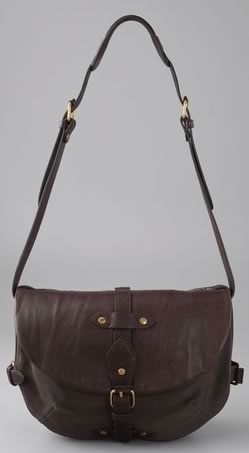 Sadly, though, this tote looks vintage but is clearly not. You can guess what proclamation could follow. But despite this, I'm very attracted to this specific Vanessa Bruno design. Though it looks like leather, the bag is actually suede, which nicely complements the slightly geometric leather trim and faintly tarnished gold studs. Plus, it's that elusive size of tote: too small to carry legitimate schoolbooks or a laptop in, but big enough to be just a tad larger than the run-of-the-mill shoulder bag. And the strap drop is longer (and adjustable!), which is quite welcome.
Actually, I find the bag to be more western-esque than hipster, taking inspiration from the saddlebags of old Western shoot-outs rather than simply having the aspiration to look vintage. I guess you can just call me a fake hipster from now on. Buy through Shopbop for $615.