Vanessa Bruno Grand Cabas tote, the designer continues that original vision of simplicity.
My first trip to Paris, I noticed that many of the girls were carrying shrunken canvas totes with sequins on the handles. Upon my return home, I did some research and discovered that those totes were Vanessa Bruno creations. With the
However, this tote is suede. Yes, you read correctly. The entirety of this deceptively quiet tote is made of that fabulously soft and thick material, that material which is simultaneously rustic and luxe. Add on silver grommets in the place of those sequins, and we've got a stylized, tougher version of the ballerina chic original canvas bags.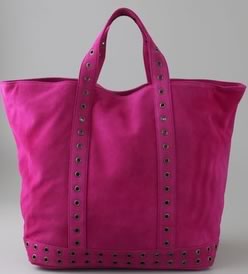 Though the stock photos show a well-shaped, almost rigid tote, the suede I'm familiar with is soft and wonderfully floppy, especially with increased use. I'm crossing my fingers that this is the case with this tote because a hard suede bag would be a sad suede bag indeed. Buy through ShopBop for $400.