Well this is…unexpected. To say the least.
UGG makes footwear that a lot of people think is ugly (I happen to love it, even though I admit that it is legitimately unsightly), and their bags are often even worse. They've gotten better in the past six months or so, but the striking UGG Australia Woven Metallic Leather Clutch is head and shoulders above anything that I've seen the brand do thus far. Color me surprised, and pleasantly so.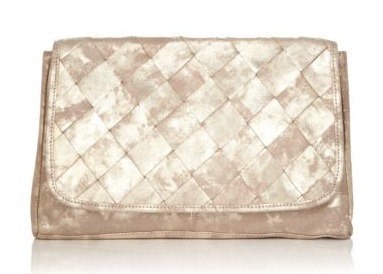 I'm not sure exactly how they treated leather to make it look so much like abalone, but I'm intrigued. The light, shimmering gold tone is perfect for summer, and it reminds me so much of sea shells that I want to own it immediately, as if possession of this clutch will make summer happen early by sheer force of will. It probably won't, but at least when it gets here, I'll be ready.
UGG generally uses nice materials on their products, so I have no qualms about recommending them in that regard, and the clutch is a very reasonable size for the price. All of my night out essentials would fit inside it neatly, and I can think of a million different outfits with which to pair it. Buy through Bloomingdale's for $198.