Tory Burch Rayna Nubuck Mini Bag has a seemingly perfect score on my checklist of things I like in handbags, something seems a bit off. Let's take a closer look.
Well, this is quite the interesting one. Even though this
It's purple, and I don't have a problem with that beautiful grape shade at all- check. It's a crossbody, which is my favorite handbag style- check. The chunky whipstitching is combined with tough suede nubuck leather, giving it a nice hand-tooled look- check. So what is it that's unsettling? I even like the juxtaposition of the rough suede with the clean, classy, bright gold links.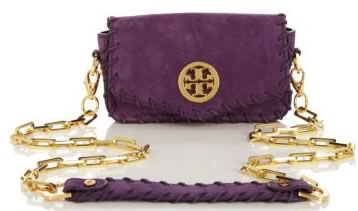 Well, my friends, I'm concluding that the single element that's been throwing me off is the logo, smack dab on the front of the flap. Tory Burch has been doing wonderfully on departing from her logo in recent designs- but this bag needs a smaller logo, like its slicker cousin: the Tory Burch Distressed Metallic Mini Bag. Buy through Bloomingdale's for $250.