Well, now isn't this an interesting clutch. From time to time I find myself fixated on a handbag for so many conflicting reasons. Anyone else do the same?
There is something beyond clutch-worthy about this Tory Burch creation yet there is also something that screams "no way" all at once. "How can that be?" you ask. Let me paint a picture… with words.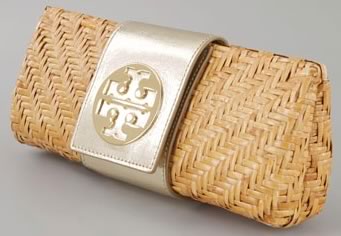 The Tory Burch Rattan Clutch is cute, yet certain aspects of the clutch just don't seem to work well together. So, let me be honest. My very first reaction was that this clutch would be perfect for the Spring and Summer months. And well, it would. But, I am really concerned about what a little wear and tear would do to the woven rattan. The last thing I want is to get a splinter from carrying a handbag. How awful. Luckily, the pebbled leather wraparound banding might save your hand from any potential splinters. This leather comes in gold or silver and for me, the gold is much more of a sound choice since the silver seems to clash. All in all, this isn't a clutch for me but I don't hate it. What do you think? Buy through Shopbop for $275.