I'm a broken record when it comes to Tory Burch's handbags: they're simple, sophisticated, and very appealing. The one over there at the left? It's no different. Ms. Burch is just not capable of disappointing me lately.
The Tory Burch Dayton Satchel is only the most recent in a still-growing line of sartorial successes. And indeed, it's everything that I mentioned above, in addition to being a bit reminiscent of Yves Saint Laurent (unless that's just in my own head, which is entirely possible).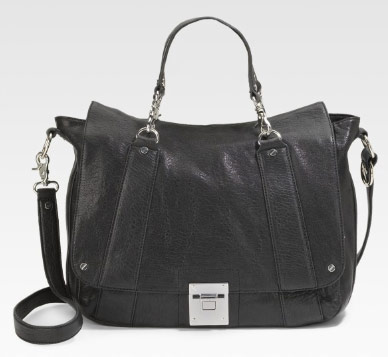 Not only is this bag attractive, but it's functional. It's roomy and has a light-colored lining so it's easy to find everything inside, and the thick messenger strap would add some comfort if you're carrying anything particularly heavy. At 16 inches wide, it might even be useful as a school bag for students that don't carry too many textbooks at once. Buy through Saks for $550.