Rachel Zoe Project episodes and watch them over and over again. Recently Rachel was talking about her love for all things metallic and I have to say I am totally with her on that, as long as it is done right.
Alright folks, if you don't know this by now, I have to fill you in on a little secret, and if you do know, sorry for the repetition. I am obsessed with the Rachel Zoe Project on Bravo. I could go on and on about said obsession for the show as well as so many others on Bravo, but I will spare you. I record all of the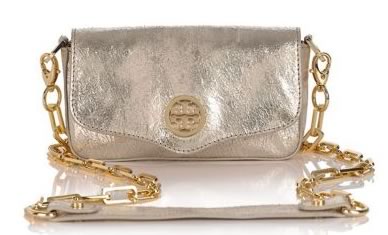 Just a couple days ago I covered a metallic bag that was a miss. Yet today, I came across the Tory Burch Distressed Metallic Leather Mini Bag, another metallic that was done correctly. I am increasingly pleased with the newer Tory Burch bags that don't have the logo splashed all over them. The logo is still here, but it isn't the focal point. This small bag can be carried on your shoulder or conceal the strap and carry it as a clutch. Shockingly enough, this might be the only time I've said that I wouldn't hide the shoulder strap. I love the long gold chainlink shoulder strap, it really adds character to the bag. This is a bag that would certainly spruce up any night time outfit! Buy through Bloomingdale's for $250.