critical of sweater knit bags before, and for the most part, I still stand behind that completely – they present some stylistic and functional challenges to their wearers that leather bags don't.
I've been somewhat
But despite those things, the Tory Burch Amulet Tote strikes me as a sweater bag done well. I'm not sure if it's the color, the leather trim, or the bag's structure, but the whole idea just seems to make a lot more sense in this context than it does in others. And it has to be said – this particular bag looks a lot more high-end than those made out of knit.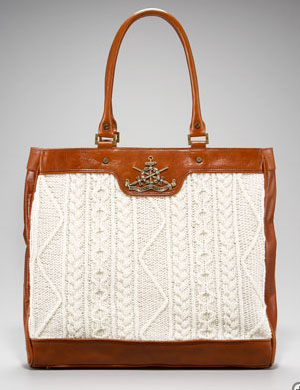 The success of this bag is largely because Burch did something obvious with the cable knit – she made it preppy. Glossy tan leather trim and a maritime hardware accent make the bag look like it would fit in beautifully at a wealthy friend's mountain lodge, sipping Irish coffee and playing touch football in the snow. That being said, I'm not blue-blood enough to have anywhere to wear this particular bag, but if your personal style swings more in the way of Ralph Lauren, this may be precisely the bag for you. Buy through Bergdorf Goodman for $495.