See people, this is what I am talking about when I express how I feel that so many shoulder straps are unnecessary. The shoulder strap on the Olivia Harris Lambskin Round Sack Tote is not only unnecessary, it is also absolutely FUGLY. I know for a fact that I would have a much different opinion if say, the strap was the same color as the bag itself. However, a black bag with a tan shoulder strap just screams "handbag don't" to me.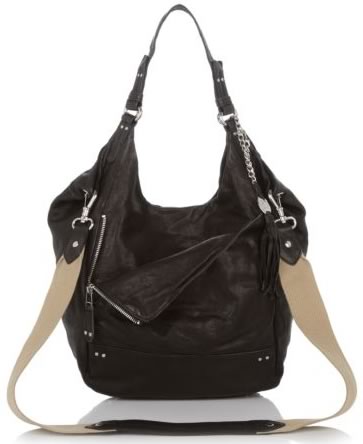 The unfortunate part is that because of this shoulder strap, I'm having a hard time appreciating the otherwise lovely tote. Isn't it sad how one misplaced detail on a handbag can completely ruin the overall look and feel? Ok. I realize I need to move on, so I am going to try.
As I said, if you can try to ignore the hideous shoulder strap, you will see a pretty nice tote in front of you. Washed black lambskin leather, brass hardware and plenty of interior pockets round out a nice bag. This is exactly the kind of tote I'd reach for when I have a day of running errands ahead of me. Now, if I could just get over the shoulder strap. Sigh. Buy through Bloomingdale's for $425.