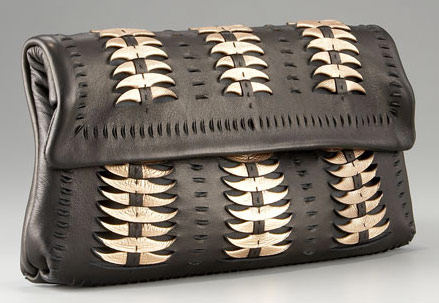 Of all the brand to spawn new bag lines in the past couple of years, Elie Tahari may be my favorite. I've had the chance to see a number of the label's purses in person, and not a single one has failed to impress me. The leather quality is high, the details are precise and the overall effect is almost always chic and expensive-looking.
The Elie Tahari Amber Clutch is only the latest in a long line of Tahari bags that have caught my eye, mostly because it's managed to do something particularly difficult: look bohemian and high-end simultaneously.
I kind of hate the "gypset" (jet-set gypsy, for those of you lucky enough to avoid that very annoying portmanteau) trend, mostly because it makes retailers think that I want to buy macrame (note: I do not want to buy macrame. Ever.), but also because it tends to look sloppy in a way that just doesn't appeal to me – I prefer my sloppiness to be subversive, at the very least.
This clutch maintains a sharp attention to detail while still implementing a style that will appeal to the bohemian-lovers among us. Tahari also managed to find a way to make a woven bag without immediately reminding everyone of Bottega Veneta, which is something of a feat in and of itself. Buy through Neiman Marcus for $398.