Sobella Padova Oversized Shoulder Bag. Yet, my very next thought is that I don't like it. Oh the trials and tribulations of handbags.
What is the first thing that comes to your mind when you look at this bag? Do you think it is unique or sloppy? I have to say, I am somewhere right in the middle of those two words. There is part of me that actually really likes the gathering along the flap of the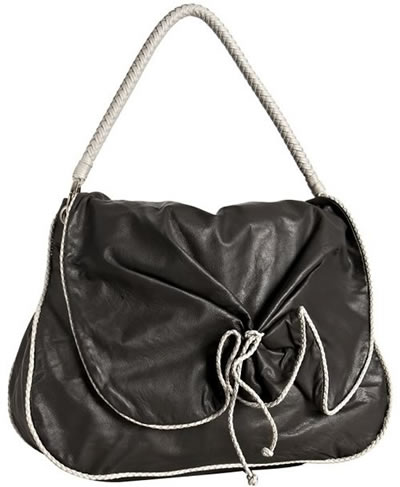 The sturdy braided shoulder strap actually looks like it would be rather comfortable on your shoulder. Black leather contrasts against the braided trim and polished silvertone hardware. While this is a large bag, 16" at widest x 11" tall at center x 4½" deep, it doesn't look bulky. In fact, the more I look at the gathering on the front of the bag, the more I think it is a nice accent. You don't see many bags that have the same gathering, so this is a welcomed addition. Buy through Bluefly for a reasonable $241.50.